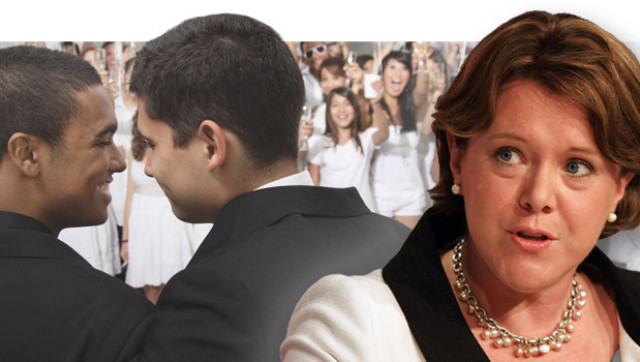 Alamy/PA
On Tuesday evening MPs will vote to approve, or disapprove, of same-sex marriage. It is a historic step and many find it remarkable that the measure will be proposed and introduced by a Conservative cabinet minister - not least half of the party's own MPs.
On the day before the crunch vote, which could see up to a third of the 303 Tory MPs, including some cabinet misters, turn against her Bill, culture secretary Maria Miller understandably wants to focus on the merits of the legislation rather than "simply party politics".
But speaking to The Huffington Post UK in her Department for Culture, Media and Sport office, Miller is keenly aware of the internal politics she has to navigate since being appointed to the cabinet last year and taking on the equalities brief from Lib Dem Lynne Featherstone. While her Bill looks set to pass on its merits, the fallout for the party and prime minister remains unclear. Winning the vote thanks only to the support of Ed Miliband and Nick Clegg would not look good.
"There is clearly going to be differences of opinion on something such as equal marriage," she observes - perhaps a slight understatement. "As a party we have treated this as a conscience issue for people to vote in the way they feel is right for them".
But what about suggestions wavering MPs are being leaned on to vote in favour? That's not very free. "It's been absolutely clear from the prime minister and from me and from anybody who is involved in the Bill, there is absolutely no pressure on any individual Member of Parliament. It's a conscience vote, and for me it is very important to respect people's beliefs," the culture secretary insists.
Her comments may be taken by some in Westminster as a bit of pre-spinning ahead of tomorrows vote. It's one this for Conservative whips to pressure Tory MPs to vote the way they want. But it's far more embarrassing if it turns out they are just ignored.
Miller notes that some Labour and even Lib Dems may vote against the Bill. But it is within the Conservative Party that opposition runs deepest, even if national polls suggest the public is in favour. Over the weekend 23 current or past chairmen of local Conservative Party Associations urged David Cameron to delay the Marriage (Same Sex Couples) Bill – concerned it would damage the party's prospects in 2015.
Miller, the MP for Basingstoke since 2005, says it is "important to take note" of what they said. But is firm in her refusal. The government will not back down. "What I will not be doing is stopping the legislation moving forward, it's important we have a fair approach to marriage."
"Marriage is an important part of our society it's a vital way that people can publically state their relationships and I don't think it's for the state to stand in the way of that happening simply based on someone's sexuality. Simply being gay is not a good enough reason not to have that available," she says.
Given the rift in the party over the issue, Miller is clearly keen to avoid widening it with overt criticism of those opposed. "Putting in place something which is about tolerance is not going to work if you are intolerant of views that are contrary to those expressed within the Bill," she says. Expect a similarly understanding tone tomorrow in the Commons.
The Bill is expected to pass the comfortably. But cheerleaders have raised concerns, and opponents have crossed their fingers, that it will get bogged down in the Lords. In the past Miller has refused to rule out the use of the Parliament Act to force the legislation through. A question she dodges. "What I am focused on here is making sure this Bill, which I believe has got widespread support, goes through the House in the usual manner, you'd expect us to remained focus on that."
Conservative opponents of the Bill are particularly incensed that they are being asked to support a measure that was not included in the party's 2010 manifesto.
MP David Burrows, one of the leading figures opposed to the Bill, makes this point today on HuffPost UK when he laments the government pushing though the measure "without an electoral mandate".
But Miller says Burrows and his allies headed for the 'no' lobby are simply wrong, pointing to a document authored by Theresa May published during the campaign. "It's clear, it was in our 'Contract for Equalities' that went out at the last election to have a look at how equal marriage might work.
"We have now undertaken the largest consultation that has ever been held by any government in this country and we have been discussing this issue really since the general election. There has been widespread discussion."
ALSO: MPs Target Anti-Gay Marriage Group Over 'Misleading' Leaflets
For many the sight of a Conservative minister, the party of Section 28, introducing a gay marriage bill is extraordinary. But Miller rejects the idea that this should come as a surprise. Up until this point she has been very deliberate and measured in her answers. But she is more animated when it comes to defending the party as a whole rather than tiptoeing down the awkward division within. "Conservative government's have done things for generations which are progressive, all the way back to the position the party had on the slave trade," she says.
"I think it a natural progression for marriage, something that has evolved over centuries anyway. It's important we treat people fairly; it's what most people want whether they are gay or whether they are straight. We want as society to treat people fairly, that's what we are doing that's why it's an important progression. It's a progression in the same way recognising women and men who are married as being equal in the 19th century."
Some opponents worry about progress, about a 'slippery slope'. Why, if two women can marry, why can't two women and one man? Why can't one man and his dog?
"I stick in the realms of reality," Miller says. "This is about making sure marriage is there for all couples that want to express a long term commitment to each other," she says.
Opposition comes not just from within parliament, but from religious groups outside. In particular the Church of England and Catholic Church, that have been outspoken in their disdain for Miller's Bill.
An extensive attempt has been made to satisfy the churches fears that they will be forced to conduct gay weddings by the European Court. But the so-called 'quadruple-lock' that makes it illegal for the Chuch of England to conduct same-sex marriages, while allowing other religions to hold them if they wish, has not quelled the opposition.
"I think you need to differentiate between whether or not the churches agree with the concept of equal marriage, or whether or not they agree with whether the protections there are sufficient," Miller says.
"The Church of England does not agree with the concept of equal marriage. That is for them and for them to discuss as we move forward."
Did Miller, who is a member of the Church of England that is railing against her Bill, have doubts about the rights and wrongs of allowing gay weddings? "No. None at all."
Miller says having Christian faith is "a mainstream thing" it's not on the margins. "What we are saying marriage is not on the margins, if gay people want to marry it should be mainstream for them as well."
"I think what you would find if you speak to a majority of people in this country, whether they have a Christian faith or not, all the polls would suggest there is a widespread support for marriage to continue to evolve."
"This is another way marriage can evolve. I don't see there is a conflict there, quite the opposite."
Given the furore surrounding same-sex marriage it is easy to forget that Miller's department, DCMS, may have expected for the limelight to move on after it bid farewell to the Olympic Games.
But the acquisition of the gay marriage Bill has changed that. What crossed Miller's mind when she realised it came with her promotion to the cabinet in September? "To be able to make sure we move forward with the right thing to do, the fair thing to do for our society … to be part of that process is something of which I feel very proud."