England's first victory over Brazil since 1990 may have only been a friendly but it was the first result under Roy Hodgson which fans could be encouraged by.
Hodgson has lost just one match as England coach in 90 minutes - the 4-2 reverse in Sweden three months ago - but that record masked some dated tactics salvaged and dogged defending. Against an underwhelming Brazil, England actually took the initiative.
Here are five pointers from the victory...
HODGSON MUST BUILD A TEAM AROUND WILSHERE
Jack Wilshere's first international start since June 2011 effected England so much they resembled a side capable of passing the ball. Offering thrust and agression, English football's best talent since Wayne Rooney is arguably more important for his country than his club and he overawed Brazil's (admittedly B-list) midfield with an ease that belied his relative inexperience.
Winning just his seventh cap, Arsène Wenger will have been concerned by Wilshere playing 90 minutes but Roy Hodgson could not contain his satisfaction at how the midfielder had galvanised England. Wilshere was man of the match
"It looks like you can crank the expectations up as much as you like and he's quite comfortable with it," Hodgson beamed after the game. England has its decennial saviour and a future captain.
RIO FERDINAND HAS TO RETURN
Gary Cahill's blunder which led to Fred's equaliser was perhaps karma for Hodgson suggesting he is a superior defender than Rio Ferdinand. It was a surprise to see Cahill start when, like at his club, he was the fourth best central defender in the squad. Phil Jagielka is enjoying an excellent season with Everton and although Roberto Mancini seems allergic to starting him, Joleon Lescott is a solid presence who featured in all of England's Euro 2012 matches. Cahill was lucky just to be called up. Cahill reacts after gifting Fred the equaliser
And he is synonymous with luck. His transfer to Chelsea last year came about despite André Villas-Boas being unconvinced, and yet he went on to win two cups. Fortune this season however has been unkind and his limitations have been glaringly exposed in a ramshackle Blues side.
Rio Ferdinand's omission is questionable when he remains England's best centre-back on form. After John Terry's "untenable" retirement the defence has emerged as a problem position for England after a decade of security with Ferdinand, Terry and Sol Campbell holding the fort. The outstanding performer of the 'golden generation', it is contradictory to select Ashley Cole, Steven Gerrard and Frank Lampard yet overlook the Manchester United defender. Ferdinand remains England's best defender
Ronaldinho sold his first dummy before the match when he accepted an award for his 100th cap to set the tone for an unmemorable night for Ashley Cole. Taken off at half-time as a precautionary to protect his tight hamstring, the seventh centurion was replaced by Leighton Baines, who again thrived wearing Three Lions on a shirt. Baines excelled in place of Cole again
Having an outstanding campaign in the Premier League, Baines' progress is all the more impressive after his disastrous performance against Mexico prior to the 2010 World Cup. Then he played with all the nerves of a four-year-old on his first day at school, compelling Fabio Capello to select Stephen Warnock ahead of him for the squad that travelled to South Africa. Warnock joined Championship side Leeds United last week while Baines was the subject of an enquiry from Manchester United in the summer. Bayern Munich are fans, as well.
Cole may boast the experience and 12 years of international consistency behind him but now he has reached three-figures it would be prudent of Hodgson to allow the accomplished Baines to acquire more experience.
LAMPARD IS MORE OF AN ASSET THAN GERRARD
England's shortcomings in the 21st century are perhaps defined by two players who could not be separated by three managers as they were shoehorned into the first XI. Steven Gerrard and Frank Lampard have subordinated each other for a decade in the England side but at least Roy Hodgson is sensible enough not to start them together, although ironically it is Lampard who could be the greater asset.
Gerrard's form since the Christmas period has masked perhaps his poorest season at Anfield whereas Lampard has returned from injury still boasting that extraordinary goalscoring knack at 34, showcased brilliantly again with an instinctive winner against Brazil for his 27th England goal. Lampard hit a wonderful winner
Gerrard has always been the superior footballer out of the duo but with England bereft of a defensive midfielder the Liverpudlian must rein in his attacking streak if he is to retain his starting berth and captain status.
WEMBLEY CROWD CLOSE TO SPORT'S 'WORST'
The aesthetic pleasure of watching tennis can be tainted by dullards yelling at inappropriate times, most annoyingly when it is the three words "Come on Tim." Golf has its "Get in the hole!" faction and football now has Wembley.
It is a sad state of affairs when a number of idiots cannot keep mum for a minute in respect to the Brazilians who died in a recent nightclub fire, the upcoming 20th anniversary of Bobby Moore's death and 55 years on from the Munich air disaster. Add to that the obnoxious band and plastic clappers and the national stadium's attendants have cemented their status as one of the most depressing set in British sport.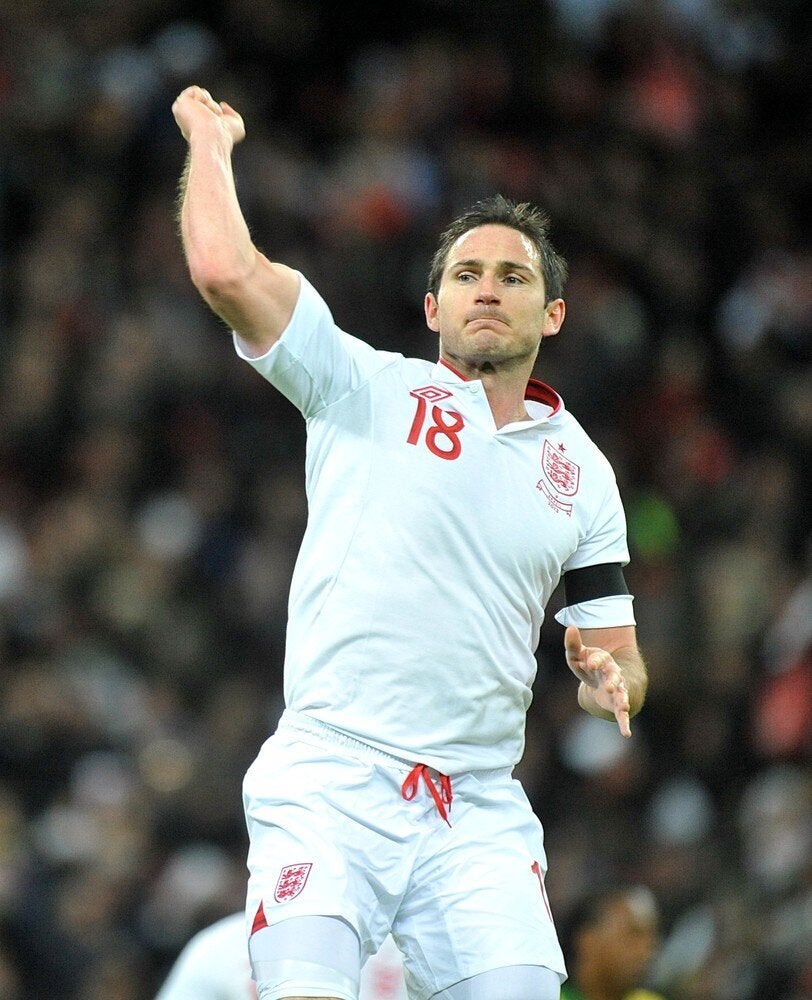 England v Brazil - Wembley Stadium
Related