This month sees beer brand Heineken celebrate its 140th birthday, and after posting some punchy results in a market that has seen the number of beer drinkers fall in Western Europe, some of its leaders have spoken to the Huffington Post UK about what the future holds for it.
Heineken, which is currently the world's third largest brewer, saw sales rise by 7% on the previous year at €18.4 billion (£15.8bn), while earnings before interest, tax, exceptional items and amortisation rose 8% to €2.9bn (£2.5bn).
This is despite the amount of beer being drunk in the West shrinking – Heineken has for some time now been targeting drinkers in Asia, Africa and South America, along with other emerging nations – and the investment is paying off.
The Dutch brewer, which also makes Sol, Strongbow and Tiger, saw sales volumes rise by 3.6% in Africa and 4.2% in the Americas including Mexico.
Western Europe is more of a problem – in France, a 160% increase in duty on beer introduced at the start of this year is expected to hit sales, and in Spain, rising unemployment and austerity measures have cut drinking, particularly in bars and cafes.
Despite the slight revenue drop, profits are up – partly because of the emerging markets successes but also driven by the continued cost cutting measures Heineken has introduced.
"We've been looking at making changes to the business, especially in Europe for a while," John Clarke, global communications director at Heineken told the Huffington Post UK.
"We started the process 10 years ago; we've closed 40 breweries since then and by the end of 2011 we'd reached out €600 million (£517m) cost savings target. Last year we set ourselves another three year target of €500m (£430.9m) in savings, increased to €525m (£452.5m) when we took over an Asian Pacific brewery – and in the first year we saved €196m (£168.9m) before tax."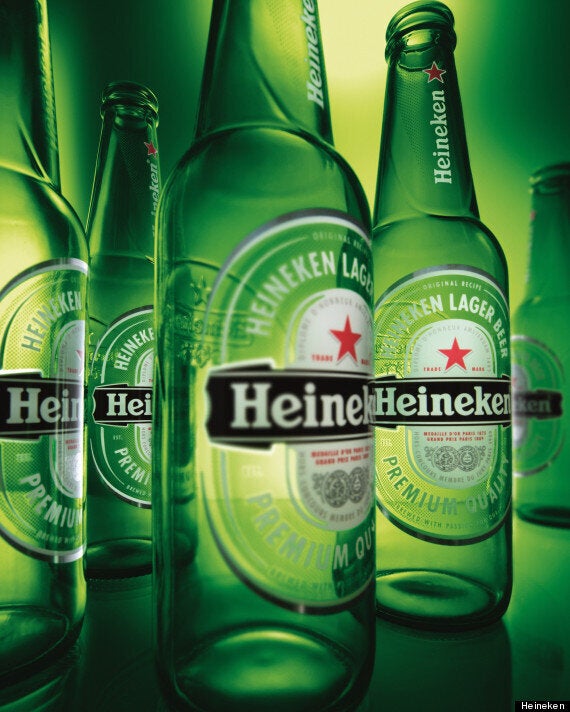 Heineken's iconic bottles
Europe has an ageing population and as that baby boomer group gets older, it drinks less – or at least drinks less beer, Compare this to emerging destinations in South America and Asia where a burgeoning middle class of young professionals are coming through and you can see why Heineken is fighting harder for those locations.
10 years ago, emerging markets made up 20% of its sales; now that figure has risen to 64%.
That's not to say they've given up on Europe – indeed beer volumes in France and the UK are still growing – but they're going about it differently.
This week has seen it launch a competition inviting people to submit commentary, videos and imagery about 60-70 year olds - their habits, activities, interests and lives - to help develop a better understanding of that ageing demographic.
Entries will be judged by celebrated photographer Naomi Harris, Hollywood heavyweight director of Grumpy Old Men Donald Petrie and a panel of others. Three winners will ultimately be chosen, with cash prizes of up to €5,000 (£3,200).
In addition, premium brands, such as its Tequila infused Desperados beer are also selling well, despite the economic constraints. Mintel's drinks analyst Sarah Theodore noted in October at the time of the Asia Pacific Breweries takeover: "As it has in other emerging markets, Heineken can be expected to put greater emphasis on the premium end of the business going forward.
"That includes the Tiger brand, which along with flagship Heineken, accounts for 32% of the 'international premium segment' in the region."
Radler, a fruit shandy type drink which is already popular in Eastern Europe, is being rolled out in the West, targeting women and drinkers who want a less alcoholic beverage.
Heineken has now reached its desired size structurally, and will look for further efficiencies within its operations. For example, it's already shrunk its ad campaign agencies from more than 20 globally to just one.
"There's a similarity in lifestyle for our target man of the world customer, and our ads are big productions and have a certain wit and feel about them – that's the same no matter where the customer lives." Heineken has long been associated with rugby and other sports
Brand association has been key for Heineken over the past year – associating itself with international music festivals such as Sensation, which hit Asia last summer, the rugby Heineken cup and of course, convincing James Bond to change his drink.
But how on earth do you top Bond?
While Heineken has no other film tie ups in the pipeline as of yet, it is running a number of campaigns, including changing all of its international bottles to look like the one we Brits recognise – green, long stem, embossed glass – from the brown varients seen in Denmark and the stubby bottles the US is used to.
It's also running an international campaign for consumers to come up with a new bottle design – so far more than 1,000 designs have come in and there's still a month to go for entries.
The top 30 crowd-sourced designs will be exhibited at Milan's prestigious Design Week in April 2013, and the winning entry will be created and distributed across the world from December this year.
Continued association with sports events is also on the cards – including a tie-up with the Champions League Final in May, taking place in London this year.
One insider described the campaign for the Champions League as "think Indiana Jones trying to get to the Champions League"… but declined to provide any more detail, other than it wasn't the real Indy. The mind boggles.
So is Heineken on the way up for the future? It's certainly a different beast to the one it was 10 years ago – but it's acquisition of Asia Pacific Breweries is unlikely to deliver a return above its cost for several years – maybe even a decade, according to the Wall Street Journal. Heineken will also probably need to pour more money into these markets to support future revenue growth.
"Some brokers were expecting an earnings miss, with Europe exploding. That did not happen."