Two people have died following an avalanche in the Scottish Highlands, police have said.
Northern Constabulary said a man and a woman who were airlifted from the Chalamain Gap area of the Cairngorms to Aberdeen Royal Infirmary earlier today have since died.
Another man, who was flown to the same hospital, remained in a critical condition.
A rescue operation was launched shortly after 12.30pm in the Chalamain Gap area of the Cairngorms, Northern Constabulary said.
Police, Cairngorm Mountain Rescue Team, search and rescue dogs, RAF Lossiemouth's mountain rescue team and a helicopter were all involved.
Police said the rescue operation had now been stood down.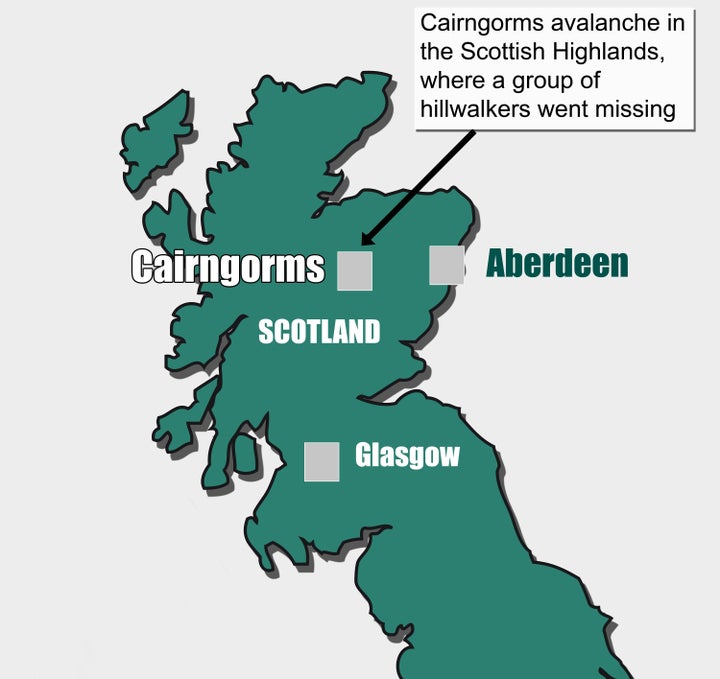 Earlier this week a hillwalker died during an expedition with a mountaineering club in the Cairngorms.
Graham Connell, 31, from Castleford, West Yorkshire, was found dead in the Jacob's Ladder area on Monday, following a large-scale search for him and five other people who were reported overdue on Sunday afternoon.
The other members in the party, who were unhurt, were picked up by an RAF rescue helicopter after being located by Braemar Mountain Rescue Team on a hill near Carn Tarsuinn.
The search, co-ordinated by Northern Constabulary and Cairngorm Mountain Rescue Team, involved more than 100 people.
The walkers were part of a larger group of 35 people visiting the Highlands.
In a separate incident earlier this month, three men survived falling 150 metres in an avalanche in the Coire an t-Sneachda area of the Cairngorms.
The men, who were wearing helmets, were airlifted to hospital with leg injuries.
The avalanche, on February 2, was the second in the region that day.
In January, four people were killed in an avalanche in Glencoe.
Hospital doctor Rachel Majumdar, 29; PhD student Tom Chesters, 28; Christopher Bell, 24, also a PhD student; and 25-year-old junior doctor Una Finnegan died after they were caught up in an avalanche on January 19.