Train company bosses are enjoying six-figure salaries at a time when rail passengers are enduring above-inflation fare rises, according to latest figures.
Even on the East Coast line, where services are being run in the public sector, as many as eight directors are on salaries of above £100,000 a year.
The East Coast pay levels were obtained following a request from the Press Association under the Freedom of Information (FOI) Act.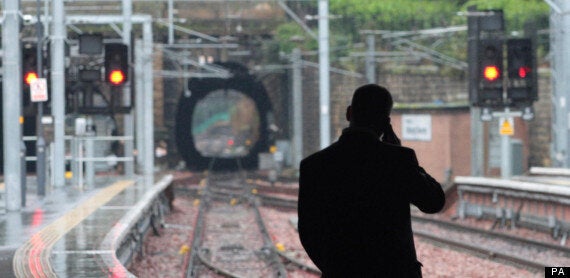 There was much anger at the beginning of the year when train fares rose
All the other train operating companies were sent FOI requests asking how many of their directors were on six-figure salaries.
But all said they were not obliged to reply as the act did not apply to them as they were private companies.
In addition, only one company, CrossCountry, was prepared to offer any pay-level details on a non-FOI request basis.
The East Coast information supplied showed that one director - almost certainly managing director Karen Boswell - was on a salary of between £161,000 and £180,000.
Two other East Coast directors' salaries came within the £121,000 to £140,000 band, while five other directors were on between £100,000 and £120,000 a year.
East Coast's parent company is Directly Operated Railways (DOR), which was set up in 2009 by the then transport secretary to manage any train company operations which return, temporarily, to the public sector.
DOR took over East Coast in November 2009 when National Express pulled out of the franchise.
Information obtained from DOR via the Department for Transport showed DOR chief executive Michael Holden's salary for the year ending March 2012 was £156,100.
Information from CrossCountry covered the year 2011. It showed the highest paid director - almost certainly managing director Andy Cooper - was on £222,000 including pension contributions.
The company said it had 10 registered directors and their aggregate pay, including benefits, was £795,000.
Pay level details are also available for rail infrastructure company Network Rail (NR), which is currently striving to meet punctuality targets on long-haul routes.
In the last few days rail passengers have endured some miserable travelling conditions, with an overhead power line problem in Hertfordshire leading to severe delays on busy commuter routes.
NR's chief executive Sir David Higgins was on an annual basic salary of £560,000 as of March 31 2012, while finance director Patrick Butcher was on £382,000.
NR's network operations chief Robin Gisby was on £360,000, as was infrastructure director Simon Kirby.
In addition to their salaries, the NR chiefs stand to be paid performance-related bonuses running into hundreds of thousands of pounds.
Transport for London's (TfL) 2011/12 annual report showed that 30 of the bosses of the cross-London £14.8 billion Crossrail project were on salaries of more than £100,000.
These included chief executive Andrew Wolstenholme, who was on £380,000 when he started his present job in September 2011. Crossrail is a wholly-owned subsidiary of TfL.
The TfL report also reveals that in 2011/12, a total of 223 TfL staff were on salaries of more than £100,000. These included London Mayor Boris Johnson's current aviation adviser Daniel Moylan who is a former TfL deputy chairman, a position that gave him a salary of £112,599 in 2011/12.
Compared with train company boss pay levels, information is much more easily obtained for the bosses of rail-operating transport companies which are stock market-quoted.
These also indicate generous salary-and-bonus regimes as well as handsome rail-business profits within an industry which still receives generous subsidies from the Government.
Transport company FirstGroup runs five UK rail companies - First Capital Connect, Great Western, Hull Trains, TransPennine Express and ScotRail.
In the year ending March 2012, FirstGroup made an operating profit of £110.5 million on its UK rail business, with its revenue being £2.5 billion.
Chief executive Tim O'Toole's basic salary for 2012 was £846,000, plus a £134,000 pension allowance and £75,000 for what was described as benefits in kind.
FirstGroup's commercial director Sidney Barrie, who resigned last March, was on a salary of £349,000, while finance director Jeff Carr, who resigned in November 2011, had been on £280,000.
Another giant transport company, National Express, runs the London to Tilbury and Southend rail line c2c and also operated, until last February, the East Anglia franchise.
For the year 2011, National Express's revenue from its UK rail operations was £688.3 million, while operating profit was £43.4 million.
The company's chief executive Dean Finch is on an annual salary of £550,000, and it was announced in August 2012 that he had been awarded an extra performance-based bonus involving thousands of free shares.
National Express group finance director Jez Maiden is on £420,000 a year, with chairman John Devaney, who is about to stand down, on £225,000.
Another rail industry parent company is the Go-Ahead Group which, with French company Keolis, owns rail operator Govia which runs the London Midland, Southern, Southeastern and Gatwick Express train companies.
London Midland has been plagued with staff shortage problems in recent months and just before Christmas the Government announced the company would be offering a £7 million compensation package including free travel days for season ticket holders.
In the 12 months ending June 2012, Go-Ahead's rail operation revenue was £1.73 billion and its operating profit was £40 million. Group chief executive David Brown was on a salary of £510,000, with finance director Keith Down on £326,000.
Manuel Cortes, leader of the TSSA rail union, said: "One of the reasons we have the highest rail fares in Europe is because we have created an army of Fat Controllers since John Major sold off British Rail 20 years ago.
"Then we had one Fat Controller on a modest salary. Now we have dozens, some of whom are paid over £1 million a year for running regional monopolies at the expense of both the passenger and the taxpayer.
"These people are laughing all the way to the bank while the rest of us fund their private gravy train."
Bob Crow, general secretary of transport union the RMT, said: "It's scandalous that the only train operator disclosing top bosses' salaries is the publicly-owned East Coast, while the private train companies hide behind a veil of secrecy as they bleed passengers dry.
"You can bet your boots that the reason they want to lurk in the shadows and hide behind the cloak of commercial confidentiality is because they are milking it and they know there would be a public outcry. Compare that to the cleaners on Arriva Trains Wales on basic minimum wage currently balloting for action for a fair deal. That's the shocking reality of the haves and have-nots on Britain's railways."
Anthony Smith, chief executive of rail customer watchdog Passenger Focus, said: "Our research shows that what is important to passengers is being able to rely on their service to get them in on time, and that their ticket is good value for money.
"Our national passenger survey clearly shows less than half of passengers are satisfied with the value for money of their train tickets."
Shadow transport minister Maria Eagle said: "Many commuters will be appalled that as they face fare rises of up to 9.2% and taxpayers continue to fund the rail industry to the tune of £4 billion every year, rail company bosses are taking home these massive subsidised salaries.
"David Cameron's broken promise to commuters to cap fare rises at one per cent above inflation seems even hollower when it seems rail company bosses feel no need for restraint when it comes to their own pockets.
"The Government should come clean with commuters that it was their decision to cave in to pressure from the private train companies to let them hike ticket prices beyond the so-called cap.
"A One Nation economy requires the spiralling cost of getting to work to be brought under control. Labour would strictly enforce the fare cap on every route and restore the ban on train companies imposing higher increases."
A Department for Transport spokesman said: "East Coast is run along commercial lines and it is right that it is able to set salaries to attract properly-qualified senior staff, in line with all other train companies.
"This has enabled the company to grow competitively and last year resulted in a significant return to the taxpayer."