Arsène Wenger criticised the Arsenal-supporting faction on Twitter after the club's weekend FA Cup defeat to Blackburn Rovers.
A slew of celebrity fans, including Piers Morgan and Ian Poulter, tweeted their desire for Wenger to leave the club as the Gunners face the possibility of at least nine years without a trophy.
But ahead of Tuesday night's Champions League tie with Bayern Munich at the Emirates Stadium, Wenger belittled the Twittersphere.
"We live in a democracy of experts. There are a lot of experts who are not necessarily right," he said at his press conference.
A clearly irritated Wenger was also quick to clarify he was not in talks with the club over a new contract.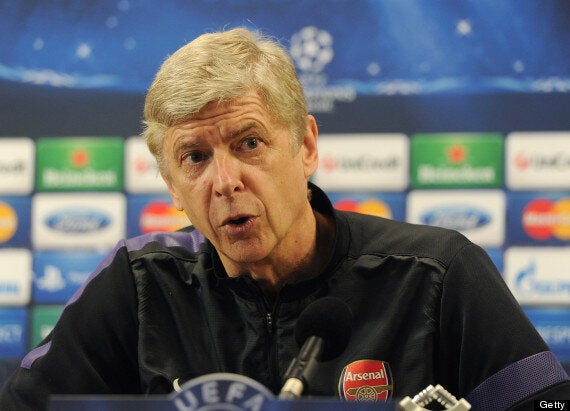 Wenger was not in the best of moods at his press conference
"That is the wrong information," he revealed.
"I've worked for 16 years in England and I think I deserve a bit more credit than wrong information with only one intention - to harm."
"If it's good information that comes from nowhere, it's alright. But this is the wrong information that comes from nowhere. It's completely wrong."
When asked about his long-term plans, the Frenchman, whose last trophy was the FA Cup in 2005, added: "I'm not in the mood to think about it."
Defiant yet tetchy, at one point Wenger said to a journalist: "I look at you not because you give information, I do not know if it is you.
"This is a pre-match conference for the Champions League. If we can get some questions about the game that would be very nice." Wenger with Jack Wilshere in training on Monday
He was also angered by suggestions he hadn't taken the FA Cup seriously. Jack Wilshere, Santi Cazorla, Lukas Podolski and Theo Walcott all started the Blackburn game on the bench, which was in stark contrast to Manchester City's line-up for the visit of Championship side Leeds United. Carlos Tévez, Sergio Agüero, Yaya Touré and David Silva all started in the champions' 4-0 win.
"I've been accused of not taking FA Cup seriously. I've won the FA Cup four times. Who has won it more? Give me one name," Wenger demanded.
Sir Alex Ferguson has in fact won the FA Cup five times with Manchester United.
Popular in the Community