Expectations were low and Arsenal could not surpass them as they were comfortably beaten by a masterful Bayern Munich determined to right the wrong of their Champions League final defeat last year.
The fans were vociferously united and the players were not short of effort, but Arsenal are now just 90 minutes away from confirmation of an eight successive season without a trophy.
Here's five things learned from the evening...
THE EMIRATES RESEMBLED PARKHEAD
Often derided over other teams' support for their moribund atmosphere, Arsenal fans were uproarious before and during the tie. Home grounds are invariably at their most partisan when the chips are down and it will have heartened Wenger to hear his team's followers holler with more defiance than he had at his Monday press conference.
The grim reality however was the crowd resembled Celtic's Parkhead's enthusiastic pessimism. There were roars when a goal kick or throw-in was won, as if the attendants were watching a rugby match and territory was nearly as rewarding as a getting on the scoresheet. The irony, considering Wenger has compared Stoke (with some justification) to a rugby team, will not have been lost on their fans or by Tottenham followers enjoying another evening of schadenfruede. Arsenal, once sanctimonious advocates of Total Football, were reduced to a battling outfit who were not so much Barça lite as Barnet lite.
RAMSEY SELECTION HAMPERED ARSENAL
When Arsenal's five Brit pack members signed new contracts, the news for some Gooners was tainted by one of them being Aaron Ramsey, so you can imagine how his selection in the line-up will have been greeted.
Not that it is entirely Ramsey's fault. A once promising player, his leg break three years ago has restricted progress and there is also the problem of his position. Wenger has played him across the whole of the midfield but was misguided if he thought that versatility was going to stymie Bayern Munich's attack. Ramsey was gamely but ineffective
Ramsey wasn't particularly awful but his presence restricted Jack Wilshere's impact as he played further forward, handing Bastian Schweinsteiger and Javier Martínez the initiative as they dominated Ramsey and the pedestrian Mikel Arteta. Santi Cazorla's craft was wasted on the wing and Theo Walcott. A ramshackle Arsenal were hamstrung before the first whistle against one of the best teams in Europe.
GIROUD SHOULD HAVE STARTED
On the topic of Wenger getting his front six wrong, Olivier Giroud's omission signalled not just a conservative approach but contributed to the square-pegs-in-round-holes angle. That may have only applied to Wilshere and Cazorla, but Theo Walcott would have been better suited on the right against David Alaba rather than toiling against the towering Daniel van Buyten and Dante.
Giroud may not be half as good as Robin van Persie and symbolise Arsenal's contentedness with fourth being regarded as a trophy, but he offers industry be it from the start or off the bench. Arsenal almost equalised when Wenger placed round pegs in round holes halfway through the second 45.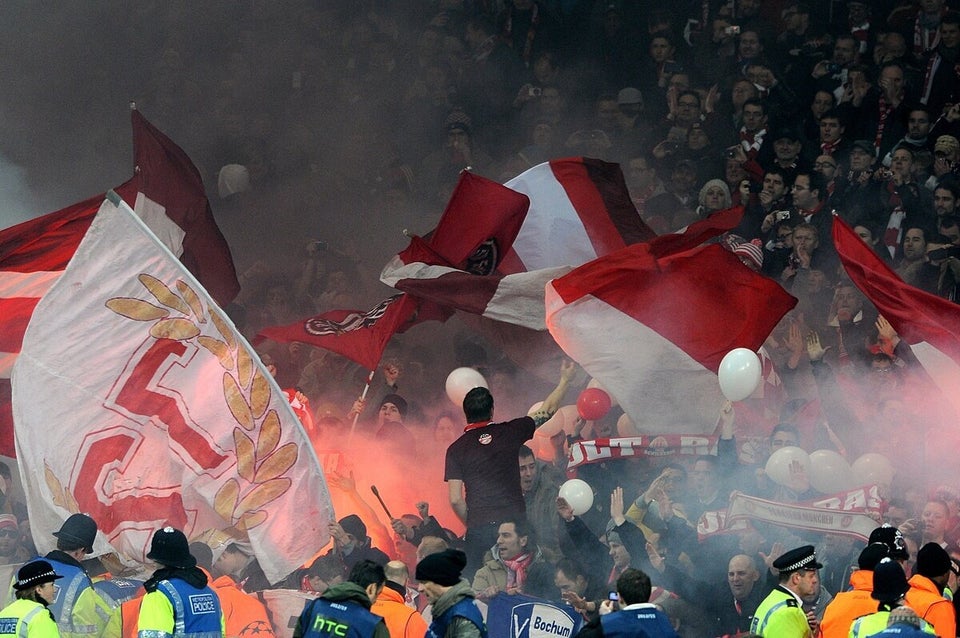 Arsenal Bayern Munich
ARSENAL NEED A NEW GOALKEEPER
The Premier League's regression has been symbolised by its goalkeepers this season. At the halfway stage of the campaign, Stoke's Asmir Begovic was selected by pundits in their team of the season largely by virtue of him conceding less goals than his counterparts.
Wojciech Szczęsny's form has been questionable for the best part of the last year and he followed his error for Blackburn's weekend winner with a feeble parry to assist Thomas Müller for Bayern's second. Szczęsny was at fault for Müller's goal
His dip is not owed purely to his ability, however. Wenger has a poor record with buying goalkeepers in the post-David Seaman era and Szczęsny has no competition. He should finally get it in the summer, irrespective of whether Wenger is still in charge at the Emirates Stadium.
MEAN DEFENCE MASKS BAYERN'S VULNERABILITY
A chink in Bayern's armour was identifiable via the inclusion of Van Buyten, a defender once regarded so incompetent Kevin Keegan opted not to make his Manchester City loan move permanent nine years ago. He was only playing because the appropriately named Holger Badstuber was injured.
The caveat is Bayern have only conceded seven goals in the Bundesliga all season, but so exceptional is their attack they have alleviated pressure on the onetime infamously leaky defence. Manuel Neuer said it was "boring" being the team's goalkeeper.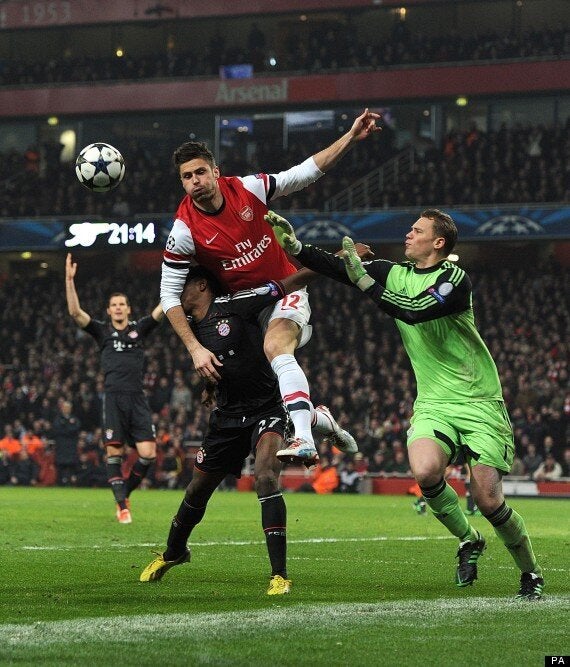 Neuer made a crucial save at 2-1 from Olivier Giroud
He wasn't bored on Tuesday night as, despite Bayern's superiority, Arsenal not only tested Neuer but achieved the not inconsiderable feat of scoring past him. That the Germany goalkeeper and his defence looked so shaky from an Arsenal corner was a window into Bayern's vulnerability when confronted with a team that applies some pressure. It would have offered their hosts a smidgen of hope had they not lost by the two-goal margin, but future opponents in the knockout stage may not be as fearful as they were.