The proposed sale of a Banksy mural that vanished from north London last week and could now fetch up to £450,000 at an American auction has prompted the local authority to ask the Arts Council for help in recovering it.
Haringey Council has written to the Arts Council saying it wants to bring back the piece of street art, which depicts a young boy hunched over a sewing machine making Union Jack bunting, as it is a symbol of local pride.
The mural, which was painted in May 2012, just before the Diamond Jubilee, disappeared from the side of a Poundland shop and is expected to fetch up to $700,000 (£451,900) at Fine Art Auctions in Miami, Florida, on Saturday.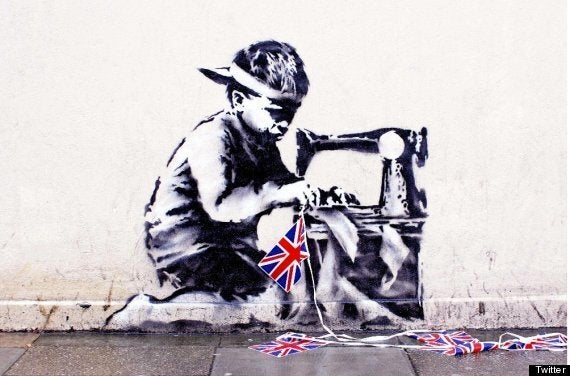 The original artwork on the wall outside Wood Green Poundland
The council is leading a campaign to bring back the artwork, and has called on the Arts Council to intervene due to the local and national significance of the art work.
Councillor Alan Strickland said: "The Banksy created a huge amount of excitement when it first appeared, and residents are understandably shocked and angry that it has been removed for private sale.
"The community feels that this art work was given to it for free, and that it should be kept in Haringey where it belongs, not sold for a fast buck.
"This is an area that was rocked by riots less than a year before this mural was painted, and for many in the community the painting has become a real symbol of local pride.
"I've written to the Arts Council to ask them to explore whether this art work is being exported appropriately.
"We're asking the Arts Council to intervene because we believe that the strong local and national significance of the mural mean it is wrong to export it.
"We're determined to do what we can to bring back Banksy to Haringey."