When Sunday Times reporter Marie Colvin and photojournalist Remi Ochlik were killed in Homs, Syria, the bloody conflict had regularly been the front page of every newspaper, day after day, for many of the previous months.
Evidence from eye witnesses, including Sunday Times photographer Paul Conroy who was working with Marie, said that they had been deliberately targeted. Journalists are no longer protected by a vest that says "Press".
Colvin had been interviewed on CNN describing the death of a young child following an attack on civilians had been.
Conroy told BBC News after she was killed that he believes this was the final straw for the Syrian regime who then took the decision to eliminate the journalists working in the makeshift Press Centre in Homs.
In Libya there were dozens of journalists covering the conflict, today in Syria there is barely a handful . Newspapers, broadcasters, websites are not prepared to risk the lives of their staff while the risk is so great.
News from Syria has slipped from the front pages, and much reportage comes from Syrians, professional and citizen reporters.
But the bloodshed has not ceased. The conflict has been grinding on for almost two years, with more than 70,000 dead and half a million refugees, a number that could double over the coming year, according to the UN's figures.
On Thursday alone more than 60 people were killed in a car bomb explosion in central Damascus, close to the headquarter's of Syrian President Bashar al-Assad's party's headquarters and the Russia embassy. Syrian security agents carry a body following a huge explosion that shook central Damascus
The Syrian National Coalition, the opposition in Syria, have denied responsibility, as have the Free Syria Army.
The Syrian Observatory for Human Rights told the Huffington Post UK on Thursday that most of those killed were civilians, and that a school and a health clinic were nearby.
Damascus suburbs have been targeted by regime air strikes, and this week alone there have been to mortars fired at military headquarters in the capital, at least two bombings of security checkpoints.
An airstrike on a rebel field hospital near Deraa in the south is reported to have killed 18 people, including three doctors and one child.
There is no apparent end in site. The Syrian National Coalition has repeatedly declared that any negotiations to end the conflict must exclude President Assad, although their position on that may be softening according to a leaked memo seen by Reuters.
As the conflict continues, SOHR is one of the few doggedly documenting each death, each face, each name killed in the conflict. It says its reports are impartial, but its reports are not independently verified.
The day before the car bomb, SOHR said 111 people had been killed across Syria, more than half in Damascus, and others in places like Aleppo, Homs and Daraa.
Most in Damascus were killed by mortar shelling on the city, including one child.
So dangerous is the country that only a minute number of foreign correspondents are in the country. James Foley, a video journalist for AFP who is missing in the country
One of them is James Foley, a freelance video journalist who works for AFP and Global Post, who has not been seen since November 22, when he was kidnapped by gunmen in north Syria. He had previously been taken prisoner in Libya and had been released.
His brother Michael told HuffPost UK that Foley, known as Jim to his family, was highly cautious, but was still taken. "Before then, they were really pushing the limits, perhaps not realising how fluid the situation there was.
"We talked at length about that, and what it taught him.
"There's a fraternity of journalists there who work closely together, they are all generally very cautious," he explained. "He often used to speak about the dangers he faced out there. And you'd turn on the news and see Jim's reports and photos on CNN. Outside of what he told us personally, we could see what he was doing almost realtime."
"Once you go to country like Syria, once you make the decision to step over the border, it doesn't matter who you are with, it's a very dangerous place. Richard Engels is a good example [the chief correspondent for NBC News who was taken captive in Syria and then released], he had a security package and he still got taken."
There is no word on Foley's whereabouts, his brother said, though he is reluctant to discuss any details for fear of jeopardising investigations. "We have no line of communication, and we don't know who has him. It's very, very difficult, a tangled web."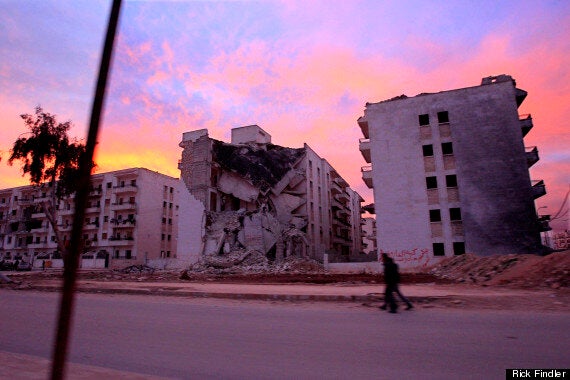 One other freelancer who was recently in the country was photographer Rick Findler. He last visited the country a month ago, and said he saw just two other reporters during his time in Aleppo.
He describes "every day you are being shot at, fighter jets are always flying over, you have to be very careful and cautious, it's only a matter of time before one lands on your head. We visited field hospitals, with dead coming in on a minute-by-minute basis."
Spending time in the country, he says many in Syria's second city are able to keep up a semblance of normality. "Some parts of Aleppo still are busy, you can get a kebab in the markets, there's a bazaar running. And you feel pretty safe. But it still functions, it's not completely devastated."
The main change he has witnessed is the attitude of Syrians to Western journalists. " Syrians now realise that the West is not going to go in and help them. When we first went, they were so angry at us that the West were not intervening to help them.
"Now, they are not angry at us, they are accepting, they've gone past it. They think they can only rely on themselves."
According to Reporters Without Borders, since March 2011, 22 reporters have been killed, 22 imprisoned, and 18 citizen reporters have been detained.
Heather Blake, director of the UK branch of RWB, told HuffPost UK: "Syria is the number one for the number of journalists killed in 2012.
"There are very few foreign reporters going in, so they cannot go into the heart of the matter. Citizen journalists often send reports which are highly accurate, detailed, and professional but there's nothing to confirm them.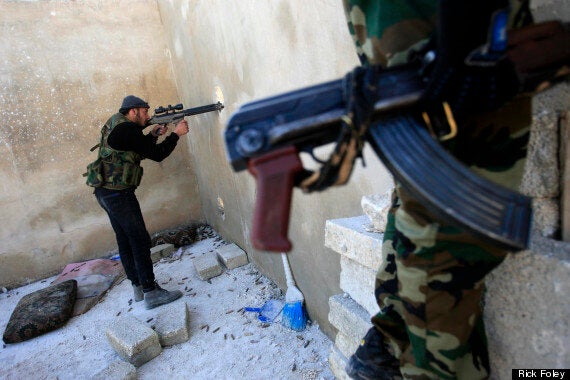 Snipers in Aleppo, the picture shot by freelancer Rick Findler
"Some have died under torture after being captured. Many we do not even know about.
"But they have a sophisticated network to get information out of the country and we are able to get a pretty clear picture of what goes on."
The campaign is organised by vice-president of Getty Images, Aidan Sullivan, along with supporters like David Friend, creative development editor of Vanity Fair, and season photojournalist Lynsey Adarrio, who has covered conflicts like Afghanistan, Iraq, Lebanon, Darfur, and Congo for the New York Times.
Sullivan says he is terrified it will soon be too dangerous for journalists to go to war zones to report.
When Findler was in Syria in January, he sent pictures to the Sunday Times who told him they were "exceptional", but said they could not take the pictures because of their policy of not encouraging photographers to take risks in going to Syria.
He told HuffPost UK: "You can see where they are coming from, because it was so terrible when Marie was killed. They don't want people to take the risk.
"But on the other hand, what ever happened to praising the bravery of photographers, and people who are willing to risk their lives to take pictures? What better way to honour Marie's death than to promote the others who are going there?"
Blake acknowledges the dilemma which led the Sunday Times to say it will no longer publish work from freelancers in the region.
"It's very difficult. Everyone is doing their best to make sure they look after their staff, and it is extremely dangerous out there." Remi Ochlik, who was killed in Syria along with Marie Colvin
Michael Foley told HuffPost UK he is certain his brother would not approve of such a strategy. "Conflict reporters don't do this for money. Weeks can go by with a lot of travel at your own expense.
"It is censorship to some degree, they are turning their back on information which they should be showing to the world, because of their liability, moral or otherwise.
He continued: "The outlets that Jim worked for, Global Post and AFP, don't share that view. They have stood up for him to a degree I never could have imagined, they are working round the clock for him, as if he were a staff reporter. "
Cat Colvin, sister of the murdered correspondent, has given her backing to the campaign, calling it "a critically important effort", and said she was touched it would be launched on the anniversary of her sister's death "at the hands of the Syrian government".
Emilie Blachere, girlfriend of photographer Ochlik, said she believed it was "important to show the world not as we imagine it but the world as it is: beautiful, amazing but so, so vicious.
"And photographers and journalists do this every day, every hour. Some of them die for this. We have to make the general public sensitive to the importance of the press.
"Rémi died in Syria doing his job, and because he was doing his job, he was targeted, and still, nobody has been accused or arrested. The murder of journalists and photographers carries on with impunity.
"We want reporters to go everywhere, and especially we need them to come back safe and sound to continue their work."
Popular in the Community