A pervert who sent sexually explicit messages to a 14-year-old girl on Facebook and told her he would leave his wife wore this bizarre outfit as he attended court.
Police raided the home of Alan Bray and found illegal child porn images on his computer after the teenager's parents reported his behaviour.
He arrived at Leeds Crown Court on Thursday wearing a cape and sunglasses in a bid to hide his identity from photographers.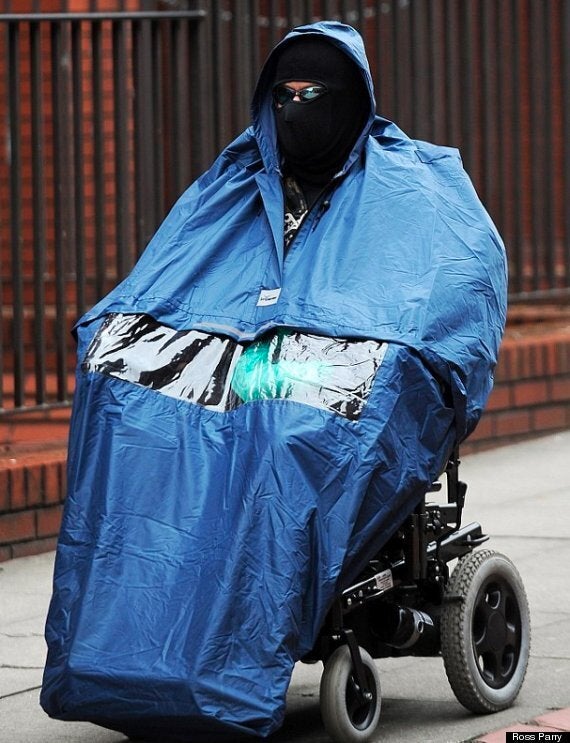 Alan Bray arrives at Leeds Crown Court
Bray, of Leeds, West Yorkshire, was made the subject of a three-year supervision order and told to take part in a sex offenders' treatment programme.
He pleaded guilty to inciting a child to engage in sexual activity and 10 of making indecent photographs of a child. He was also told to sign the sex offenders' register for five years.
Bray's offending came to light in March last year when the victim's parents caught her using her computer late at night. They were shocked to discover the content of her Facebook messages from Bray. Over a 12-week period he made repeated sexually explicit requests, such as asking her for 'naked facetime'.
Bray made arrangements to speak to the teenager online when his wife went out. He also told her he loved her and she could come and live with him.
A total of 10 images were discovered on his computer. One was a movie at level five – the most serious kind – of a 14-year-old girl being raped.
Kama Melly, for Bray, told the court her client was wheelchair-bound as a result of an arthritis condition. She said the offences stemmed from him being unable to have sex. He began viewing pornography on the internet but his behaviour escalated.
Judge Tom Bayliss, QC, said: "Her parents' vigilance, only her parents' vigilance, ended this."
Popular in the Community