The former editor of Newsnight boasted of the BBC's "higher standards" compared to rival ITV in the midst of the Jimmy Savile furore, emails reveal. Newsnight axed its Jimmy Savile investigation
Referring to ITV's decision to broadcast an investigation into the disgraced Jim'll Fix It presenter, Peter Rippon told colleagues: "The rigour and standards of proof we apply to our journalism is much higher than their own."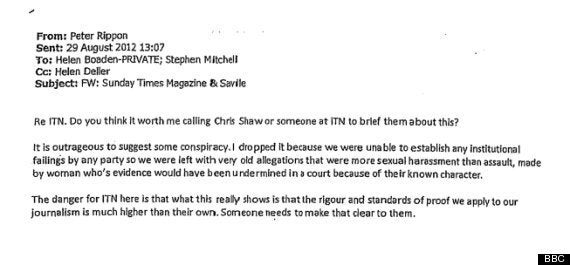 Peter Rippon emailed senior BBC colleagues
The bullish comments came back to haunt him, as ITV uncovered the story of Savile's abuse with an award-winning investigation.
Rippon, who took the decision to shelve Newsnight's investigation into Savile, 'stepped aside' from his role.
On a terrible day for the BBC, it faced fresh anger from its rivals for refusing to put acting director general Tim Davie up for interview to discuss the affair.
The documents revealed the infighting during the media storm over the shelved Newsnight programme, as bosses accused reporters of leaking internal BBC information.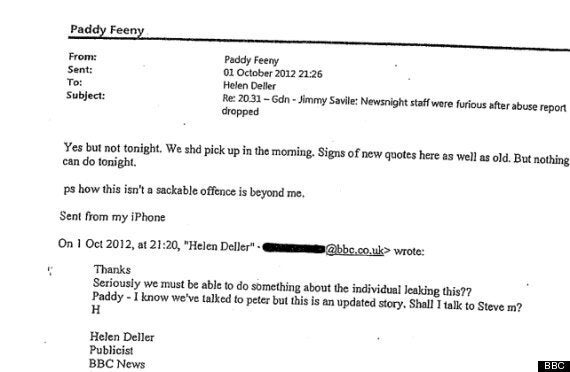 The emails reveal the frantic hunt for the source of leaks
In one email, Newsnight reporter Liz MacKean labelled part of Rippon's controversial blog, which tried to explain the decision to shelve the investigation, 'utter bollocks'.
And the BBC's head of communication said he would "drip poison" about Meirion Jones, the Newsnight journalist who launched the Savile investigation.
Presenter Jeremy Paxman said it had been "pathetic" that the Savile documentary had not been aired. In transcripts of his interview, the veteran broadcaster said there had been "common gossip" that Savile liked "young" people.
It was also revealed that accusations about Savile's sex crimes were censored after viewers tried to post them on a BBC tribute web page.
The inquiry was launched into whether management failings were behind the decision to cancel the six week investigation, weeks before a Christmas tribute was broadcast.
BBC Trust chairman Lord Patten said: "These documents paint a very unhappy picture, but the BBC needs to be open - more open than others would be - in confronting the facts that lie behind Nick Pollard's report.