Luis Suárez's indiscipline again sullied another excellent individual performance in Liverpool's Europa League win against Zenit St. Petersburg, as the Uruguayan could be banned for a second-half stamp on defender Tomáš Hubočan.
Hubocan lost his balance when he shielded the ball as it ran out for a goal kick, only for Suárez to needlessly stamp on his back as he jogged past him.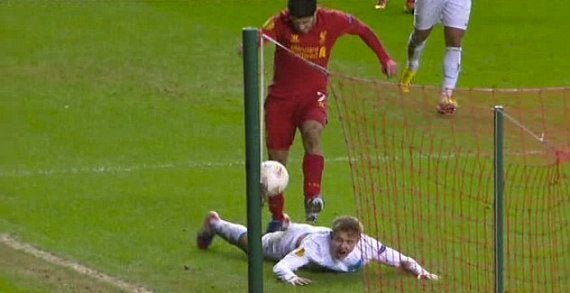 Suárez stamped on Hubocan in front of the Kop
The Uruguayan, infamous for his diving, ironically suggested Hubocan was over-exaggerating his injury as Liverpool chased a fourth goal which would have taken them past the Russian side.
Neither the referee nor the official beside the goal apparently saw the incident, which could mean Uefa will take retrospective action against the 26-year-old.
Despite Liverpool's 3-1 win, Hulk's goal on the night proved decisive as his away goal allowed Zenit to prevail 3-3 on aggregate.