Police have arrested three English Defence League protesters in a tense stand-off in Cambridge between the anti-Islam group and counter demonstrators, which also saw a member of United Against Fascism's anti-EDL protest arrested.
Around 40 members of the EDL turned out for the march, organised to voice opposition to plans to build a new mosque off Cambridge's Mill Road.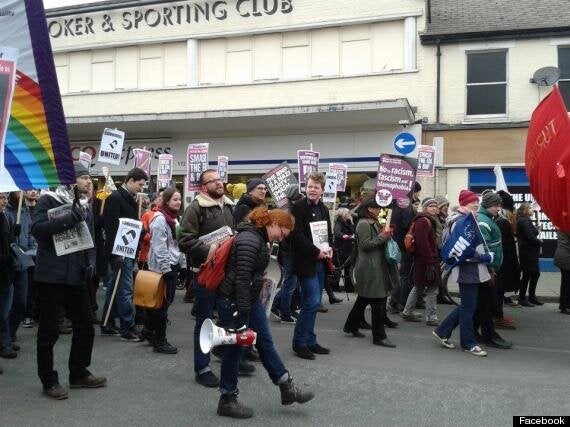 Anti-EDL protesters in Cambridge/strong>
One of the groups taking part in the counter protest is the tongue-in-cheek "English Disco Lovers", whose founders aim to 'Google-bomb' the far-right group to make themselves the first to come up in search terms for the EDL. The small group all wore brightly coloured wigs to the demo.
Cambridge University Students' Union said it would be supporting the counter protest against the EDL. They said in a statement: "The EDL is an organisation espousing xenophobic and racist ideology, and past demonstrations have made students afraid of venturing out in the city.
"At the first CUSU Council meeting of term a motion was passed which shows CUSU's condemnation of the EDL's demonstration in Cambridge, and restates our belief that students should be able to pursue their studies and daily activities without fear of harassment or racial targeting, and that we must stand together against those who advocate such divisive, discriminatory views.
Six of the region's police forces were called in to control the two protests, the EDL at Christ's Pieces, and the Unite Against Fascism counter march, starting at Petersfield Green.
More than 400 officers from Essex, Bedfordshire, Hertfordshire, Norfolk and Suffolk police carried out patrols in the city centre.
Julian Huppert, Lib Dem MP for Cambridge, and The Muslim Council of Cambridge both took in the counter-protest after talks with Cambridge Muslim Council chairman Dr Sejad Mekiæ.
Flyers have been sent out urging "all Muslims" to take part in the march, according to Varsity.
The leaflet says: "It will boost our children's confidence and they will love Cambridge more than before."
Dr Huppert said in a statement: "I feel very strongly about the need to make it clear that Cambridge stands together against fascism and racism.
"This is the second year running that the EDL has targeted our city and, while I recognise their right to protest, I want to make it very clear that they are not welcome here.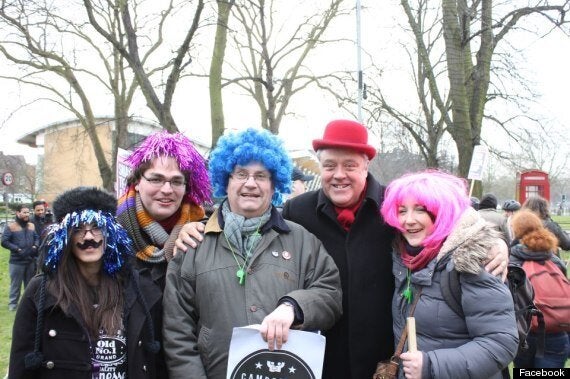 The English Disco Lovers took part in the counter protest. Photo by Kevin Price
"We are fortunate in Cambridge to have a multi-national mix of people who make our city a vibrant and unique place in which to live and visit.
"They have diverse qualities and share their cultures, living and working together for the good of our communities and our city generally. I don't want to see anything that could detract that. If we were to lose that mix, Cambridge would be a far poorer place in which to live."
Kevin Price, Labour City Councillor who was a steward on the march told HuffPost UK: "Today clearly demonstrated how Cambridge feels about its City, a City proud of its tolerance and multi-Culturalism.
"People of all ages and races joined in showing the EDL they are not welcome here and their narrow bigotted views have no place in this country. This is the second time this week fascists have been shown the door."
A 24-year-old, 23-year-old and a 25-year-old were arrested on public order offences, and a 56-year-old man on suspicion of being drunk and disorderly, public order and assault on a police officer.
Supt Vicky Skeels, police commander for Cambridge, said in a statement: "The policing plans put in place to effectively manage both demonstrations worked well.
"Protestors in Cambridge city today have expressed their views in a way that was lawful and reasonable. The two demonstrations have been peaceful although noisy.
"The visible policing presence on the streets may have influenced the behaviour of some demonstrators and our open and positive style of policing has been well responded to by the community and the demonstrators."
Cllr Tim Bick, leader of Cambridge City Council said in a statement to the Cambridge News: "I am very pleased it was possible for free speech to be exercised peaceably and for the disruption to residents to be kept to a minimum. We are proud of the way the city has responded.
"The police put real effort into achieving a peaceful day for Cambridge and showed sensitivity to the interests of all our residents.
"We value the contribution every community makes to the city and will continue to work with all local communities to maintain the high level of trust and respect that exists between us."
Popular in the Community