Manchester City reduced the temporary 15-point gap but have only 11 games to win the Premier League. Joe Hart however said: "We'll not give up even if 12 points behind with one game to go." Sure you can work that one out. Elsewhere, Arsenal unconvincingly papered over the cracks, United won, Everton succumbed to a second successive loss and Rafael Benítez was goading Chelsea supporters in his own inimitable way once again.
Here's five talking points from the weekend's football...
Queens Park Rangers have invested £34.1m in Christopher Samba. That's £12.5m for his transfer fee and £21.6m in wages he stands to earn over the course of four-and-a-half-years. For that amount, you would expect better from a reputable defender who strolled around Loftus Road so cumbersomely he that the MC would have been forgiven for referring to him as "Christopher Amble". Harry Redknapp hasn't helped by installing the Championship-at-best Clint Hill as captain to partner him, but despite the handicap Samba was a shadow of the solid stopper at Blackburn and looked disinterested in their 2-0 defeat to Manchester United.
CHELSEA'S BEST STRIKER IS AT WEST BROM
Fernando Torres lived in Didier Drogba's shadow at Chelsea even when he scored one of the most celebrated goals in the club's history at the Camp Nou, and next season he may occupy the mammoth shadow which belongs to Romelu Lukaku.
His brace in West Brom's 2-1 win against Sunderland was hardly ostentatious - a penalty and a goalkeeper-assisted ricochet - but his litheness on the ball has improved in the West Midlands. Previously raw and a tad lumbering, he is now moving past defenders with alarming ease and his second goal would not have occurred had he not voraciously charged down down Simon Mignolet in the Sunderland goal. Here's Lukakuing at you, kid
Chelsea's £7m outlay on Demba Ba has given them a reliable goalscorer, yet it smacks of a stop-gap signing and Torres hasn't scored in the Premier League since before Christmas. At this rate, it would be an affront to Lukaku to suggest his Chelsea return is being fast-tracked, should he get in the first team.
BUMBLING BENÍTEZ's TERRY OMISSION BAFFLES
A Champions League, FA Cup and Club World Cup winner, it is still possible Rafael Benítez could fluke another knockout win this season as interim coach at Chelsea, but his unfathomable management is a damning indictment of Roman Abramovich's judgement.
Benítez's quirks were known years ago and his latest is overlooking John Terry. Irrespective of however much you may detest Terry, he would improve most defences and would certainly make Chelsea's backline better than the combination of David Luíz's kamikaze defending and the Terry lite Gary Cahill. For Benítez, the Europa League is ostensibly more important.
Arsenal's narrow 2-1 victory against a team in the relegation zone should not have masked the team's shortcomings, but usually Match of the Day is the go-to place if you want to hear someone paper over the cracks. Only there was a resistance in the form of Alan Hansen, who was back to his dismayed best when analysing Arsenal's porous defence throughout their win against Aston Villa. Succinct yet sharp, it was a reminder of how good he used to be and how good he can be when not busy joining in with the stultifying studio banter.
Stoke's penchant for meting out physical grief is seemingly insatiable, and at the weekend both Stephen N'Zonzi and Robert Huth were perhaps fortunate not to be sent off during their loss at Fulham. Lee Probert saw the former incident and only booked N'Zonzi.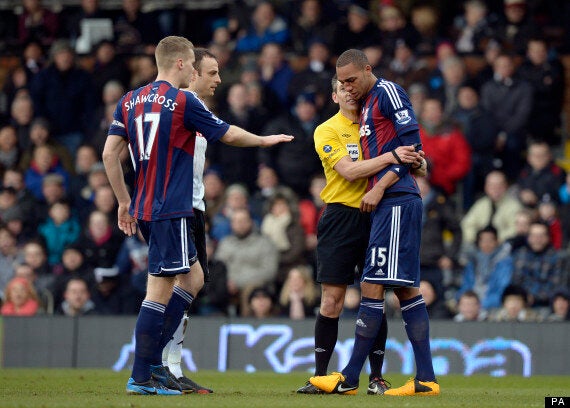 This year alone, at least three Stoke players (Greg Whelan is the other) could have been sent off but haven't. An overdue warning for their contact-heavy conduct from the Football Association might suffice.
Related