If you're struggling to find work at the moment and have any sort of engineering background, it might pay to retrain as an oil and gas engineer.
In the last few years, a number of countries have been directly investing in the UK's oil and gas sector; between April 2011 and March 2012, there were 22 projects, with a capital expenditure of US$1.5bn and the creation of 2,291 jobs.
The Oil & Gas UK 2013 Activity Survey, published on Monday, said there was £11.4 billion investment in the UK's oil and gas sector in 2012, a figure which is expected to rise to at least £13 billion this year.
The number of projects submitted to the Department of Energy and Climate Change and given development approval also almost doubled between 2011 and 2012.
And it's the prospect of large-scale investment potential for the UK's offshore oil and gas sector that is boosting economic activity - this will, according to Oil & Gas UK, contribute to the country's prosperity in future years.
Malcolm Webb, Oil & Gas UK's chief executive, said: "Here is some really good news for the UK. After two disappointing years brought about by tax uncertainty and consequent low investment, the UK continental shelf is now benefiting from record investment in new developments and in existing assets and infrastructure, the strongest for more than three decades.
"The recent introduction of targeted tax allowances to promote the development of a range of difficult projects, coupled with the government's ground-breaking commitment to provide certainty on decommissioning tax relief, has prompted global companies and independent businesses alike to take another look at the UK as an investment destination and resulted in a new wave of investment. It is crucial that we sustain this momentum in the years ahead."
Experts in the field are also convinced that this investment trend is only set to continue - and where there is investment, there are jobs. The city of London, the capital's financial district, is home to the head quarters of some of the world's biggest oil players
Mike Smith, director at Aker Solutions, said his company - which is domiciled in Norway but opened an office in the UK two years ago to take advantage of the UK's position in the market - was looking to hire another 1,500 to 1,700 engineers over the next few years.
"When you look at London, it's seen by the outside community as the financial centre of the world , but actually it's got all of the world's biggest oil companies working in it too," he told the Huffington Post UK.
"London is one of the biggest offshore centres for all oil and gas – it has a lot of head quarters here for big global oil companies – the expertise just isn't anywhere else.
"The prospects over the past two years have definitely seen an upturn in the market – the list of projects that clients want us to do is a very long list. I honestly can't see a downturn in the cycle for this sector any time soon."
However, there is a severe shortage of oil and gas engineers in the UK, partly driven by the fact that jobs weren't created during the downturn in the 1990s. After the Gulf War crisis, many experienced engineers in their 30s and 40s were made redundant, draining the industry of a lot of its brainpower.
"There's such a shortage of the right sort of engineers that we're no recruiting people from the armed forces and aerospace engineers and retraining them," said Smith.
These are long term projects which, although they're designed in London, are rolled out anywhere in the world. A typical project will see 18 months of designing the idea, another two years to get it through the development stage and then another six months for installation.
That means plans for a new oil platform could take four years to complete, but if the contractor is even a day late on its delivery it could cost its employer millions in lost oil sales.
"The size of our projects compared to other engineering ones is massive a $1 billion project is small for our sector. We need big teams to build these projects," Smith concluded.
Norway's not the only country keen to invest, as this graphic from UK Trade & Investment and fDI Markets shows: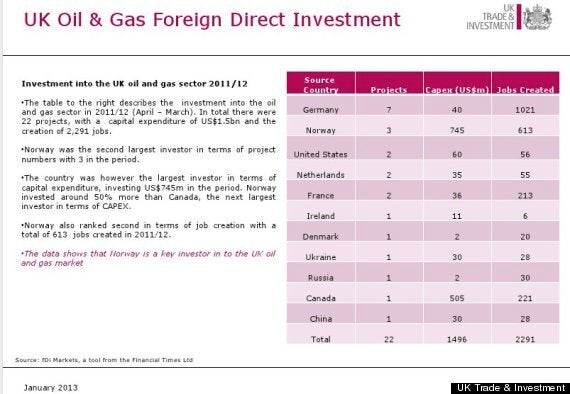 Esben Bay-Andersen, account manager for Energy, Environment and Infrastructure at UK Trade & Investment, told the Huffington Post UK that his department was working with companies like Aker Solutions to fulfil the UK's energy sector potential.
"The UK has seen a strong high-level skills investment from Norway, in particular. Companies like Statkraft, Statoil, Aibel, Aker Solutions and others bring both expertise and value to the UK market," Bay-Andersen said.
"The company represents the type of investment that is good for the UK: with 400 additional jobs to be created in Aberdeen, a new Drilling Division in Stockton-On-Tees with 100 specialist engineering jobs and a continuous expansion in London for up to 1,700 jobs, Aker is adding considerably to the high value jobs we are looking to create. Boosting the engineering sectors is a high priority for UK PLC while looking to re-balance the economy.
"Britain is open for business and we warmly welcome overseas investors. The UK is the top destination in Europe for inward investment and this is critical for our economy, safeguarding and creating around 100,000 jobs a year."
Popular in the Community