Samsung has unveiled the Galaxy Note 8.0, its latest and arguably most ridiculous phone-tablet hybrid.
This 8-inch behemoth is still technically a phone, but really it's something in between - a mobile device designed to replace your tablet and your mobile, not sit alongside it.
We've had a hands-on preview at Mobile World Congress in Barcelona: here are our early thoughts...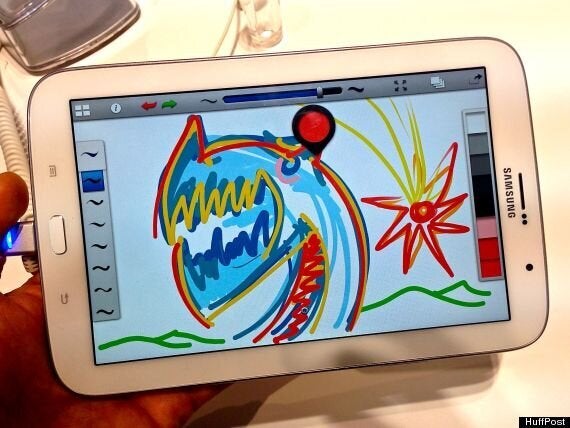 Let's get this out of the way - the Note 8.0 is clearly a hilarious device. Especially when you see a European tech correspondent literally trying to use it as a phone up to his head at the Samsung MWC stand.
But think about it for a minute, and it does actually start to make some sort of sense. If you could theoretically replace your tablet and phone with a single, useful device, wouldn't at least be interested in trying to do it?
The Note 8.0 is clearly meant to be used with a headset for phone calls, not in the Trigger Happy TV-style position, and it performs that task perfectly well. And as a small tablet, it's just as compelling - if not more so - to the original Note and Note 2. The S-Pen input is smooth and subtle, and the build quality and screen size are just as good as with Samsung's other flagship products, including the Galaxy S3.
Like those products, the Note 8.0 feels slippery and 'plastic-y' to the touch. But it's also smooth and natural, and easy to hold. It's not a noticeably heavy device, compared to the larger Note 10.1, and it's easier to actually write on with the S-Pen than the smaller Notes because of its physically larger screen. It almost hits a sweet spot between the two - in fact this is the easiest Note to actually write notes on that Samsung has ever come up with.
Unfortunately, that means he flaws are also the same as with those two devices. For one, the S-Pen isn't an enjoyable input device to use for either drawing or note taking. It still slips annoyingly around the screen, and there is no sense of feedback from the device when you're drawing. It's not easy to write small notes or draw detailed sketches, and we can't imagine anyone wanting to do this for any period of time.
As a result, the Note 8.0 is really just another 8-inch-ish tablet, just one with a phone app.
And the fact is while the Note 8.0 is easy to mock, it's not actually that funny. It's just a little bit dull...