Waving homemade signs, flags and passing countless small children up to the passing Popemobile, tens of thousands arrived to see Benedict XVI made his last appearance as Pope in the sun in St Peter's Square, before commencing his retirement on Thursday.
Despite the "joy" of the Papacy, he touched on the difficulties of being a public figure. "I knew I was always and forever committed for the Lord, that there would no longer be any privacy, the Pope always and totally belongs to everyone, deprived of private sphere.
"I experienced that and am experiencing it right now. Pope Benedict XVI waves to pilgrims in St. Peter's Square at the Vatican
"There is no return to the private sphere. My decision does not revoke this fact. I am not abandoning the cross, I will remain, in a way, at the foot of the crucified Lord.
"I will no longer have the power of office, but I remain in the vineyard of St Peter. I will continue through prayer and reflection. I ask you to remember me before God and to pray for the cardinals called to such an important task."
Touching on the difficulties the church has faced under his leadership, he said: "The Lord gave us days of sun and of light breeze, days in which the fishing was good. There were also moments when there were stormy waters and headwinds."
Often interrupted by cheers, in his speech, Pope Benedict said his resignation was "for the good of the Church".
"I took this step with full awareness of its seriousness and novelty, but with profoundly serene soul."
Prior to his remarks, the Pope spent almost half an hour driving around the square in his "Popemobile". Of those present, many held flags from their countries, and banners spelt out their parishes, dioceses and groups.
But the vast majority had messages of thanks and praise for the Pope. The largest, from an Italian student group, read: "You are Peter And We Love You." Another, in English said: "We'll Miss You".
The Pope remained highly composed, but emotions could be seen on the faces of the assembled Cardinals at the first reading, of St Paul's Letter to the Galatians. Pope Benedict XVI greets pilgrims in St. Peter's Square at the Vatican
Among them was Cardinal Peter Turkson, tipped by many as a potential first black Pope.
As he drove around the assembled 200,000 people, he was passed messages from pilgrims, which he appeared to study.
For the first reading, the Pope stood for his introduction, before sitting down, and listening to the translations in French, German, Spanish, English, Portuguese and Polish.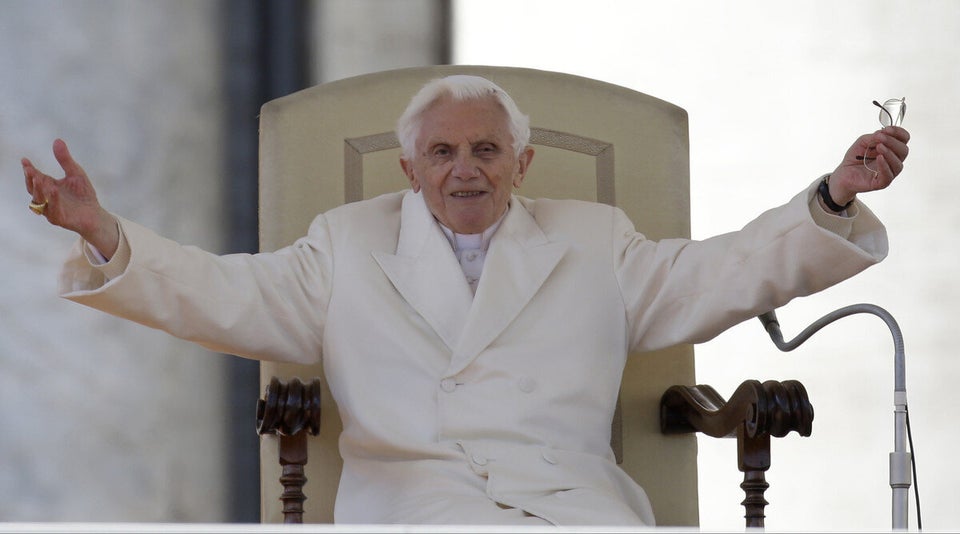 Pope Benedict XVI Holds His Final General Audience Before His Retirement
He opened his catechisis by expressing his "heartfelt thanks", saying he was "deeply moved" by the strength of the church, and by the sunny weather in Rome.
The Pope, reading with glasses perched on his nose and studying neat pages, said he had received: "touching tokens of friendship, attention and prayer.
"The Pope is never alone and I have experienced that very closely, in a way that touches the heart. I have received letters from the entire world, from heads of state, religious leaders, and heads of culture, but so many from ordinary people.
"They do not write to me as if I were a grand prince. They write as brothers and sisters, sons and daughters, sense of family ties that are very affectionate. We are not an organisation, but a living body, a community, of brothers and sisters and the body of Jesus Christ unites us all." Pope Benedict XVI waves as he arrives in St. Peter's Square at the Vatican
On Tuesday, the Vatican spokesman, the Reverand Federico Lombardi, said Benedict himself decided on his name and wardrobe in consultation with others, settling on "Your Holiness Benedict XVI" and either "emeritus pope" or "emeritus Roman pontiff."
Lombardi said he didn't know why Benedict had decided to drop his other main title: bishop of Rome.
The Vatican's said he would continue to be know as Benedict XVI, but be called "emeritus pope" in his retirement, referred to as "Your Holiness" and continue to wear the white cassock.
After retiring, he is expected to trval to Castel Gandolfo, his summer residence, by helicopter.
He will surrender his gold ring of office, known as the fisherman's ring, and his personal seal will be destroyed in the same way as when a pope dies, the BBC reported.
He will also retire his red leather loafers, and opt for a more muted brown in his retirement, wearing brown shoes hand-made for him by a craftsman during a brief visit to Mexico last year, the Vatican said.