Which co-star CAN Mark Wahlberg be talking about?
The 'Ted' star was musing on the etiquette between actors, and it turns out not everyone knows how to behave...
"I've seen some actors coming in saying, 'this is my moment, I'm going to steal this scene and steamroll this guy.'
"I've done it myself a couple of times, but sheerly out of anger, and that was only on 'The Departed'... and it's a long story, so we won't go there."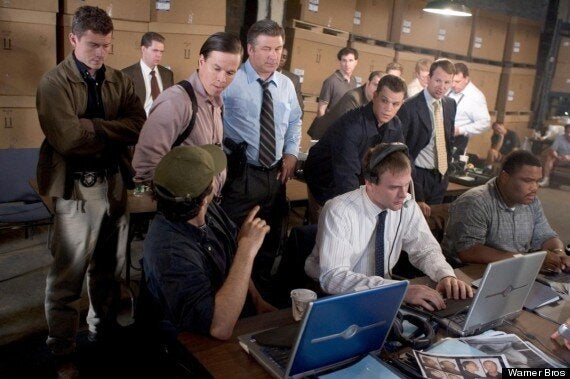 Happy campers? ... the luminary cast of Martin Scorsese's Oscar-winning 'The Departed'
Hmm... who can have caused such wrath? Wahlberg's 'Departed' co-stars include Leonardo DiCaprio, Matt Damon, Alec Baldwin, Jack Nicholson, Ray Winstone... even Martin Sheen. So the mind boggles.
The good news is that Wahlberg claims no such challenges on the set of his latest film, Broken City, even dealing with the well-established talent (and ego) of Mr Russell Crowe. The Australian star plays Mayor Nicholas Hostetler, a mayor who employs Wahlberg's private detective to monitor his wife's activities, but whose own behaviour soon becomes cause for concern...
"The first scene we shot was the big confrontation, it was a seven-page scene, we just got in there, started going. Our characters were trying to one-up each other, but we weren't doing that as actors.
"It was nice to see a guy who comes in as prepared as me. He's just a pro."
Between the debate scene and the scene with me, he probably had more dialogue than most people have in a whole movie, we shot those scenes in three weeks, and he just came in and knocked it out of the park."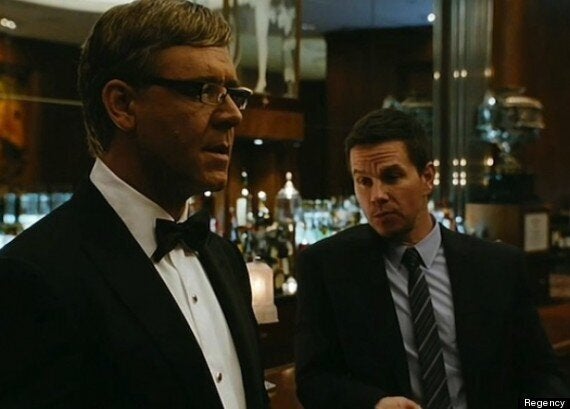 Russell Crowe and an appreciative Mark Wahlberg co-star in 'Broken City'
If the tale of a private detective seeking redemption after being double-crossed by another powerful male all sounds a bit macho, Wahlberg, who also produced the film, is keen to emphasise that it's not just a boys' own adventure...
"My wife liked the movie, and she doesn't normally like those kinds of things. And she's very vocal about what she likes in terms of my work, she likes to smack me over the head."
Wahlberg's position in Hollywood's star firmament may look increasingly central - Oscar nominations for his labour of love 'The Boxer', producer of 'Boardwalk Empire', 'The Entourage Movie' in the works... but he says his "blue-collar attitude" is as firm as ever...
"I still don't feel like I'm in the club, when I go to awards shows and stuff. I'm just grateful for the opportunities I have, and I work hard, don't want to mess it up.
"But at some point, somebody's going to tap me on the shoulder and say 'hey, it's time to go now.' so I try not to ruffle any feathers."
Broken City is in UK cinemas from Friday 1 March. Watch the trailer below...