The Duke of Cambridge today urged a global conference on wildlife protection to do more to tackle the illegal killing of the African elephant and rhino.
In a pre-recorded video message played to delegates at the opening ceremony of the summit held in Thailand, William said that entire species could disappear from the wild if nothing was done.
The Duke said: "As we enter 2013, the world's natural resources are under threat as never before. We know from the data and analysis presented to this meeting that the illegal killing of the African elephant and rhino, and the related illegal trade in their ivory and horn, has reached shocking levels in the past few years."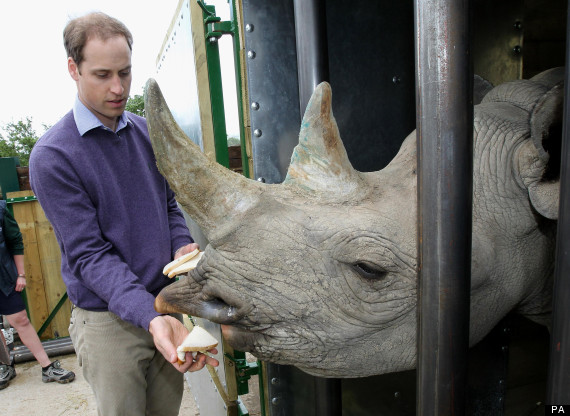 The Duke of Cambridge feeds a 5-year-old black rhino last month in Port Lympne
He added: "We must do more to combat this serious crime if we are to reverse the current alarming trends. If not, we could soon see some populations of these creatures, or even an entire species, disappear from the wild.
"We simply must not let this catastrophe unfold. Our children should have the same opportunity that we have to experience wildlife in its many beautiful and varied forms."
His message was broadcast at the CITES Conference (Convention on International Trade and Endangered Species of Wild Fauna and Flora) being staged in Bangkok and held every three years.
Around 2,000 delegates representing 177 governments, indigenous peoples, non-governmental organisations and businesses will decide measures, over the 12-day conference to combat overfishing, illegal logging and wildlife crime.
Top of the agenda are concerns about certain species of sharks and rays, the illegal hunting of elephants and rhinos and the threat to timber species in countries like Madagascar.
William is royal patron of the wildlife conservation charity Tusk Trust which works in Africa on projects to preserve endangered animals on the continent.
He went on to tell the delegates: "I recently had a chance to meet John Scanlon, your Secretary-General, to discuss these issues.
As we all work together, we can reverse these trends, we can make a difference - and what you decide right here in Bangkok will make that difference. "