Students and school teachers have been paying their tributes to Christina Edkins, the schoolgirl stabbed to death on a bus on Thursday morning.
The 16-year-old was killed around 7.35am while travelling on Hagley Road in Edgbaston, Birmingham, on her way to Leasowes High School. Emotional tributes to the student are pouring in, with her head teacher describing her as "bright and popular".
"We are deeply saddened to hear this tragic news and our thoughts and hearts go out to her family and everyone who knew her. Christina was a bright and popular student much loved by staff and students alike.
"The school is working closely with the police and a team of counsellors to provide support to our pupils and staff."
Christina's school friends have tweeted their shock and disbelief, with one, Chloe Ford, saying: "I can't believe it.. keep sobbing and crying."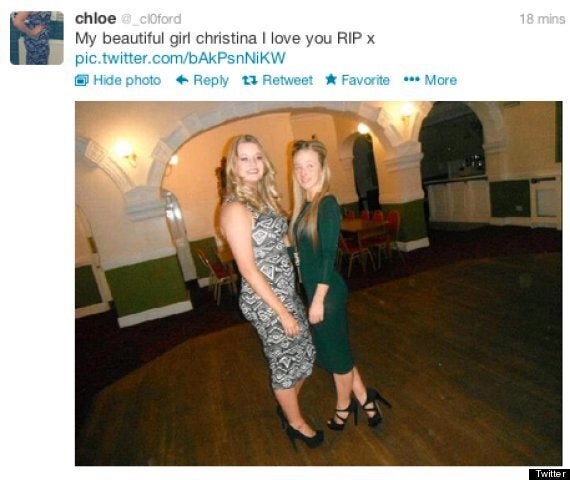 Christina's friend Chloe tweeted a picture of the pair
Christina had celebrated her birthday on 21 February, two weeks prior to her death. She had also expressed her concern about a man who had been acting strangely on the bus, tweeting: "This man is worrying me on the bus keeps getting up and walking up and down stairs, and sitting in different place :|"
A tribute page, which has already had more than 14,200 likes, has been set up on Facebook for "beautiful angel" Christina, with users calling her death "a waste of a beautiful young life" and saying "justice will prevail".
Hannah Louise said: "Such a pretty girl, tragic waste of life, thoughts are with her family so, so upsetting x."
Vernon Williams described her death as "very very sad news indeed", while Angel Sheppard said: "Rest in peace thinking of all the family."
Hema Trivedi posted: "Rip beautiful girl! Heaven has gained yet another beautiful angel!"
Jade Sarah said: "Such a sad day thoughts are with your family and friends your such a pretty girl rest in peace I lost a friend not so long ago who was stabbed what's the world coming to it was nothing like this before now the world's messed up with knife crime!!!"
Jules Jewels said Christina's death had left the "nation in shock", writing: "I don't know you Christina but i am so very sorry for what happened today. The whole nation is in total shock over this and my thoughts are with all of your friends and family at this most difficult time. God bless."
Police have arrested a 22-year-old man on suspicion of murder.
Det supt Richard Baker from Force CID said: "This is a tragic case and the victim's family are devastated.
"We are still anxious to hear from anyone with information or who may have witnessed the incident this morning to speak to us via the dedicated hotline 0800 096 0095."
Popular in the Community