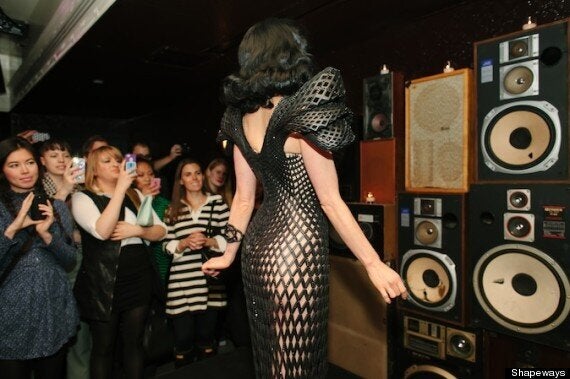 Dita Von Teese has unveiled the world's first fully articulated dress produced with a 3D printer.
Created with the help of Shapeways, a company which lets designers sell objects which are printed on demand with industrial-scale 3D printers, the dress is based on the Fibonacci sequence of numbers.
"The gown was assembled from 17 pieces, dyed black, lacquered and adorned with over 13,000 Swarovski crystals to create a sensual flowing form."
It took thousands of components to fit the dress perfectly to Dita's body, the company added.
"This represents the possibility to 3D print complex, customized fabric like garments designed exactly to meet a specific person or need. As we see the material properties of 3D printing mature to produce more fine, flexible materials we will see more and more forays into fashion such as this. At first it is at the boundaries of haute couture and art but as we have seen with Nike using 3D printing in footwear, we will see more and more 3D printing creep into the world of clothing and fashion until it becomes ubiquitous."
Take a look at more pictures and learn how it was done below.
Related