'Pan Am' may have been permanently grounded after the US series about a group of 1960s stewardesses was cancelled after one series, but a session with the DVD box set reveals this complete 14-parter may yet find a cult following.
'Guilty pleasure' is an over-tagged term these days, yet this series would surely qualify with its gloriously over-coloured sets, shamelessly cliched depictions of foreign cities (the cast in fact never made it out of New York), and completely unrealistic plots - stewardess turned CIA agent, for starters.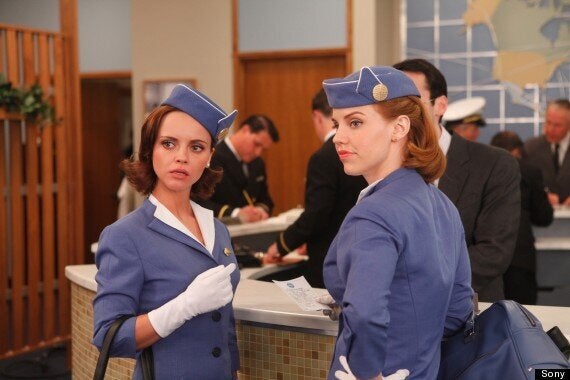 Christina Ricci and Kelli Garner in 'Pan Am'
It's basically 'Sex Above The City' - with, at its centre, a quartet of four impossibly glamorous girls (Christina Ricci, Margot Robbie, Karine Vanasse, Kelli Garner), shoe-horned into their blue Pan Am uniforms, all beautiful and appealing, but in different ways - of course. And with a pair of silly but sweet male pilots to behave as their foils, I swear it's impossible not to be charmed... and 14 episodes is all we'll ever get.
Leading the roll-call is Christina Ricci (Speed Racer, The Good Wife, etc), and here she speaks about the appeal of her character Maggie, whether she'd actually cut it herself as a trolley dolly, as well as some more serious stuff...
Are you anything like Maggie?
I think I'm a little bit like Maggie. I have a tendency to speak out without thinking first and I'm the first person to defend my friends or co-workers I feel are being unjustly picked on. I don't like injustice of any kind and I think one of Maggie's big things is that she's really into justice for all. She's a bit of a renegade too and she tends to start a few fights, but I'm not really a fight-starter myself. I don't really stir the pot the way Maggie does.
Is the show as much to film as it is to watch?
It's really fun. We have a great time doing it. We all really got along from the moment we started working together so we were very lucky.
The show is wonderfully glamorous. What's your own definition of glamour?
Ooh, I don't know! I guess it's somewhere between Grace Kelly and Elizabeth Taylor. My favourite part of our show is all the dressing up in glamorous outfits. The uniform? I like it but I like our non-uniform look better.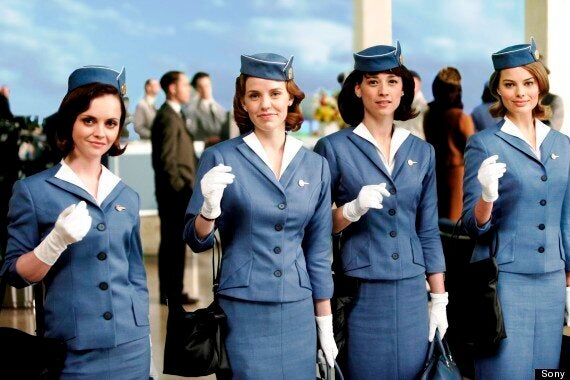 Christina Ricci, Kelli Garner, Karine Vanasse and Margot Robbie are the angels of the air in 'Pan Am'
Do you yearn for that bygone era?
I definitely think it's glamorized and I don't think it was a better time for women. It was a blatantly misogynistic period and women were certainly not considered equal to men in any way, shape or form. Being a woman, I don't think it was a better time at all. That said, nostalgia is escapism. Period pieces are escapist pieces just like fantasy, science-fiction and horror.
Is it frustrating that you don't get to go to many of the real locations?
Most of it is shot in the studio or around the Tristate area in New York, but I like filming around New York – it's really fun. That's where we are based for most of the filming and I love it there. It's a nice break from Hollywood.
Where's the most impressive place you've been on your travels?
I went to Dubai recently and that was great. It was so foreign and different, and I got to ride a camel. The place I'd most like to go next is to Belize to see the underwater caves.
How did you research the role?
Our executive producer Nancy Hult Ganis was a stewardess for Pan Am at the time so she provided much of the research and stories for the show.
Is there anything you were surprised to learn about the job back then?
I was surprised at how well-educated stewardesses had to be. I didn't realize that they had to have a college degree and speak two languages – I didn't know that at all.
From doing the show do you have a newfound respect for cabin crew?
I absolutely have respect for flight attendants, realizing that they spend the entire flight working while we're asleep. They feed us and serve us – they're doing nothing but working for the entire journey.
How do you think you'd fare as an air stewardess yourself?
I would be terrible because I'm really clumsy. I would drop things on people and spill coffee.
Would you be as patient with tricky passengers?
I don't think I'd cope too well with people being very demanding. I think I'd get very fed up very quickly. People are demanding and grumpy and they are abusive towards service personnel, and I wouldn't handle that well.
What's the worst job you've ever done?
I guess babysitting. I wasn't very responsible because I was too close in age to the kids I was babysitting.
And what's been your favourite non-acting job?
Well, I've been acting since I was nine so I haven't really had too many other jobs.
Are you scared of flying?
Not at all. I like flying very much. I usually spend the time reading and I'm not at all afraid up there.
I don't like open water much. I don't mind being on a boat, I just don't like being in the water itself. There could be sharks.
Do you agree that TV offers meatier roles for women nowadays?
I think it depends, but especially with all the new cable channels and all the new content that's being created there is amazing writing and amazing opportunities for great talent and great directors to find a home and do some really interesting things they might not necessarily be able to do in the film world. You go where the work is and where the best material is, and the best thing that came to me at the time was Pan Am.
Is it a luxury being able to spend so much time getting under the skin of a character?
I love being able to be with Maggie for that long and to develop her style, who she is, her ups and downs, and what happened to her during the course of the season. The difference between movie and TV acting? You have to be a lot faster. You need to learn your blocking really quickly and hit all your marks and do everything fast because there isn't a lot of time, but in doing that you have to remember not to forsake the performance. That's a tool, a mechanism, you learn over time but in the beginning it can be very difficult. Unlike on a movie set, there's no waiting around and you have to learn to be quick on your feet. I prefer that. It's a lot of pressure at first but then you get into the flow of it and you start to become less nervous about it.
What are your own TV favourites?
I love 'House' and I'm a big reality TV fan as well. I watch all those 'Housewives Of…' shows.
What motivates your charity work for the Rape, Abuse & Incest National Network?
Everyone picks their own corner of the world to help or clean up, to devote their time or their money to. I believe the sexual abuse of women and the abuse of children is the most disgusting and abhorrent thing on this earth.
Pan Am: The Complete Series is available on DVD now from Sony Pictures Home Entertainment. Watch the trailer below...