Liverpool manager Brendan Rodgers has praised striker Luis Suárez for the transformation he is undergoing as a person and a player this season.
The Uruguay international is the league's leading scorer with 21 goals this season but is still a hate figure to many opposition fans because of his chequered history since arriving in this country.
Last year's eight-match ban for racially abusing Manchester United's Patrice Evra will not be forgotten in a hurry while a reputation, although diminished, for diving still dogs him.
There has been much speculation that those factors will contribute to Suárez not winning player of the year honours but Rodgers insists that would be unfair.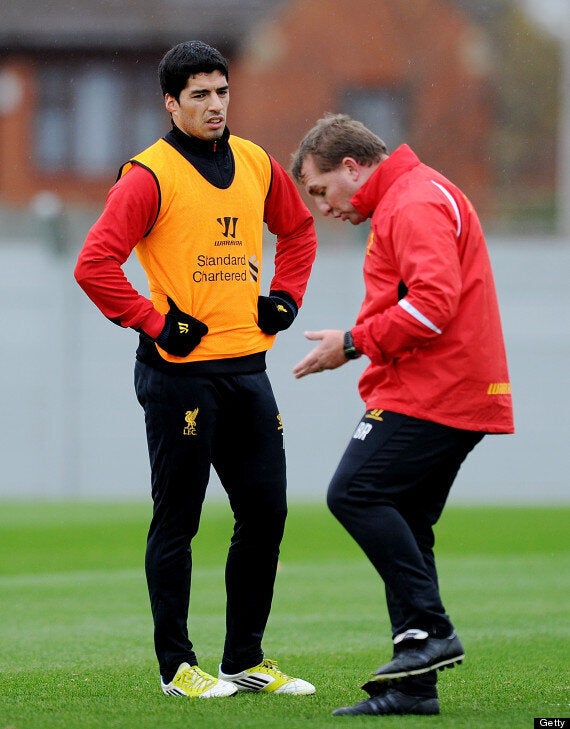 Rodgers has been impressed with Suárez's conduct
"His consistency this year has been phenomenal," said the Reds boss.
"He is a remarkable man. What I have admired from close hand is this is a guy who is trying to change.
"He has come in here and been labelled many things - sometimes maybe, for me, as because he is a foreign player he will get accused more.
"If a British player dives we'll laugh and find it funny but when it's Luis Suárez he is a diver.
"But this is a guy who is trying to turn around his life and adapt to the culture and you can clearly see that."
Rodgers said the 26-year-old's intention to change had not reduced his desire on the pitch, highlighted by his hat-trick in the win at Wigan last weekend.
"There is no correlation. He has a will to win," he added.
"There are cultural differences to where he has worked and played before and you can see he has clearly adapted to that.
"He was struggling a bit with an injury last weekend, believe it or not, and nine out of 10 players wouldn't have played but his threshold for pain is so high.
"He wanted to play and to have someone like that in your team gives you great hope and gives great inspiration to other players because he really wants to win for Liverpool."