Rugby player Gareth Thomas should have been allowed to compete in the climax of 'Dancing On Ice' after his motion sickness woes which saw him booted out of the contest, one of the finalists has said.
The Welsh player had to withdraw from the semi-finals last week after suffering severe disorientation live on TV while using the high wires to perform a flying routine.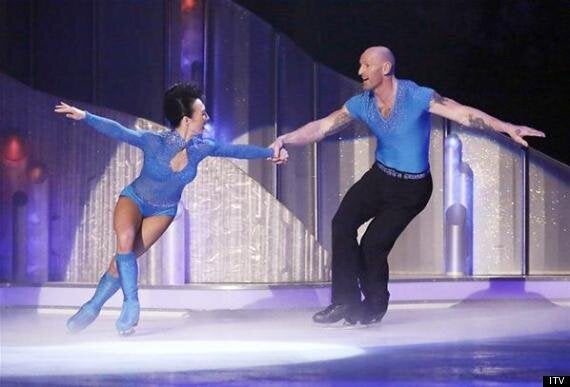 Gareth Thomas was competing in the show with Robin Johnstone
The public vote was cancelled and boxer Luke Campbell, gymnast Beth Tweddle and actor Matt Lapinskas all went through to this week's final by default.
WHO DO YOU WANT TO WIN THIS YEAR'S ICE FINAL? LET US KNOW BELOW...
Luke said he believes Gareth should have been allowed a further try. He said: "They should have put us all in the final, because it's unfair really because of the flight factor.
"It's a part of the show obviously, but it wasn't the element of actually skating. So I reckon they should have brought four of us into the final and let the voting fire away. You always want to feel like you've really earned that position.
"From not knowing what went on, yeah you're through, but you still want to feel like, 'Yes, I got it'."
Matt added: "It was a good night for us, that we made it through to the final, but there's not really been that build up. It's due to default we're all through to the final. You want to feel like you've earned it."
The former 'EastEnders' actor admitted he felt a bit nervous being in the final - which takes place on Sunday at 7pm - against Olympic medallists Beth and Luke.
He said: "I'm at a disadvantage because I'm against two Olympians.
"I've got to beat a gold medalist and fantastic gymnast. I'm quite scared. It's a lot of pressure. Team GB ganging up on little old me. I feel like I've got to go out and push myself to the limits because if I don't Luke's going to knock me out and Beth's going to do the splits on my head or something."