Theresa May is going head-to-head with Abu Qatada once again in a bid to deport the radical cleric to Jordan, where he is wanted on terror charges.
Since his arrest in 2001, the 52-year-old Muslim has managed to successfully wage a decade-long battle against the government, in a blunder-packed saga that has been both expensive and embarrassing for those in power. Cleric vs Conservative: It's personal
It's become a personal campaign for May, with the Home Secretary investing huge amounts of time and resources seeking assurances from the Jordanian government that evidence gained by torture will not be used against Qatada if he was deported.
The case has left her red-faced too, after she got the date of the deadline for Qatada's appeal wrong. As rumours swirl over who will replace David Cameron as the next Tory leader, if May was to secure success in the Qatada case it would be extremely politically advantageous.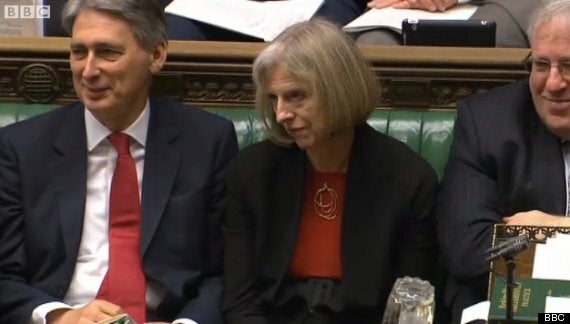 May's evil-eyed glare could well be reserved for Qatada next
As the pair enter the ring for their next round of wrangling, Huff Post UK examines some of the arguments for and against the deportation of the radical cleric.
The government has received assurances from Jordan that torture won't be used against Qatada
May has travelled to Jordan a number of times to seek assurances from the country's prime minster that information obtained using torture will not be used in a trial against Abu Qatada (whose real name is Omar Othman).
The Home Office security minister, James Brokenshire, flew to Jordan again in February to meet PM Abdullah Ensour to ensure Qatada will receive a fair trial as part of the human rights act.
Their assurances aren't good enough
Human rights experts have continually said Abu Qatada will not get a fair trial in Jordan. A senior researcher at Human Rights Watch told the Huffington Post UK in October that though new laws prohibit the use of torture there is no evidence that these laws are being enforced.
Christoph Wilcke, a specialist for HRW's Middle East and North Africa division, pointed to a clause in the new constitution, introduced in 2011, that gave courts a three-year grace period to apply the changes.
Although Theresa May claimed she had received assurances that Jordan will "bend over backwards" to ensure Qatada receives a fair trial. Lawyer Roger Smith, Director of JUSTICE, thinks this is highly improbable.
"Every agency that has looked at Jordan's human rights record has had severe reservations" he told the Huffington Post UK
"Any prosecution has to be based on evidence from around 1990s so I think it's very difficult to see how they could now get new and untainted evidence."
Although former co-defendants - Al-Hamasher and Abu Hawsher in the Abu Qatada case have now been pardoned, they continue to have the threat of imprisonment hang over them and have been re-arrested several times.
Qatada is a threat to national security and keeping him here is not in the public interest Theresa May has so far failed to give Qatada the boot
Breaching the Human Rights Act is not in the public interest
"A decision to deport Abu Qatada, a suspected terrorist, to face an unfair trial would affect not just him but also any other British citizen, innocent or guilty, facing deportation into the arms of an arguably corrupted legal system... The principle would apply not just to Abu Qatada, but to any number of potential deportees with more sympathetic stories, for example people like Gary McKinnon (although as a British citizen, McKinnon was up for extradition rather than deportation)."
Battling Qatada is extremely expensive
Failed attempts to deport Qatada are thought to have cost over £1m in legal fees alone, and that's without totting up how much it has cost to provide security, monitor bail conditions and keep Qatada locked up.
It's the government's fault it costs so much
Judges are merely enforcing laws laid down by the government, and it is not for them to "bow to political pressure just because [the government is] getting flak from the UK people regarding immigration policy", according to UK Immigration Lawyer Harjap Singh Bhangal.
Helena Kennedy, Baroness Kennedy of the Shaws, has also attacked Theresa May for saying judges should be more willing to deport foreign criminals adding: "This is about politics not law so it's not something where blame should be put on judges," the 62-year-old human rights barrister told the Telegraph.
We've done as much as we can to comply with the Human Rights Act. Can't we just get rid of him?
David Cameron said in November he was "fed up" with the ruling, adding: "We have moved heaven and earth to try to comply with every single dot and comma of every single convention to get him out of this country."
Theresa May said in February last year that the European court of human rights had constantly "moved the goalposts" in deportation cases such as Qatadas.
Deporting Qatada without ample reason would have a huge knock-on effect
According to the UK's most senior judge, Britain would have to withdraw from the United Nations as well as the European court of human rights if it wants to deport Qatada to a country that carries out torture. The UN's 1948 Universal Declaration of Human Rights states: "No one shall be subjected to torture or to cruel, inhuman or degrading treatment or punishment."
Also, Qatada is making David Cameron 'fed up', something that surely can only be positive.
He's not our business and if Jordan wants him, we have a responsibility to hand him over.
We gave him asylum, he became 'our business'
Abu Qatada was given asylum and then granted indefinite leave to remain after being tortured. It seems likely that if we could try him in this country we would, but there is no criminal evidence.
Popular in the Community