It may have been fortuitous, but Liverpool's 3-2 Premier League victory against Tottenham was a significant moment in the club's Brendan Rodgers age. Although it was the second time the Reds had beaten a top-half team under the Ulsterman's stewardship, it came three weeks after a Swansea squad distracted by their imminent League Cup final had been vanquished 5-0. That was an unreliable barometer of Liverpool's progress versus the league's better teams whereas Spurs was a dependable indication of their progress.
There is now palpable optimism at Anfield. Sixth in the table and seven points off fourth, Jamie Carragher said they had an "outside chance" of a Champions League berth. Other teams' games in hand masks the heady heights Liverpool are now experiencing but for the first time this season they are displaying consistency.
Since their luckless defeat at home to West Brom a month ago they have enjoyed some flat-track bullying against Swansea and Wigan (as well as suffered elimination from the Europa League) but the Tottenham triumph was a standout result because they were short of their best.
Rodgers has been mocked on a monthly, sometimes weekly, basis since his arrival on L4. The star of Being: Liverpool, life imitated art as he was exposed as a living David Brent, replete with narcissistic canvases and envelopes. The reputation of a bright, young coach was in danger of, like Brent, being made redundant. Rodgers has hailed defeats as "outstanding" and "near-on perfect" while "You can live without water for so many days, but you can't live a second without hope," was the latest Brentonism. He will continue to be ridiculed but Liverpool are on the right track with Rodgers.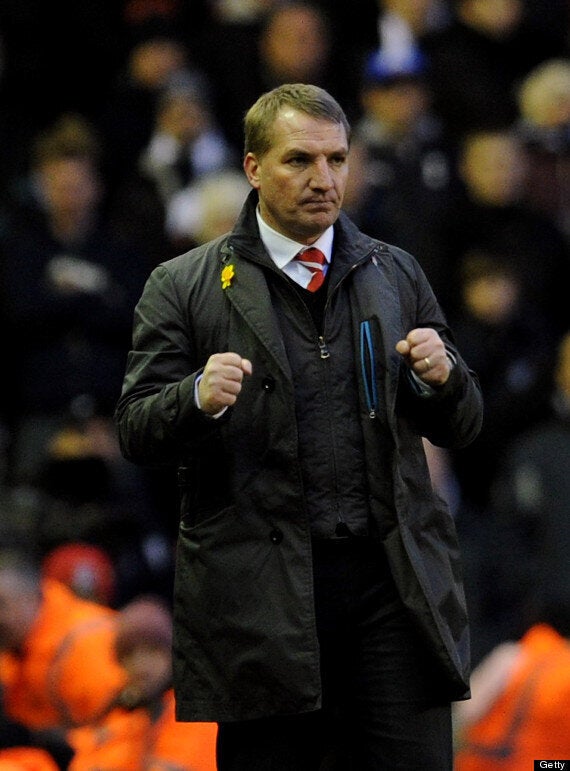 Rodgers celebrates Liverpool's victory against Tottenham
Recent frustrations with the team have stemmed from their capacity to play well without winning. It was similar under Kenny Dalglish last season when Liverpool won as many as they lost in the league, with their home record consisting of just six victories and nine draws. Rodgers has invariably given the impression he would be happier in defeat but playing well rather than in victory and playing badly, but that changed on Sunday.
The January transfer window additions of Daniel Sturridge and Philippe Coutinho stress the importance of patience in football management. Rodgers has been a scapegoat on the blinkered Red and White Kop forums, a haven for the paranoid and deluded, even though he inherited a squad so rife with deadwood a chainsaw was required. Sturridge has begun his Anfield career auspiciously, and Coutinho has developed a swift understanding with the talismanic Luis Suárez for a dynamic attacking triumvirate, as the team starts to take shape.
One of Rodgers' genuinely impressive traits showcased in Being: Liverpool was his man-management, especially that of Jonjo Shelvey. Although Shelvey has become peripheral, Stewart Downing has become pivotal. The left winger openly admitted Rodgers told him he could leave the club yet it has galvanised him, and not by accident. Downing is still dispensable, but should he be sold in the summer Liverpool will at least fetch a decent price for a first-teamer. Suárez is vital to Liverpool's long-term success
Net debt increased by a third from £65.4m in July 2011 to £87.2m in May 2012 at Anfield, which threatens to derail Rodgers' momentum, and there is also the Suárez issue. He has not played Champions League football since a dead-rubber group stage game with Ajax in December 2010, which must irk one of the best players on the continent. He enjoys an unrivalled rapport with the Kop, forgiving of all the diving, cheating and racially abusing because he is the sole world-class player at the club.
Rodgers said last week the Uruguayan is "trying to change", and although Bayern Munich could end the matrimony Rodgers' own handling of the striker surpasses that of the risible Dalglish. The Scot seemed to unwittingly ease Suárez towards Anfield's departure lounge whereas Rodgers has dealt with his transgressions lucidly.
Liverpool are at least five players short of mounting a genuine challenge to re-enter the top four stratosphere, and the immediate challenge is to prove in the next nine fixtures the Spurs success was not the exception to the norm. To coin a favourite phrase among their upbeat followers, they are approaching the corner, not turning it.
Related