Rob Hill is the founder of The Stag Company and owner of Hen Heaven and Eventa. Having started his working life as a chef, his world was turned around after he accepted a job as a chaperone for roudy hen dos.
Here, he tells us why he expanded during the recession, how he set up his business using just a credit card, and why it always pays to check your spelling...
Did you always want to run your own company? How did you start out?
When I first finished school I worked as a chef, but absolutely hated it. Very long hours, crap money – I knew I had to get out of that.
I didn't do particularly well at school but I had good enough GCSEs so I went on to look at accounting – I had some friends in the sector who were able to work 9-5 and go out with their mates at the weekend, which was better than my situation where I was serving food.
I went to nightschool one night a week – and bearing in mind I only had two nights a week off (that was hard) – I got a stage one in book keeping and got a lucky break with Virgin Atlantic.
That was brilliant, the job was just opening post, but I got a real feel for what it was like to work for a good entrepreneurial company. There are pictures of Sir Richard Branson everywhere and when people spoke about him they were in awe of this man.
I worked there for three months and then got a job as a trainee accountant in Brighton – they were going to pay for all my ACCA qualifications, so I stayed with them for three years – and at that company I got the opportunity to work abroad too.
I lived in Germany for 18 months, and when I came back I wasn't too sure about staying in accounts, but thought I'd try a new company first – so I moved around another three companies, but when I got to 24 I was really doubting the whole decision to go into accounts.
Then one day I came up with the idea of a second hand mobile phone company after I lost mine. I looked at how much it would cost to set up a shop and buy the assets and it was scary. But then I realised even though that wouldn't work, I had to set up my own business.
I didn't enjoy working in the big corporate world with its open plan offices and their stale atmosphere where no-one talks to anyone else – there's so many employees at those places that sit there and do nothing… I just thought 'I cannot do this for the rest of my life'.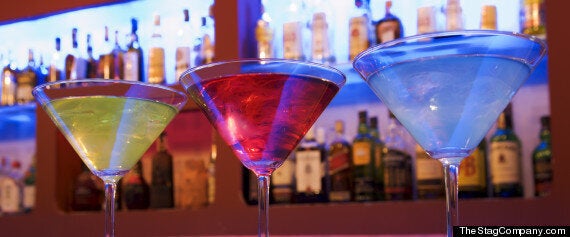 Being an accountant wasn't exciting Hill, but cocktails and hen dos soon beckoned...
How did you come across the idea of hen and stag parties?
There was a company called Hen Heaven which was already up and running; I knew them through a friend of a friend, and the owner offered me a job. He said 'I've got the best job for you – I need a chaperone to take the hen group out shopping and on bar crawls'. I couldn't believe it. Every Saturday night I'd take out a load of women to go shopping and on bar crawls – it paid £80 from 12pm til 2am… that was a brilliant job.
I soon realised this was a fun industry and this was what I wanted to do. The guy at Hen Heaven didn't have any stag set up, so when we were out at the pub one night I asked how he'd feel if I set up a stag company. He gave me his blessing and told me to go for it, so that was it.
I bought the web domain for thestagcompany.com, which I couldn't believe was still available, and Paul at Hen Heaven had some spare office space that I was able to use.
Before I started, I was 25, being paid £28,000 a year, and a lot of people said, 'what are you doing?'. I had no marketing knowledge, knew nothing about running a business – I hadn't even been on a stag do at that point, even though I'd been on a few hen dos!
So I started on January 1 2004 – I had no business plan, but I knew this was going to work and make me a lot of money, and no-one was going to tell me otherwise.
What was your first day as your own boss like?
The first thing I did was organise supplier meetings – I turned up to the first one at a quad bike centre in a suit, because I assumed a meeting required a suit. The farmer just looked at me, threw me a pair of wellies and we got on with it.
The first year flew by. I didn't make any money at all, but I loved it. In 2004 our turnover was £200,000. Last year was £7 million, and our forecast for 2013 is £10m. It was really hands on because I was looking after the stag dos at the weekend as well.
I was easily working 90-100 hours a week. I was picking the stag dos up at midday, taking them paintballing, then dropping them off for food, and to get changed, then taking them out on the bars, picking them up at 3am and taking them to their hotels… I soon realised I couldn't do everything. I realised if I kept on I'd have had a nervous breakdown.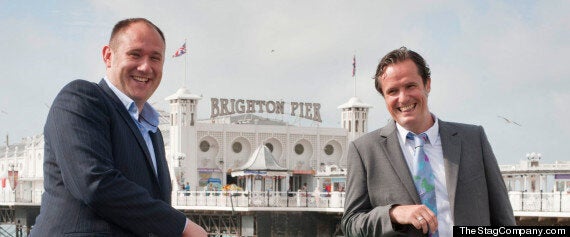 Hill with business partner Nick Shuff
In 2005, I took on my first employee – Nick Shuff. He's still with us today and has now has a share in the business. He was a really good sales person so he concentrated on that. I also realised I needed an assistant because while we were growing it was all very manual – we had to fax the hotel, fax the suppliers – the files were inches thick just for one stag booking.
One thing we realised really early was it cannot go wrong – you only get one chance with a stag do, which led us to be almost over the top with our checks. The way I look at it, there's another 11 or 12 people on the stag and if I do a good job for this one, there's 12 other opportunities to remarket it to them.
How did you fund the venture?
I had £15,000 on my credit card. It pushed me through the first three months.
Did the suppliers treat you differently, given you knew nothing about their sector when you joined?
No, they were all quite welcoming. One of the hardest things we faced was trying to get some hotels to work with us, as stag parties didn't have the best of reputations.
I remember trying to get availability and it used to take 30 hotels to find 10 twin rooms in the middle of summer in Bournemouth. This year for the first time we've bought £3m worth of hotel rooms in advance, but back then it was nearly impossible. But I was persistant.
How did you go from a start up to a big player?
In 2007 the guy who owned Hen Heaven had become bored with the business, so I bought him out, and Nick bought into the business in 2007 and became a director. That was key as I had another person to help me make decisions.
Up until then we were growing but it wasn't profitable growth – so I worked out I needed Nick to take the day-to-day business, and for me to concentrate on building a system to stop everything being so manual.
Our content management system manages the website – we've got 70 locations and 10 packages on each, and every time you change a price or a detail you want to be able to change it without bothering the IT guys.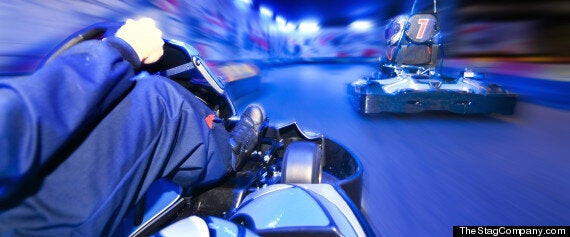 Go-karting is one of many popular past times for both hens and stags
The other thing we had before the rest of the market was individual payments - there's nothing worse than when you have to organise a stag and everyone expects you to put the money up front as the best man.
Getting the search engine optimiation right on the website was also key. I spent a lot of time researching SEO; Google is the biggest high street in the world so if we were going to make any money out of this we had to be number one.
I recruited a web guy and we managed to get to the top of Google for some massive key search terms that I didn't think were possible – things like hen weekends, stag weekends – the traffic was phenomenal.
Did you have any financial problems during the recession?
When I bought Hen Heaven I'd never bought a business before and took on the debt, which I didn't really understand at the time. But it became an issue; we bought in 2007 and we had an overdraft of £100,000 and we'd also had a few hefty losses. The size of the overdraft wasn't a problem as I had a really good relationship with the bank manager.
When the recession hit, it was a nightmare. The bank looked at withdrawing the overdraft and told me they wanted my house as a guarantee. Because we hadn't had a profitable year at that point, it was really hard. After the recession it was the underwriters that had all the control. I just had to talk to the bank manager and make him believe me. It was touch and go, we were close at times.
And then we were forced to change bank manager half-way through, which wasn't good. The new one took us to one side and said if kept hitting out overdraft she was going to have to consider removing the overdraft. She said to me 'I really don't think this business is going to be where you want it to be; I don't think you've got the capital'.
At that moment we decided to leave HSBC and move to RBS, who were brilliant. I wish I had the old bank manager's email or telephone number and say to her, 'look, not bad for someone who was never going to make it'…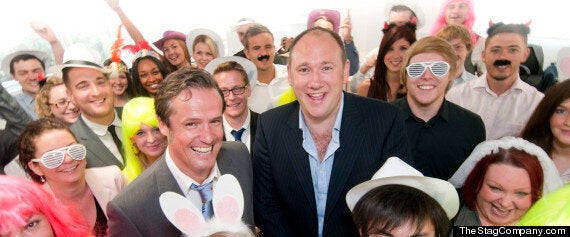 There's not much Nick and Rob haven't seen on a hen and stag do...
What mistakes have you made?
I didn't delegate enough. You think there's no-one there who can make decisions for you, but you have to realise there's only so much day-to-day stuff that you can physically do.
One of the things I wish I'd done was invested in our IT system earlier. If we'd have got that in from day one we'd have accelerated our growth a lot more.
The hotels were hard to get into. And there was the competition, they were quite a lot bigger than us, and they were already working with suppliers.
I had to learn from the mistakes about building a website too – in February 2004 I set the website live and knew it wouldn't show up on Google right away – so I read a load of forums on how to use pay-per-click (PPC).
So I started bidding for some keywords and saw afterwards that I was getting loads of traffic, but no enquiries – in the first day I paid out £250 for the PPCs, but no enquiries – that happened for two more days and I started panicking.
It took me half a day to find a telephone number for Google – and when I did finally get someone the man went through the site for about an hour and then said to me 'Rob, did you test the link you've assigned to the keywords?' I said I hadn't because it was going to cost me £2 to do it. But he made me go and try it, and the link was broken. Why? I'd mis-spelled the link. I'd spelled stag 'satg'.
But after that the enquiries started coming in.
What trends have you seen?
The girls are doing more activity-based hens now – we did some research two years ago and we found women are doing paintballing and go-karting more than ever – they've done all the cocktail making and bar crawls before and now want to do all the traditional stag activities. We've had them go quad biking, there's been a real surge for hen dos in Las Vegas too.
The guys meanwhile are increasingly going to eastern Europe – not just for the cheap beer, but also because of some of the activities you can do – on one package you can shoot AK-47s, fly a Mig jet, go bungee-jumping – the activities out there are phenomenal.
The hens prefer the Spanish destinations, especially Marbella after The Only Way Is Essex shot there – the requests went through the roof over night. It's still really popular today.
Celebrities really influence our market – when Wayne Rooney had his stag do on Ibiza we saw a big increase in stag bookings. Sir Richard Branson has been someone Hill particularly looked up to for years
What's been your proudest moment?
Last December we got shortlisted for the Virgin FastTrack Awards. We were named the 80th fastest growing company in the UK and for me personally, from the early days I used to read the Virgin FastTrack lists and used to wonder if we would ever be big enough to get in it. They have an awards dinner at Sir Richard Branson's house in Oxford, which is nice.
I've read a lot of his books and there's a lot of key things which stood out – those books were my education really. It's really good to be able to read other people's stories because we all have times where we think 'I can't get through this' and you read other people's tales and realise you can. I find it really inspirational.
There are four million companies out there and we got shortlisted into the top 100. This year we'll still be in that top 100.
One of the issues we used to have was that our business was seasonal – January – March would be the busiest part with all the bookings, then April-September are our departure months when everyone goes away on the trips.
But October to the end of the year was quiet; we found we had to let staff go.
So in 2009 we decided we'd set up a Christmas party – there wasn't much competition in that space and our technology and contacts put us ahead of most of them.
People thought we were mad – in the middle of a recession – to expand into a new business. They told me I should rest on my laurels, but I've never been much good at that.
The first year we didn't make any money really, but now it's booming – we've got some big clients on board like BP, PricewaterhouseCoopers – and that keeps us busy all year.
From a cashflow point of view, we've got money all the time, which makes it one of the best decisions. We're looking at expanding that side – we've called it Eventa and we're offering corporate summer parties now too. We're also considering looking into golf holidays.