So, as the latest batch of make-up free photographs go viral -- this time a selection before and after shots of porn stars taken by make-up artist Melissa Murphy -- HuffPost UK Lifestyle can't help but wonder why 'baring all' continues to make the headlines?
See the before and after photos (story continues below):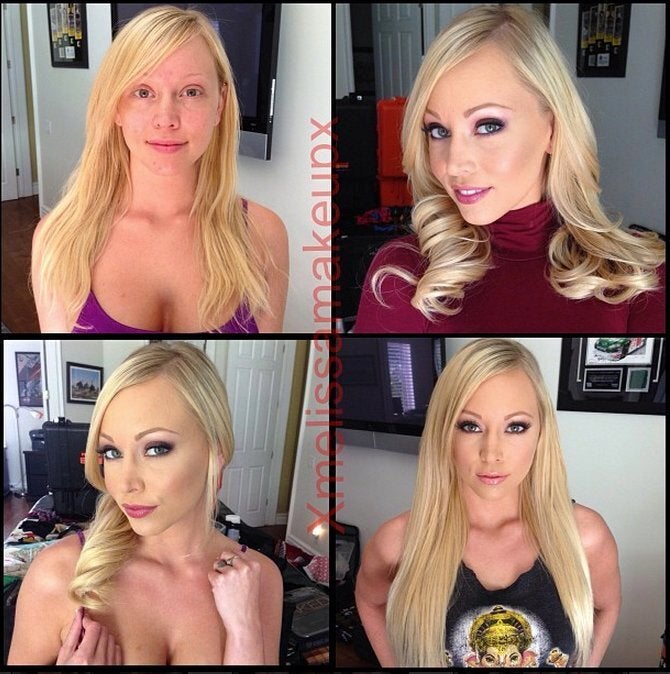 Porn Stars Without Makeup
Murphy reveals that she never expected her work to become an overnight viral sensation, after originally uploading the images to Instagram to showcase her work.
For women in the public eye, the decision to go make-up free can lead to criticism from onlookers. Last year Holly Willoughby was labelled a "playground bully" and "anti-feminist" after she tweeted a picture of herself with no make-up on.
Despite the fact that women commonly go make-up free in everyday life, when it comes to celebrities we seem to have different standards.
Katie Jones, deputy editor of fashion site MyDaily.co.uk says: "I think a lot of women find it refreshing to see celebrities without makeup in the media. It's a reminder that a lot of work goes into creating their perfect hair and make-up in magazines and on the red carpet."
She adds: "It's easier to relate to a celebrity when they're showing their 'natural' selves."
HuffPost UK Lifestyle believe that pictures such as Murphy's could have the capacity to empower women and address body image issues. But some comments on Twitter have been far from positive.
"Look at the state of some if [sic] them without make-up!!" says one user.
"It's all an illusion. Not so hot without the make-up," tweets another.
Ladies (and gentlemen) would you go make-up free to work? Let us know in the comments below.