A 30st mother-of-three is insisting she cannot lose weight unless the NHS pays for gastric surgery.
Wendy Phillips was forced to give up her job at a care home five years ago, after she developed a back injury because of her size.
She says she's been too fat to work since then and has claimed around £30,000 in sickness benefits.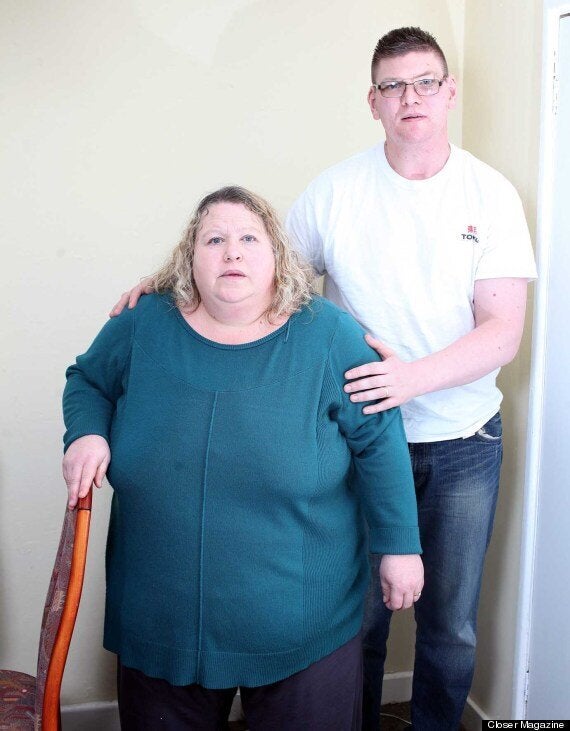 Wendy Phillips and her husband Sean
Despite Wendy's lifestyle, her husband Sean is a qualified fitness instructor who goes to the gym three times a week and ran a marathon last year.
Yet Wendy says she's unable to take advantage of his expertise – and says the only way she'll slim is if the NHS pays for a gastric bypass, which can cost up to £15,000.
The NHS has refused funding on the grounds she hasn't proved she's willing to change her lifestyle, but 5ft 2 Wendy – who has a BMI of 76.8 (18-25 is healthy) tells Closer magazine this is "unfair."
Speaking as it was revealed more than 7,000 adults in Britain are claiming benefits because they claim their excessive weight prevents them from earning a living – costing taxpayers £28m a year – Wendy said: "I know I've been stupid – now I'm too fat to work.
"I was greedy and ate too many sausage rolls. But it's too late for me to help myself now. I try to diet, but exercise is painful.
"I worked and paid my taxes for 20 years, so I didn't expect the NHS to shut the door in my face. If they don't help me, I'll die. Taxpayers see fat people as a burden, but alcoholics get help. I'm being treated unfairly."
Wendy added: "Sean's advised me about nutrition and exercise, but I don't have as much willpower as him. I'm sensitive about my weight so he doesn't push me."
The 46-year-old from Barnstaple, Devon, was a size 16 before she fell pregnant with her first son at 21. She struggled to lose weight after her pregnancies and indulged in a lifetime of snacking.
During each pregnancy, her daily intake of food would typically consist of a cheese sandwich, a packet of crisps, a steak and kidney pie with mash and "large" wedges of cheese for snacks.
In 2006, while at work, Wendy sustained a back injury lifting a patient. A physiotherapist confirmed her weight had caused wear and tear on her spine, leading to the injury. She says: "It was agony. I was basically bed-ridden, so I couldn't go to work."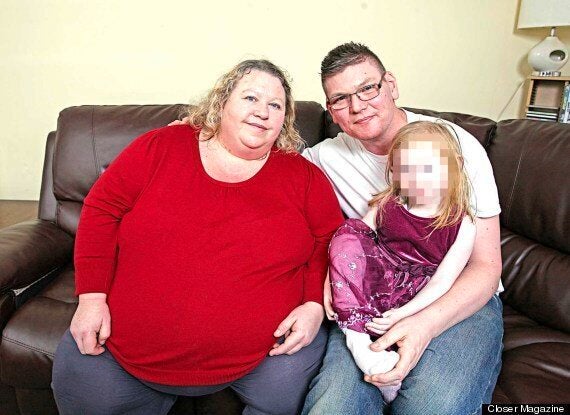 Wendy and Sean with their daughter
Yet she still refused to diet – and ballooned to 25st within 18 months. She says: "I comfort ate. I'd snack on packets of crisps and chocolate. Four times a week, I'd have a takeaway. I was secretly eating 4,000 calories a day."
Wendy began claiming a £100 weekly disability living allowance 28 weeks after sustaining her injury – which rose to £130 after three years. Over the past six years, she's claimed around £30k.
Since then, Wendy has only attempted to diet once – so she could fit into her wedding dress. But once the big day was over, the weight crept back on.
She adds: "I'm ashamed I haven't been able to work and I've claimed so much in benefits. I wish I could stick to diets, but some people just don't have self- control – it's not our fault."
In 2009, at 30st and a size 36, Wendy discussed gastric surgery with her doctor. She was told she'd have to attend a weight-loss clinic for 12 weeks to prove her dedication to losing weight – but still failed to shift the pounds.
"They wanted me to eat porridge but it gave me diarrhoea, so I ate toast instead," she admits. "I ate healthy meals like pork steak and boiled potatoes and exercised – lifting cans of beans every day – but it didn't help."
After her bypass funding was refused, Wendy, who has arthritis and high blood pressure, sobbed: "It's not fair."
Wendy, who insists she no longer snacks, now typically eats Rice Krispies or two slices of toast, followed by a cheese sandwich and large portion of pasta.
She says: "I know I eat more than I should, but I feel let down. I'm costing the state so much in benefits, and the NHS has offered me walking frames and a custom-made shower – all that costs money.
"They'd be better off paying for the op. I want to work and play with my granddaughter, but I can only walk five steps. I need a gastric bypass – there's nothing more I can do."
Sean, who's now a nurse, says: "I haven't always known how much Wendy's eating. It's been disappointing, especially when she's refused to come to the gym with me, but she's strong willed."
GP Dr Sarah Jarvis says: "If Wendy stuck to a healthy diet she could lose weight – surgery isn't her only option. Patients who are unable to lose weight prior to gastric surgery will be less successful afterwards anyway."