Arts lovers can hear Beethoven in a spaceship and see Leonardo da Vinci take centre stage with modern technology at this year's Edinburgh International Festival.
The event, from Friday August 9 to Sunday 1 September, showcases global talent in the areas of theatre, dance, music, opera and the visual arts.
This year's programme will feature works from classical masters contrasted against modern contexts.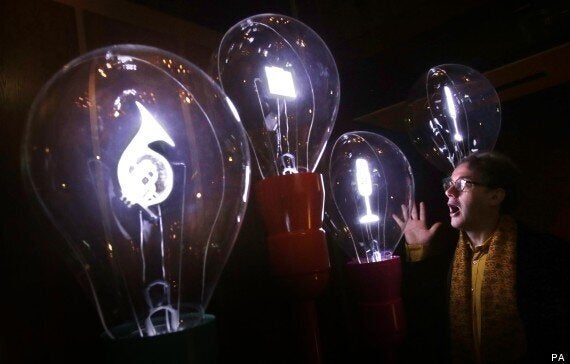 Festival Director Jonathan Mills launches the Edinburgh International Festival 2013 programme
While other innovations include an orchestral work featuring sound files contributed by members of the public as well as public art created in the city with the use of special lighting technology.
Jonathan Mills outlining the challenge presented to artists involved in the 2013 programme, said: "It is the role of artists to think differently, to offer us provocations and inspiring contrasts to our everyday lives.
Artists' innovation in everyday materials has played a key role in the evolution of artistic techniques and thinking and of how we experience the world. We celebrate this interaction through historical as well as contemporary work."
Beethoven's Fidelio opera will become galactic as it is set on a spaceship in a production by media artist Gary Hill while the groundbreaking anatomical drawings by da Vinci are shown alongside the very latest medical imagery in The Mechanics of Man.
The award-winning Scottish theatre company Grid Iron presents a new, interactive, performance which will lead the audience to a place "out of this world" located on the outskirts of the Scottish capital.
Korean American visual artist Nam June Paik will make his Scottish debut, 50 years after his first solo exhibition while Scottish Ballet returns to the Festival Theatre with a four-day dance festival, supported by an award of £200,000 from the Scottish Government through the Edinburgh Festivals Expo Fund.
Humza Yousaf, Minister for External Affairs said: "This year's programme presents a range of vibrant and exciting opportunities for everyone to engage in the very best that the arts have to offer, right here in Scotland.
"The Edinburgh International Festival brings together exceptionally talented international artists, helping to celebrate and promote Scotland's rich culture and heritage on the world stage, and supporting Scotland's economy."
Sir Sandy Crombie, chairman of Creative Scotland said: "It not only brings global artistic talent to Edinburgh, it also provides an invaluable platform for Scottish artistic and creative talent.
"Creative Scotland is proud to support the Edinburgh International Festival which continues to be such an important part of Scotland's cultural calendar and, indeed, our cultural life."
Cllr Steve Cardownie, Edinburgh's festivals and events champion, said: "Every year, the festival continues to bring the very best in the arts from across the globe to Edinburgh, greatly enhancing the city's excellent reputation as the world's festival city."
Tickets on go sale to the public on Saturday 23 March and the festival concludes with the Virgin Money Fireworks Concert on 1 September.