Any Star Wars fan knows that Jedis have pretty strict taboos about getting married, but should the situation arise in Scotland, the Free Church are pretty rattled by the idea that Yoda could be officiating at religious Jedi ceremonies in the country.
The Free Church of Scotland has expressed concern that the proposed Marriage and Civil Partnership (Scotland) Bill will allow groups promoting a belief to marry couples - and that could include Jedis or the Flat Earth Society.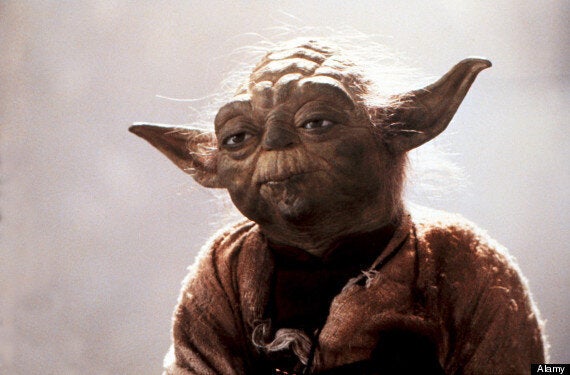 Scotland's next religious minister?
Church spokesman Reverend Iver Martin told BBC Alba: "The third category is quite astonishing because it is the so-called belief category without really defining what belief means.
"There are loads of people in a diverse society like this for whom belief can mean virtually anything - the Flat Earth Society and Jedi Knights Society - who knows?
"I am not saying that we don't give place to that kind of personal belief, but when you start making allowances for marriages to be performed within those categories then you are all over the place."
The Scottish government is currently holding a consultation on the Bill, and stressed that the third type of ceremony was suggested because of belief systems like "humanism" who have a belief system which is "non religious".
Various organisations already offer Jedi-themed wedding ceremonies, although with the caveat that the ceremonies may not be legally binding.
According to Jedi Church, New Zealand allows Jedi ministers to perform ceremonies. It also suggests wedding vows that a Jedi couple might prefer to use.
A JEDI WEDDING VOW, VIA JEDI CHURCH

Do you Jedi ______ take Jedi _______ to be your husband/wife, and do you promise before the Jedi Church and these witnesses that you will be a true and devoted partner? In forces of darkness and forces of light, wherever you may go and whatever you may face, do you promise to share your life in marriage with Jedi ________?

Jedi ______ and Jedi ___________ have consented together in marriage. They have pledged their faith in each other as witnessed before us. They have promised to be truthful and devoted to each another. In the name of the Jedi faith, I pronounce them husband and wife. May the force be with them!
In Scotland, 14,052 people stated that Jedi was their current religion, with 14 specifying they were "Sith".
In April 2009, it became known that eight police officers serving with Scotland's largest police force, Strathclyde, listed their official religion as Jedi in voluntary diversity forms.