It's the penultimate week of 'The Big Reunion' and pretty much all the bands were having a pickle of one kind or another.
But first it was time to stretch out Blue's back-story one more time, and check in on their varying fortunes.
While bad boy Lee Ryan found that his diva antics in the group did not deliver him the gloriful solo career he'd been promised, Simon Webbe was merely 'flailing in existential quicksand' according to narrator Andi Peters. Glad he cleared that up for us, then. There was nothing existential about Antony Costa's problems - he was just skint.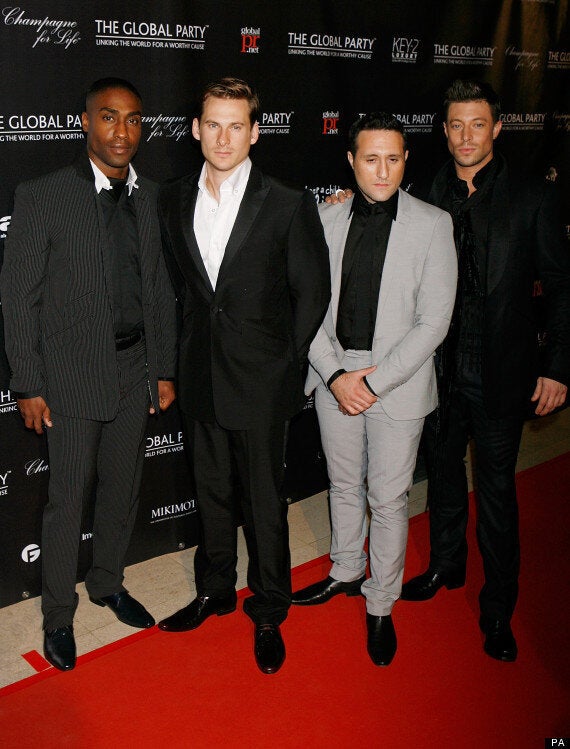 Blue experienced varying fortunes once they split, before a Eurovision comeback in 2009
But Duncan James... he's another one who could have a whole series to himself, judging by his dramatic few years. After getting us to play the world's smallest violin for Blue's "long days of hard work", he did actually have a tough time, hiding his sexuality. "I couldn't tell anyone," he remembered, helpfully being filmed dining alone... as if Duncan James ever had to do this. He's outlived the newspaper who outed him, and he's become a dad. I thoroughly expect his story to be in a BBC2 serial drama, with him being played by Good Cop's Warren Brown, or someone similarly be-cheekboned.
Blue's comeback came via an eleventh position on the Eurovision plinth, and here they are. "It's nice to sit with people who do actually want us in this show," they told a 5ive, 911 and LibertyX boozing hotchpotch.
Some of the other bands had bigger problems than Blue, though. The Honeyz' challenges were restricted to costume battles - I think we can expect to see the trademark blue jackets, although I'm not sure how many buttons they should undo this time around.
But 911's Sean was really feeling it, with the routines tapping into all his former insecurities. Statistically speaking, I guess it was inevitable someone would crack. I was reminded of Brian Conley's experience last year during I'm a Celebrity... so I hope there are a similar bunch of professionals around to help him, as well as his ageless jack-in-a-box bandmate Abs. What he lacked in depth - "it can be tough, man, take five minutes" - or the ability to express himself like any normal 35-year-old man - "standard, it's standard" - he made up for in comradeship and lots and lots of heart. Everyone should have an Abs in their life.
Popular in the Community