Whether it was making the coolest films of the 90s, the most controversial films of the noughties or just being his volatile self on camera, Quentin Tarantino has been entertaining us for over twenty years.
To mark the director's 50th birthday, we're counting down our top 50 Tarantino moments, from the greatest scenes he directed to the best stories he wrote to just our favourite stuff he said outloud.
What will top the list? Scroll down to find out and tell us why we got it wrong. Bad language and violence to follow, obviously...
50. The Shoot Out (Django Unchained)
There's no shortage of Tarantino shoot outs, but this one from 'Django Unchained' may just be the most raw, exciting and, of course, bloody.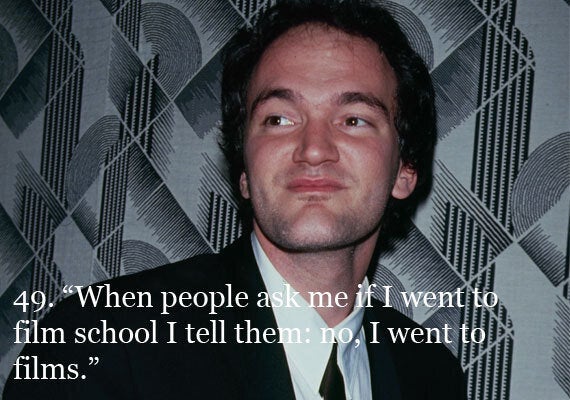 48. Pot Bellies (Pulp Fiction)
"I don't give a damn what men find attractive. It's unfortunate that what we find pleasing to the touch and pleasing to the eye are seldom the same". True that.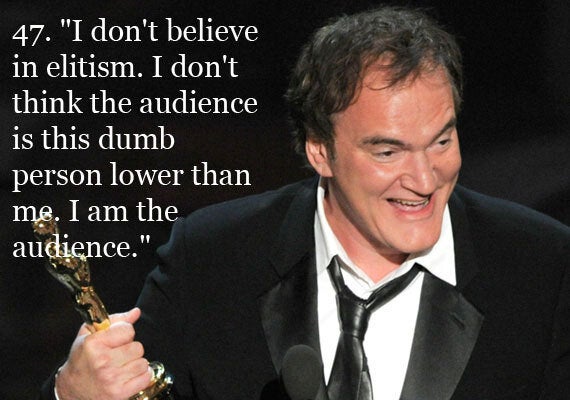 Tarantino delivers a karate chop to a paparazzo filming him buy a coffee, but manages to keep as cool as Samuel L Jackson when goaded further.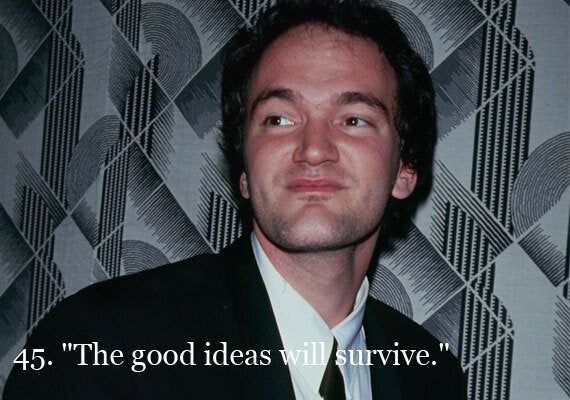 44. THAT Dance (Pulp Fiction)
Seen at every wedding since 1994.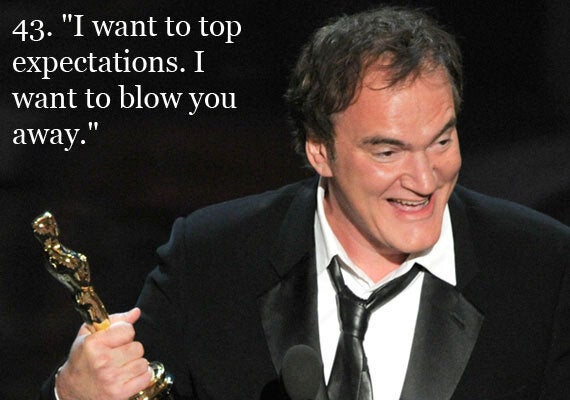 ...And on Graham Norton years later, thanks to Quentin himself.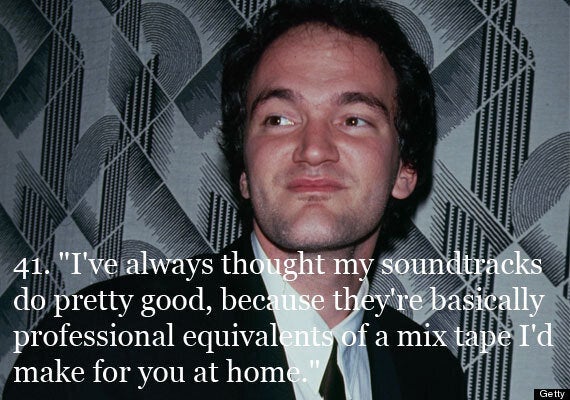 40. The Watch (Pulp Fiction)
Quentin's knack for writing perfect soliloquies for his actors manifests in an unforgettable scene with Christopher Walken.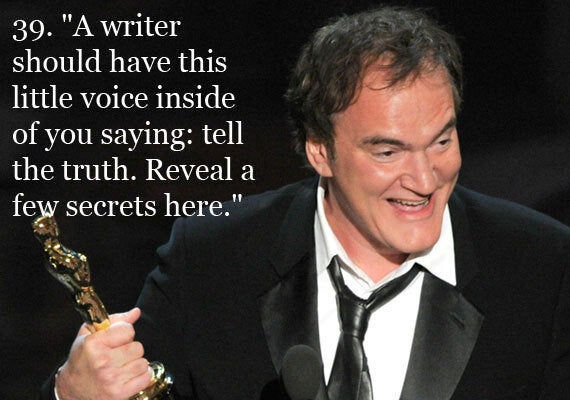 38. "I'm Shutting Your Butt Down!"
Quentin loses it when pressed by Channel 4 about violence in movies.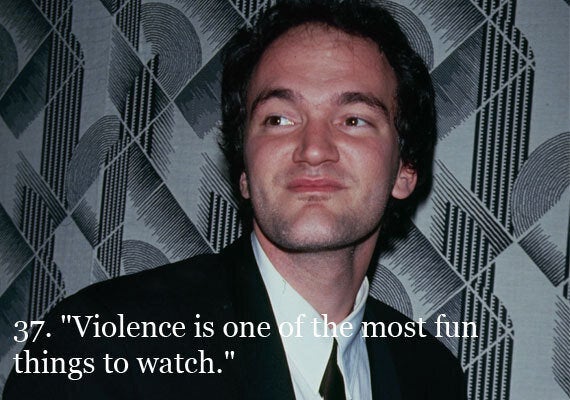 36. The Wolf (Pulp Fiction)
A cameo from Harvey Kietel, who teaches gangster movie upstarts Samuel L Jackson and John Travolta a thing or two.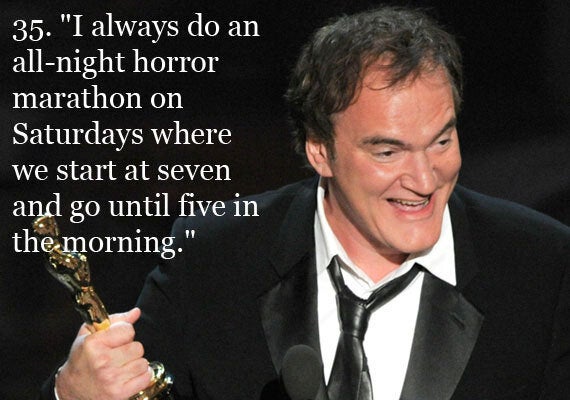 34. "Why am I Mr. Pink?" (Reservoir Dogs)
Steve Buscemi suffers from an identity crisis.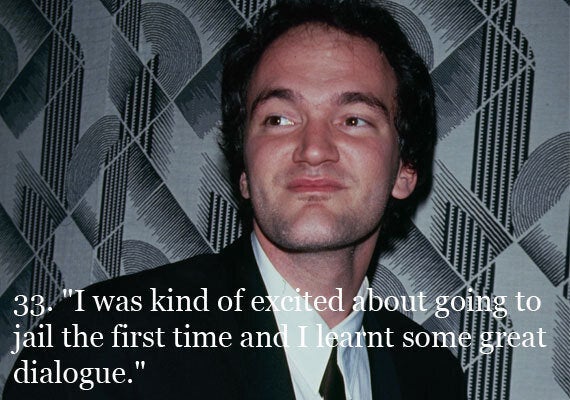 32. Getting The Best Out Of Samuel L (Django Unchained)
No actor appears in Tarantino films more often than Samuel L. Jackson. 18 years after first casting him as the coolest character in 'Pulp Fiction', Tarantino brought him back as the despicable Uncle Tom butler Stephen in 'Django Unchained'. It was widely seen as one of the film's stand-out performances, proving yet again that the actor is never better than with a Tarantino script in his hand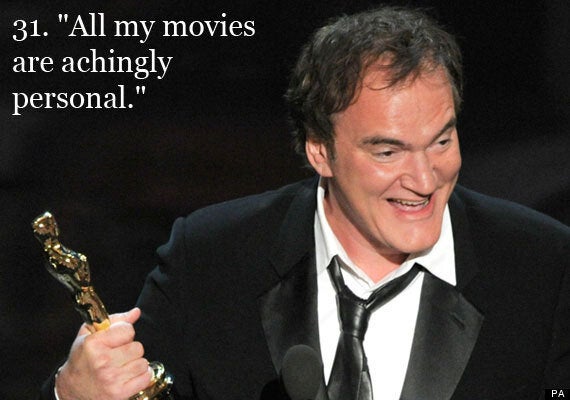 30. The Walk (Reservoir Dogs)
One of the most iconic scenes in Tarantino's entire oeuvre – not to mention the 90's cinema as a whole - the intro to 'Reservoir Dogs' is one of the most mimicked moments of any film ever and announced the coolest American director of his generation.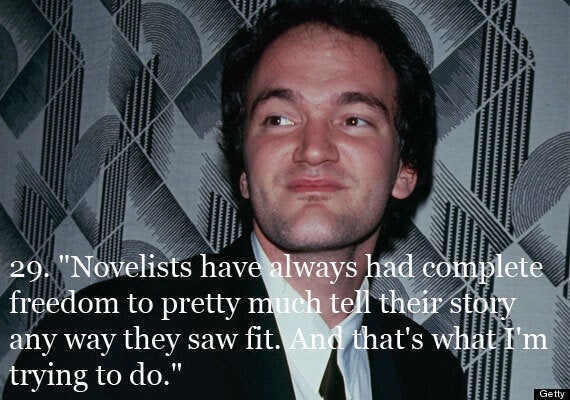 28. The Sicilian Scene (True Romance)
Tarintino didn't direct this film, but he did write it. And it contains some of his best-ever dialogue, particularly this unforgetable face-off between Christopher Walken and Dennis Hopper, which Tarantino has described as one of his 'proudest moments'. If you only watch one of these clips, make it this one.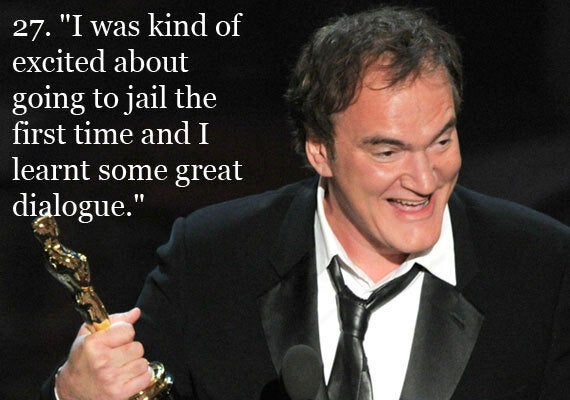 This 1994 satire of American bloodlust and the media owed much to Oliver Stone's dizzying directorial flair, but the story belonged to Tarintino in what is arguably the most intelligent and provocative story he's ever told. This uncomfortable scene starring Rodney Dangerfield received particular praise from critics.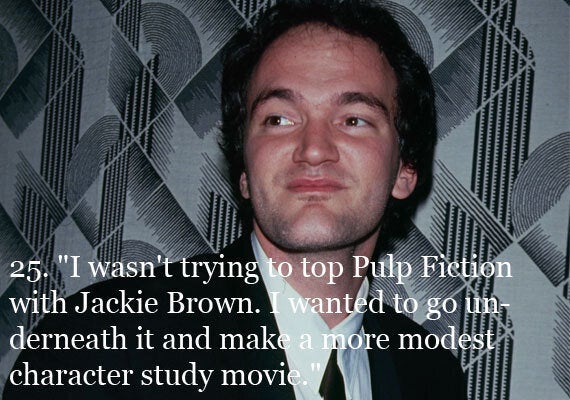 24. Chicks Who Love Guns (Jackie Brown)
"When you absolutely, positively have to kill every mutha' f**ka in the room..." Etc.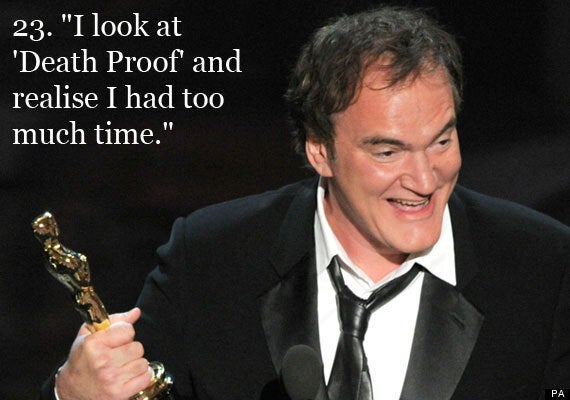 22. "Cough In Your Goddamn Buck Like Everyone Else" (Reservoir Dogs)
In trademark piece of incidental Tarantino dialogue, the crew debate the politics of tipping.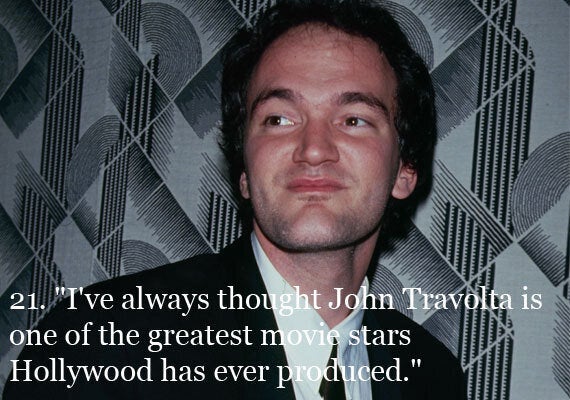 20. Pam Grier's Entrance (Jackie Brown)
Tarantino's coolest ever lead Pam Grier strolls into Tarantino's most under-rated film to the sound of 110th Street by Bobby Womack.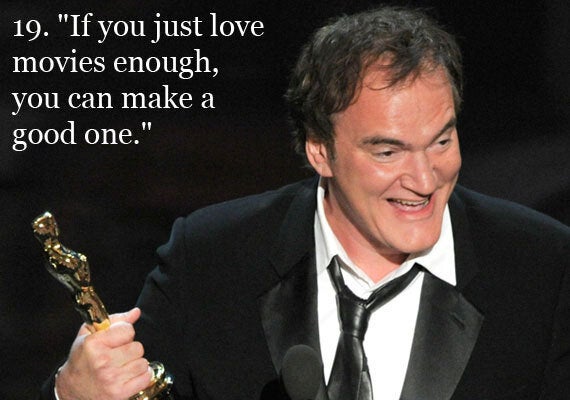 18. Black Mamba vs crazy 88
Probably the goriest scene in all of Tarantino's films, Uma Thurman dispatches 88 ninjas with just a sword (and the odd eye-plucking)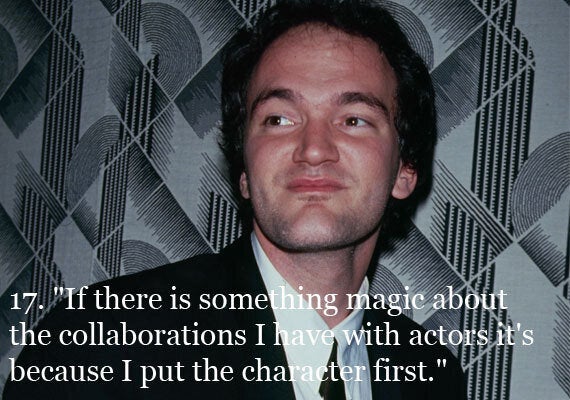 16. The Truce (Kill Bill Part 1)
Black Mamba (Uma Thurman) pauses her fight with Copperhead (Vivica A. Fox) when her young daughter gets home from school...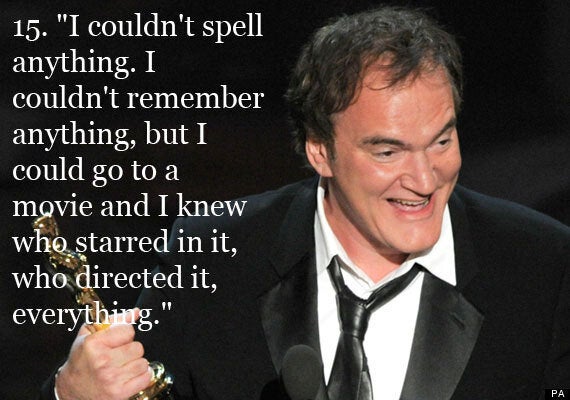 14. Kitchen Kill (Kill Bill Part 1)
...But dispatches her brutally once she is out of the way again. 12. The Trailer (Death Proof)
Quentin Tarantino and Robert Rodriguez's double bill 'Grindhouse' was a wonderful throwback to B-movie exploitation flicks – and nowhere did it feel funnier than in the theatrical trailers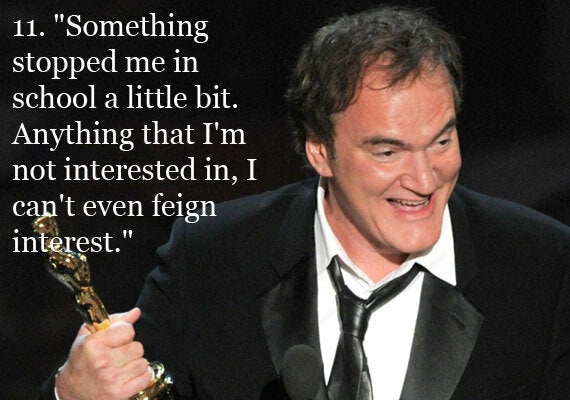 10. "Quentin Tarantino presents..." (Hostel)
Since becoming an all-powerful Hollywood figure, Tarantino has helped smaller budget or foreign films make the big time – the controversial torture horror flick 'Hostel' being one of them.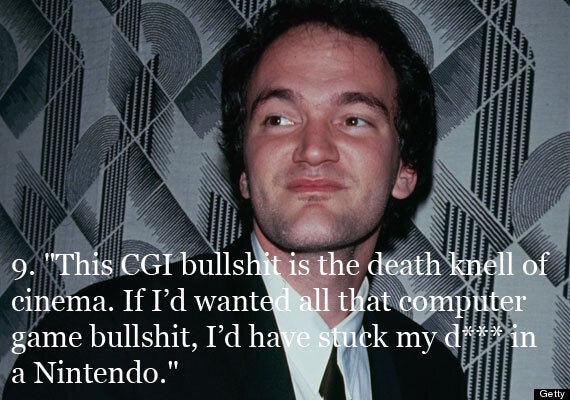 8. Quentin Tarantino Film Festival
Tarantino doesn't just make films, he loves films – a total movie geek if ever there was one. Which is why he launched his own film festival in 1997.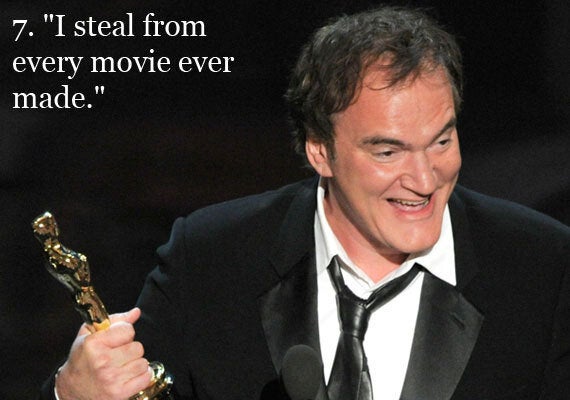 6. Hans Landa Entrance (Inglourious Basterds)
In yet another memorable opening scene – this time for being chilling, rather than cool - Nazi Colonel Hans Landa blackmails a French farmer into giving up Jewish civilians hiding under his floorboards.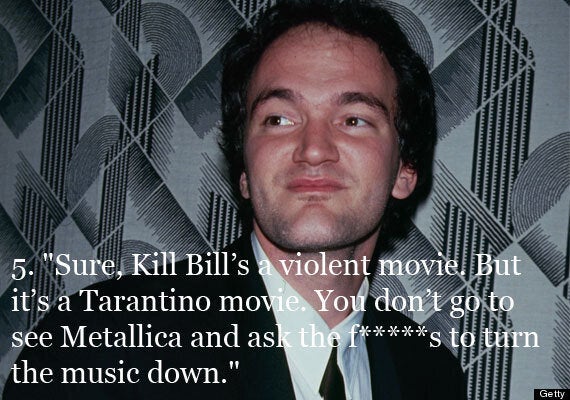 4. The Ear (Reservoir Dogs)
The scene that made Tarantino's name. Michael Madsen's sadistic psychopath Mr Blonde cuts off his victim's ear to the jaunty soundtrack of 'Stuck In The Middle With You' by Stealers Wheels.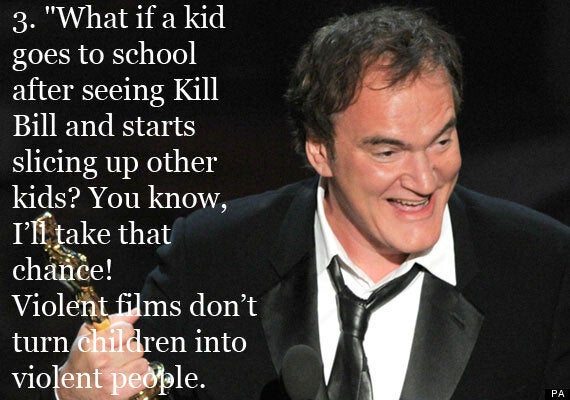 2. Ezekiel 25-17 (Pulp Fiction)
Samuel L Jackson delivers an entirely unnecessary master class in intimidation to someone he was planning to kill anyway.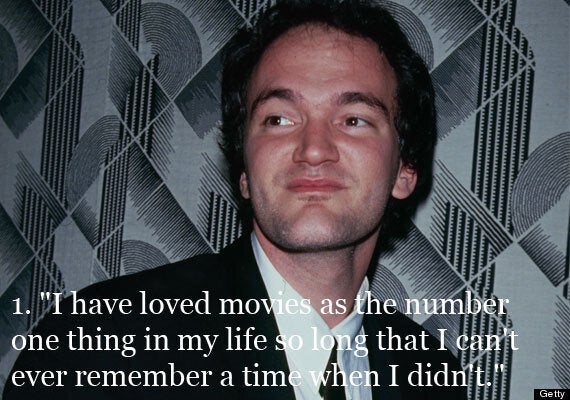 Popular in the Community