Forecasters warned Britain could face the coldest March for 50 years as harsh weather conditions caused flooding in the South West, a landslide in Cornwall and snow over much of the UK.
Schools were shut and transport was disrupted as any hopes of spring were dashed by yet another bitter onslaught prompting a string of warnings from government agencies.
More flooding is expected in the South West as Thursday's heavy rain continued and police are investigating whether Susan Norman, who is in her 60s, is trapped inside her home in Looe, Cornwall, after part of the property collapsed when it was hit by a landslide and floodwater last night.
Emergency teams searching the partially collapsed property have said they believe a body is inside. Neighbours heard 'windows popping' at the house as water hit the property
Further north, snow blanketed many areas with up to 8in (20.3cm) expected to hit the worst-affected parts of north west England, North Wales and south west Scotland.
Higher areas could even see up to 16in (40.6cm), while bitterly cold gale-force winds create blizzard-like conditions and plunge temperatures down to well below freezing. An early lamb is welcomed into a cold cold world
John Lee, forecaster with MeteoGroup, the weather division of the Press Association, said it could be the coldest March in 50 years.
He said the average temperature expected for central England at this time of year is 6C (42.8F), but so far this month the average is 2.2 degrees below that - at 3.8C (38.8F). Heavy snow has hit Northern Ireland
That is significantly colder than last March, when averages were 8.3C (46.9F) - 2.3 degrees above the expected average.
"Comparing it to similar winters, it's provisionally going to be the coldest March in 50 years, although that can't be confirmed until we reach the end of the month," Mr Lee said.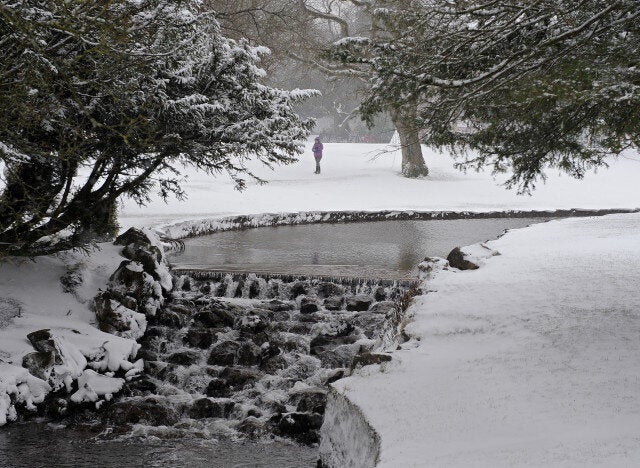 A snow covered Pavilion Gardens is pictured in Buxton
He referred to 1962 - when average temperatures were even colder, at 2.8C (37F), adding: "That will take some beating.
"But the way we are going it looks like we are heading towards being the coldest March since then."
More snow is forecast for many areas, he said, but gradually, by the end of Saturday and the end of Sunday, it will be mostly dry.
The Environment Agency has warned of further flooding in south west England because of persistent and heavy rain, with southern parts of Cornwall and Devon most at risk. Early reports suggested around 10 properties have flooded so far. The weather has been miserable since the new year
The Met Office issued a number of severe weather warnings, urging the public to be prepared for "severe disruption" to transport and energy services.
Leeds Bradford International Airport suspended all flights due to "adverse weather conditions" and heavy overnight snow also caused severe traffic problems and school closures across West Yorkshire.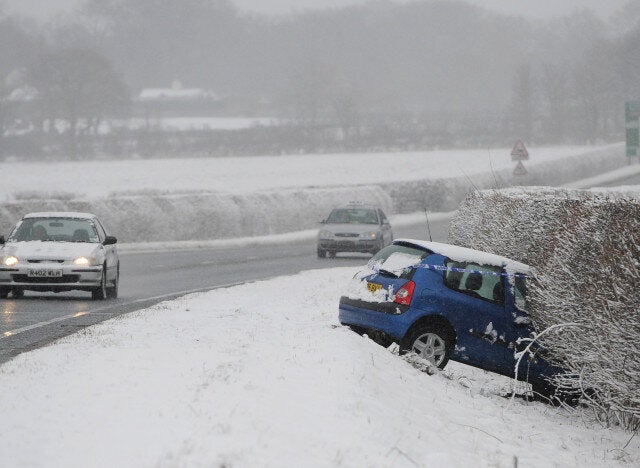 A car that had crashed into a hedge during heavy snow is marked with police tape as snow continues to fall
Hundreds of schools were also closed across the North of England as well as in the Midlands and Wales as schools were forced to contend with burst pipes and broken heating systems.
The AA issued warnings to motorists that even short journeys could be difficult, and there could be a repeat of the scenes in southern England last week when hundreds of drivers were stranded in their cars overnight.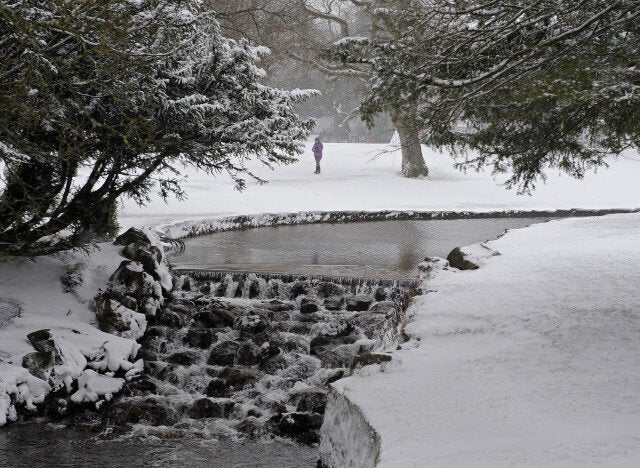 Vehicles drive through drifting snow on the A6 road near the town of Buxton in north-west England
Darron Burness, the AA's head of special operations, said: "It's going to be a real witch's brew of driving wind, rain and snow, which will inevitably cause disruption on the roads."
He also urged residents with elderly or vulnerable family or neighbours to check in on them to make sure they were coping with the latest freeze.
Despite a series of accidents on the region's road network, North Wales Police said all main routes were passable but urged drivers to take care.
In Birmingham, the weather woes caused gridlock after melting snow flooded the St Chad's Queensway tunnel, shutting the key road artery and leaving traffic backed up along main routes into the city centre.
Engineers spent all morning trying to pump the water back out of the tunnel.
Non-essential staff at the Sellafield nuclear site in Cumbria were sent home early today as local schools were closed and transport disrupted because of the bad weather.
The operational side of the site was not affected, Sellafield stressed, but some parts of the huge complex, including offices, were shut down.
Popular in the Community