The death of a schoolgirl apparently savaged by a pack of dogs may not lead to a criminal prosecution, it has emerged.
Police investigating the death of 14-year-old Jade Anderson said they were working to establish whether any criminal offences had been committed. Wellwishers have been laying tributes to Jade Anderson near the house where she died
The teenager was discovered with wounds consistent with a dog attack at a property in Greater Manchester on Tuesday.
Jade was visiting the house, the home of a friend, and was alone when she was attacked by four dogs - believed to be two bull mastiffs and two Staffordshire bull terriers - which were later shot by police marksmen.
A fifth dog, which was not considered a danger to the public, was "contained" at the scene in Chaucer Grove, Atherton, near Wigan, Greater Manchester Police (GMP) said.
Speaking outside the house on Wednesday, Superintendent Mark Kenny said he had devoted a number of officers to finding out what happened.
"The investigation will take a considerable period of time," he said.
"We are not going to jump to any conclusions, we want to work out exactly what has happened before we make any decisions.
"Nobody has been arrested.
"There is an investigation which will establish whether there are criminal offences so we are speaking to everybody who was involved to establish what has happened."
Mr Kenny said the dogs' owner, who was out of the house when the attack took place, had been interviewed and was co-operating with police.
"They are in shock as well and we have got to find out what happened for them too," he added.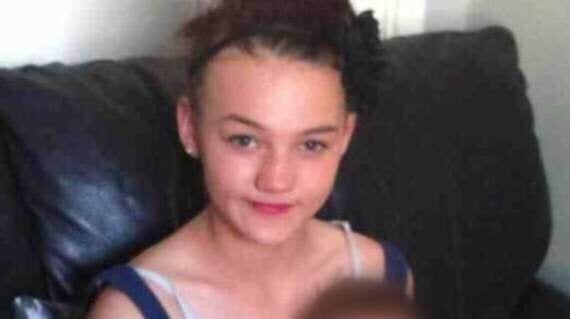 Jade Anderson had stayed in the house with the dogs on previous occasions with no problems
Specialist vets were examining the remains of the destroyed dogs to confirm exactly what breed they are and to make sure they were not illegal.
He added: "We've certainly not had any incidents here.
"This is the first incident of this nature we have attended at this location."
The house is a two-storey, red brick, terraced housing association maisonette, on the Hag Fold estate.
Signs at the front and back of the house warned, "Beware of the Dog".
Police attended shortly after a report of a teenage girl being seen unconscious and a number of dogs being "out of control".
Police marksmen "humanely" destroyed four of the animals.
Jade had stayed at the address before, Mr Kenny said, but officers are looking into how well she knew the dogs.
Her parents, who live just a few streets away, were too upset to talk.
Mr Kenny said the family was receiving the support of a police Family Liaison Officer.
The officer had earlier described them as "devastated".
He added: "They are clearly very upset."
A card on one bouquet read: "Dear Jade, can't believe you're gone.
"You will always be in our hearts and minds.
"Rest in peace, love Uncle John and Aunty Jo."
A white teddy bear placed next to the flowers contained a card which read: "To my beautiful cousin. The times we had together, I'll never forget.
"You're a beautiful, amazing cousin.
"The angels always take the good ones first but they took you too soon, Sleep tight baby girl, love Mollie."
Youngsters who knew the teenager, a pupil at Fred Longworth High School in Tyldesley, said she was "shy and quite timid".
Head teacher Jan Garretts added: "Jade was a lively student who always had a smile on her face.
"She loved music and dance and was a regular at our after-school dancing club.
"She will be greatly missed by the school community."
Atherton resident Deanne Bamber, 19, who owns six dogs, including a Border Collie, Shih Tzus and Lhasa Apsos, said Jade's death was "awful".
"I was crying my eyes out when I heard about this," she said.
"It's an awful thing what's happened to Jade, it's also an eye opener. She shouldn't have been on her own with all those dogs.
"We always knew the dogs were at the house because when we walk our dogs past and they all start barking.
"But to be fair, they've never done anything to make me worried.
"I've been brought up around dogs and this has been a huge shock."
Popular in the Community