"From this time on, the North-South relations will be entering the state of war and all issues raised between the North and the South will be handled accordingly," read the KCNA statement, adding: "The long-standing situation of the Korean peninsula being neither at peace nor at war is finally over."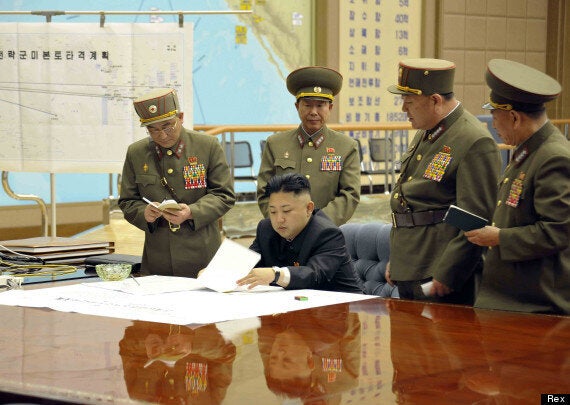 Kim Jong-un is said to be in an 'urgent meeting' on Friday
The declaration continued: "If the US and the south Korean puppet group perpetrate a military provocation for igniting a war against the DPRK in any area including the five islands in the West Sea of Korea or in the area along the Military Demarcation Line, it will not be limited to a local war, but develop into an all-out war, a nuclear war."
In Washington, the North's escalation was described as "unconstructive" by Caitlin Hayden, a spokeswoman for the National Security Council. "We take these threats seriously and remain in close contact with our South Korean allies," she added. Kim Min-seok, a spokesman for the South Korean Defence Ministry, said: "North Korea's continuing threats against South Korea such as saying it is 'entering a state of war' are never acceptable since it is harming peace and stability on the Korean peninsula." He added: "Our recent military exercises such as 'Key Resolve and Foal Eagle' and the US strategic bombers' deployment on the peninsula were defensive in nature against North Korea's possible provocations."
Pronouncements from the North have become increasingly belligerent in recent weeks, with threats to attack military bases in the South of the peninsula, as well as US bases in Guam and Hawaii, and even the US mainland. Kim Jong-un's forces have also carried out military drills, with pictures of rockets launchers and amphibious landings issued by the official state news agency, although the veracity of some of the pictures has been called into question. Indeed, whether North Korea has the capability to attack US bases, let alone the mainland remains doubtful, though the threat to the South is genuine.
Last week, North Korea's military was placed on a "high alert" status; South Korea is now on a similar footing, increasing the chances of a cross-border exchange or a mishap leading to escalation. Whether Kim Jong-un would risk starting a hot war remains unknown, even though the two states have been in a technical state of war since 1953, with the Korean War ended by an armistice, not a peace treaty.