Joanna Page has joined the cast of 'Doctor Who' for the 50th anniversary episode.
The former 'Gavin And Stacey' star was pictured with fellow stars Matt Smith, David Tennant and Jenna-Louise Coleman at a script read through over the weekend.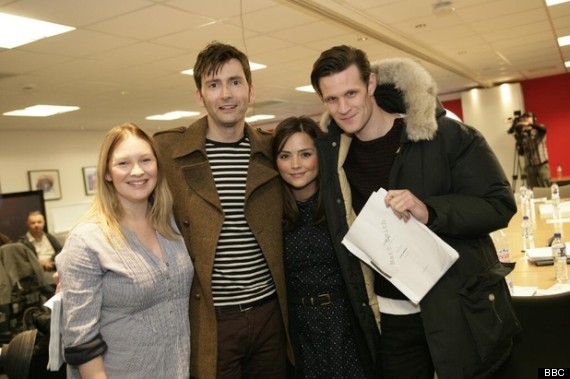 The BBC revealed the news in a tweet posted in the early hours of Tuesday morning, following the unveiling of a picture showing the tenth and eleventh Doctors, Tennant and Smith, together at the event earlier on Monday.
It is currently unclear who Joanna - who has just given birth to her first child - will play in the celebratory episode.
In 2010, Joanna spoke of her desire to join 'Doctor Who' after rumours swirled she had been cast in the show.
"A friend was telling me about that. I was like, 'I wish it was true'," she said at the time.
"I think I've got to be the only Welsh actress who has never been in 'Doctor Who' so if someone would like me to be in 'Doctor Who' I would love the part."
It was also confirmed last week that Billie Piper will be joining David Tennant in returning to the show for its 50th anniversary in her role as assistant Rose Tyler.
Shooting of the one-off episode begins later this week and is set to air in November.
MORE: 'Doctor Who' Review - He's Back, And In Reassuringly Fine Form...
LIKE US ON FACEBOOK | FOLLOW US ON TWITTER