Paolo di Canio's appointment as Sunderland manager has prompted a section of supporters to boycott the club, after he had to deny he was racist.
Former foreign secretary David Miliband resigned from the club as vice-chairman and non-executive director - citing the Italian's "past political statements" as the reason.
Di Canio was reported to have said he was a fascist and gave open-handed salutes while playing for Italian side Lazio in 2005.
On Monday he apologised if any offence had been caused by the gesture and said his comments about his political beliefs had been taken out of context, however fan Rob Johnson said he will boycott the club while Di Canio remains manager.
On the website of supporters' magazine A Love Supreme he wrote: "Words can hardly express how sickened and ashamed I am by the appointment of Paulo Di Canio as our new manager.
"Lest we forget, during World War II 267 people were killed and over 1000 wounded in Sunderland by Nazi bombers."
Richard Parker added: "For the first time in nearly 40 years, I find myself questioning whether I can continue to support our great club in the way I have done over the years.
"I am sickened by our appointment of Paolo Di Canio."
However supporter Terry Reilly from West Sussex urged the club's following to let their new manager concentrate on keeping the club in the Premier League: "Let Paulo Di Canio do his job of turning round a sinking ship and judge him on his ability to motivate the team and avoid relegation."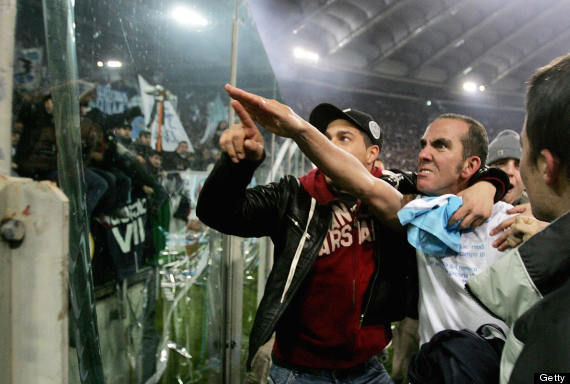 Di Canio makes his infamous salute in 2005
Another said: "PDC has said he has been misquoted about his politics in the past. I'll accept that. And the club have addressed the adverse reaction to his perceived politics - as they should do, to try and defuse the situation and re-assure they are a caring club.
"I'm now willing to see what he can do in football managing terms."
Di Canio and Sunderland issued a joint statement yesterday in response to what he told Italian news agency Ansa in 2005, when he said "I am a fascist, not a racist."
He said: "I expressed an opinion in an interview many years ago.
"Some pieces were taken for media convenience. They took my expression in a very, very negative way - but it was a long conversation and a long interview.
"It was not fair. I know it is a part of my job to do interviews because I am well-known, but sometimes it suits their purpose to put big headlines and a big story.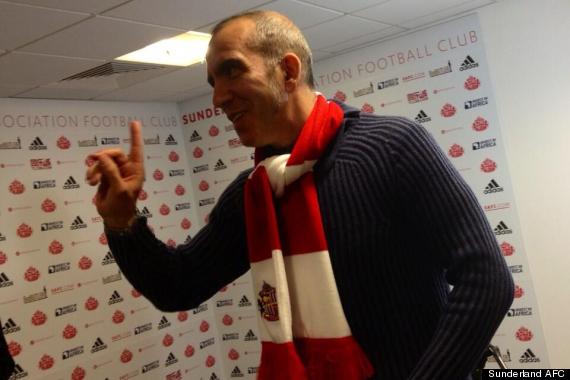 Di Canio in his first picture as Sunderland manager
"What I can say is that if someone is hurt, I am sorry. But this didn't come from me, it came from a big story that people put out in a different way to what it was.
"I don't have a problem with anyone. I haven't had a problem in the past and I don't know why I have to keep repeating my story, to be defending myself on something that doesn't belong to me every time I change clubs. Talk about racism? That is absolutely stupid, stupid and ridiculous."
Miliband, who announced last week he is stepping down as an MP, said in a statement on his website: "In the light of the new manager's past political statements, I think it right to step down."
The appointment also prompted anti-fascist campaigners to call for Di Canio to clarify his views and Sunderland city leaders to warn him politics had no place in football.
Di Canio continued: "I don't want to talk about politics because it's not my area. We are not in the Houses of Parliament, we are in a football club. I want to talk about sport. I want to talk about football, my players, the board and the fans."
The Italian is likely to be asked further questions on the matter during his press conference unveiling at 8:00am on Tuesday morning.