Paulo Di Canio has brushed off questions about his fascist tendencies, insisting: "I am not a politician."
The Italian's appointment as Sunderland manager has sparked a storm of protest, with former Foreign Secretary David Miliband among those to sever their ties with the club. Di Canio is unveiled by Sunderland
In a stormy news conference on Tuesday the 44-year-old Italian was asked on several occasions if he was a fascist but did not respond.
Instead he said the club had already made a very good statement and that he works for a football club, not in the Houses of Parliament.
"I don't have to answer any more this question. There was a very good statement from the club, (with) very, very clear words that came out from me," he said.
"My life speaks for me so there is no need to speak any more about this situation because it's ridiculous and pathetic.
"I can't every two weeks, every two months, every 10 months answer the same questions that are not really in my area.
"We are in a football club and not in the House of Parliament. I'm not a political person, I will talk about only football."
Amid the storm of outrage, the BBC also faced questions for giving Di Canio an exclusive column on its website when he was in charge of Swindon.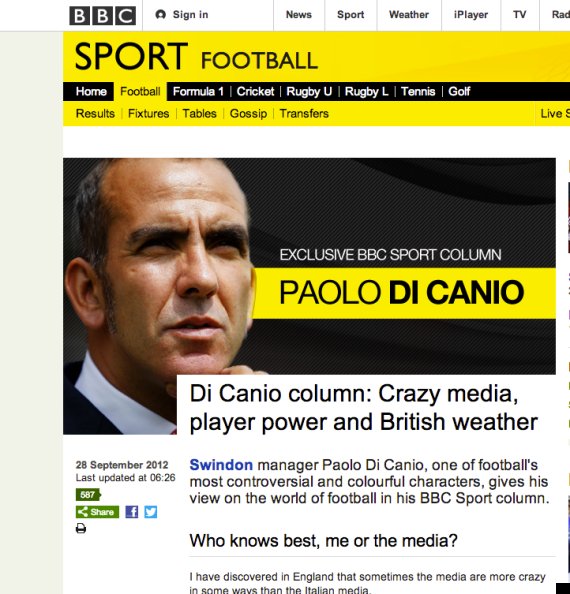 Di Canio wrote for the BBC
The controversy surrounding his appointment to the North East club has continued to grow with the Durham Miners' Association demanding the club returns the Wearmouth Miners' Banner.
The banner is on permanent display at the Stadium of Light and the General Secretary of the association, Dave Hopper, has written to the club expressing his outrage.
"I like many thousands of miners have supported Sunderland from infancy and are passionate about football. But, there are principles which are much more important," he said.
He added: "The appointment of Di Canio is a disgrace and a betrayal of all who fought and died in the fight against fascism.
"Everyone must speak out and oppose this outrage and call on Ellis Short and the Sunderland board to reverse their decision."