Student protesters have been evicted from Sussex University by numerous security guards, bailiffs and police officers after an eight-week-long occupation against privatising campus services.
Around 25 protesters belonging to the Sussex Against Privatisation group were removed at midday on Tuesday, as hordes of police surrounded the peaceful demonstrators and arrested some, according to reports.
Students and staff had occupied the university's Bramber House while the institution battled in the courts to legally evict the protestors. Last week, the High Court granted a possession order to Sussex University, and on Tuesday, around 20 private security guards, 30 bailiffs and 80 police arrived on campus, one protester told Huffington Post UK.
A spokesman for Sussex Against Privatisation spoke to HuffPost UK after the eviction.
"It was an entirely peaceful protest which was succeeding in its aim to draw attention to the university's unacceptable decision to privatise services," he said.
"There were 25 students having a sit in over an important issue about education and it's shocking and saddening this was the response of the university. Instead of engaging in a sensible dialogue they removed the protesters by force."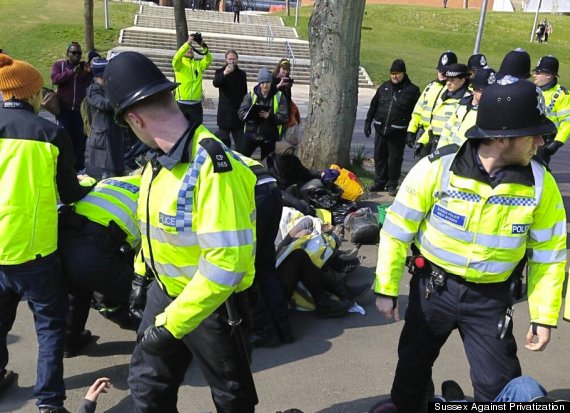 The Occupy Sussex Twitter account posted the above photo with the caption: "Shocking scenes on campus today but the fight goes on. #solidarity"
But the spokesman for Sussex Against Privatisation said the group is not disheartened: "The occupation was only one part of the campaign. As soon as we have dealt with the police situation, we will continue with the campaign. We will not lose focus of what it is about."
As of last week's court ruling, it is now illegal to stage any form of protest on campus without the university's permission.
The occupation has garnered the support of hundreds of students, MPs and academics alike - and even the odd celebrity.
On 25 March, more than 2000 representatives from 20 universities met at the university to show their solidarity and "express anger at the university management".
LIKE HUFFPOST UK STUDENTS ON FACEBOOK | FOLLOW US ON TWITTER
In May 2012, the university released a statement announcing campus facilities and catering would be provided by private companies as of August this year.
"We are now looking to work with specialist external organisations to manage our estate and facilities and to provide our catering and conferencing services," registrar and secretary John Duffy said at the time. "As we grow, we need to ensure we provide support services to our students and staff as efficiently and effectively as possible – making best use both of public funding and, increasingly, of our students' own investment."
The decision affected 235 staff, which Duffy said would be transferred to and employed by the new providers.
The university said it had "sought to act reasonably" in bringing the "unlawful occupation" to an end.
Chief Inspector Paul Betts from Brighton and Hove command team said: "Due to the spontaneous disorder that occurred on campus last Monday and the size of the building that was being occupied it was necessary to have sufficient numbers of officers available to deal with any criminal incidents and to keep people safe.
"Sussex Police will always look to facilitate peaceful protests and have worked in partnership with the university and the High Court Enforcement Officers throughout this process. A peaceful protest was facilitated on the campus today following the eviction."
A 21-year-old man was arrested on suspicion of violent disorder and criminal damage, relating to an incident at the university on Monday 25 March. Two women, aged 23 and 24, along with a 19-year-old man, were arrested for obstructing police as they tried to move the 21-year-old man from the campus.
Comments have been disabled for legal reasons