A huge increase in British aid to Pakistan should be cancelled until the country's elite start to pay taxes, MPs have said.
The International Development Select Committee said 70% of Pakistani MPs did not file tax returns.
Pakistan will become the largest recipient of UK aid next year, a controversial move given the backdrop of corruption, tax avoidance and political instability, the MPs warned.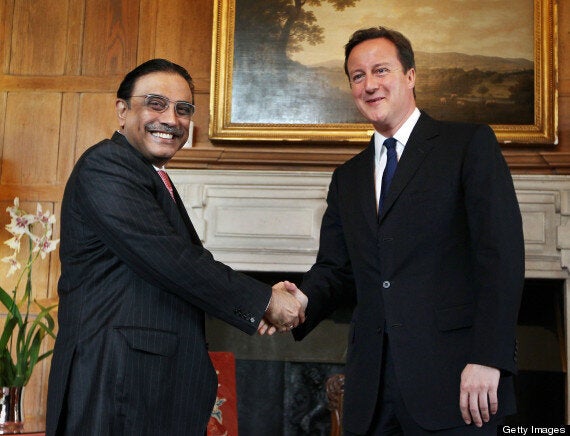 David Cameron with Pakistani president Asif Ali Zardari
And although there is a "powerful case" for continuing aid to the nation, where one in three people live on less than 30p a day, British taxpayers must not be left to foot the growing bill unless Pakistan's wealthy are made to pay their fair share, they said.
"Any increase in the UK's official development assistance to Pakistan must be conditional on Pakistan increasing its tax collection and widening the tax base," the report says.
"We cannot expect the people in the UK to pay taxes to improve education and health in Pakistan if the Pakistan elite is not paying income tax.
"We cannot advocate that the British people finance, through taxation, the proposed substantial increase in development assistance to Pakistan unless there is clear evidence that the newly elected Pakistan Government is also willing to make the necessary changes so as to contribute more to improving the livelihood of its people."
The Government plans to increase its £267 million bilateral aid programme in Pakistan, which has one of the smallest tax bases in the world, for the financial year that ends today to £446 million in 2014/15.
During their inquiry MPs were told that while one in three people in Pakistan live on less than 30p a day around 70% of the nation's MPs do not file a tax return.
The committee indicated it wants Prime Minister LIKE HUFFPOST UK POLITICS ON FACEBOOK | FOLLOW US ON TWITTER" target="_hplink">David Cameron to push for action on corruption and tax evasion with Pakistan's leadership and called for the Government to use its influence within the International Monetary Fund to press for urgent reform of the tax system.
It criticised the Department for International Development (Dfid) for failing to put action to tackle corruption, frequent absences in the rule of law and low tax collection at the top of the agenda for its governance work in Pakistan.
Committee chairman Sir Malcolm Bruce said: "Pakistan's rich must in turn demonstrate a clearer commitment to improving conditions and basic opportunities for all their fellow citizens by paying more in tax than they do under present arrangements."
A DfID spokesman said: "The UK Government is clear that UK development assistance in Pakistan is predicated on a commitment to economic and tax reform and to helping lift the poorest out of poverty.
"We have made it clear to government and opposition politicians in Pakistan that it is not sustainable for British taxpayers to fund development spend if Pakistan is not building up its own stable tax take."
Related