Homebase have denied using work experience staff to cut costs after an internal memo appearing to encourage managers to do so began circulating online.
The poster depicts a number of volunteer staff at the Haringey branch and is captioned: 'How the work experience program can benefit your store. Would 750 hours with no payroll costs help YOUR store?'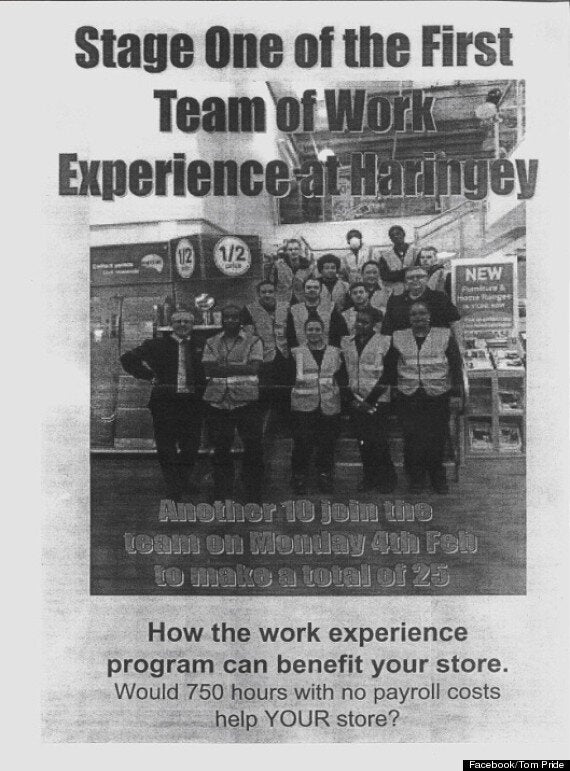 The poster is circulating on a number of blogs and on social media
Homebase told the Huffington Post UK that the image was part of a document "which has comments from people who have participated [on the work experience programme] from within the store and the benefits they gained from participation."
They added that it was not "a poster displayed in stores to encourage recruitment, nor is it a wider company policy."
Tom Pride, who posted the picture on his blog, Pride's Purge told the Huffington Post UK it had been passed to him by a Homebase worker, alleging the poster is "currently displayed on the wall in the manager's office of Homebase Haringey, which clearly shows the company is using workfare as a means to reduce their payroll costs."
He said he had been passed the picture by a worker in Haringey who was angry because all the staff there had had their overtime cut because of workfare. He said: "the workfare people work even longer hours for free there than people who have been employed by the company."
Homebase strenously denied this and as part of a longer statement said: "The company is not signed up to the Workfare Programme, but on occasions, works with local organisations to help unemployed people into the workplace by providing short voluntary periods of work experience within our stores.
"Any individual involved in work experience is provided with a training plan to help them understand the different parts of the store operation in order to help them go on to secure a job (either within our business or elsewhere). We ensure they work alongside, not replace, paid colleagues. They are entirely under no obligation to participate, nor will non participation affect any benefits."
Work experience programmes run by job centres and the Department for Work and Pensions have come under fire over the last year with accusations that companies are abusing free labour whilst offering participants little in return.
Cait Reily and Jamieson Wilson successfully challenged the DWP at the court of appeal after they were told to work for free or face losing her jobless benefits.
Reilly described her two weeks at Poundland as "a complete waste of time".
She said: "The experience did not help me get a job. I wasn't given any training and I was left with no time to do my voluntary work or search for other jobs.
"The only beneficiary was Poundland, a multimillion-pound company. Later I found out that I should never have been told the placement was compulsory.
"I don't think I am above working in shops like Poundland. I now work part time in a supermarket. It is just that I expect to get paid for working.
"I hope the government will now take this opportunity to rethink its strategy and do something which actually builds on young unemployed people's skills and tackles the causes of long-term unemployment."
The government must now table new regulations in accordance with the court's ruling.
Homebase is owned by Home Retail Group, which also owns Argos. A work experience 'certificate' was posted on reddit earlier this year by one disgruntled volunteer who tagged the picture "This is my grand prize for working in Argos for 4 weeks stacking shelves".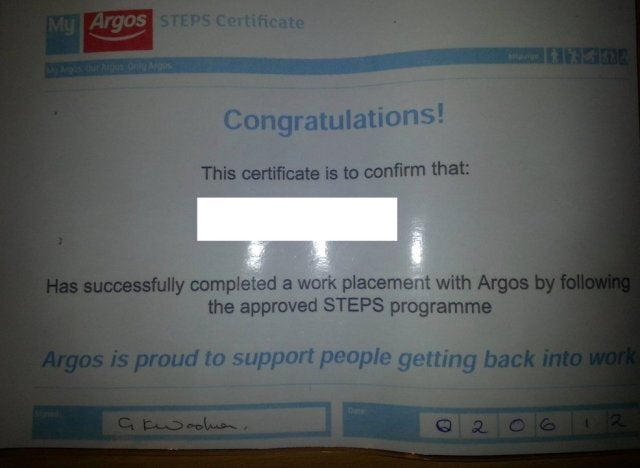 Wanting to be identified only as Aaron, he told the Huffington Post UK the certificate "was just half-arsedly printed out on the last day. No job offered, it was a pretty negative experience, all three of us on the course were demoralised to hell and all of the staff working there were demoralised by how their hours had been cut down in the past year."
The Department of Work and Pensions told the Huffington Post UK: "Work experience placements are voluntary and provide jobseekers with the vital skills and experience they need to help them find permanent jobs.
"Safeguards are in place to ensure people doing work experience are not exploited and all employers offering work experience through Jobcentre Plus sign an agreement that placements must be in addition to existing or planned vacancies and that no current employees are replaced by people doing work experience."