To celebrate the release of 'The Hobbit: An Unexpected Journey' on Blu-ray ™ 3D, Blu-ray, DVD and Ultra Violet on 8 April, we're giving you the chance to win a phenomenal home entertainment prize package!
One lucky winner will get their hands on a 42" 3D TV, with Blu-ray player and surround sound speakers, plus a copy of 'The Hobbit: An Unexpected Journey' on Blu-ray 3D, so they can experience the journey back into the world of Middle-earth in style!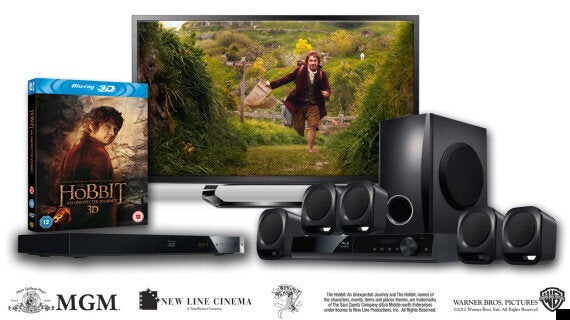 The first in a trilogy of films based on the enduring masterpiece The Hobbit by J.R.R. Tolkien, 'The Hobbit: An Unexpected Journey' follows title character Bilbo Baggins, who – along with the Wizard Gandalf and 13 Dwarves, led by Thorin Oakenshield – is swept into an epic quest to reclaim the lost Dwarf Kingdom of Erebor from the fearsome Dragon Smaug. Their journey will take them into the Wild, through treacherous lands inhabited by Goblins, Orcs and deadly Wargs, as well as a mysterious and sinister figure known only as the Necromancer. Along the path, the unassuming Bilbo Baggins not only discovers depths of ingenuity and courage that surprise even himself, he also gains possession of a "precious" ring tied to the fate of all Middle-earth in ways he cannot begin to imagine.
Join the Treasure Hunt below, the box gives you the clue word to the UK Facebook page, then just click the box to join the journey there!
©2013 Warner Bros. Ent. All Rights Reserved.

The Hobbit: An Unexpected Journey and The Hobbit, and the names of the characters, events, items and places therein, are trademarks of The Saul Zaentz Company d/b/a Middle-earth Enterprises under license to New Line Productions, Inc.