Coalition benefit reforms are "putting fairness back at the heart of Britain", David Cameron insisted in a staunch defence of the controversial shake-up.
As the welfare state overhaul continues to fuel an increasingly bitter political row, the prime minister said government is on the side of "each and every hardworking person in our country".
Writing for The Sun, he suggested it was "crazy" that claimants could have a bigger income on benefits than work and argued it is "fair that we all play by the same rules".
Cameron pledged to "always help" the most vulnerable but insisted "those who can, should" as he warned that the system was causing "resentment" across the country.
In his article for The Sun he wrote: "We are putting fairness back at the heart of Britain. We are building a country for those who work hard and want to get on. And we are saying to each and every hardworking person in our country: we are on your side.
"This is a Government for hardworking people: and that's the way it will stay."
Over the last week widespread welfare and tax changes have come into force including a below inflation 1% cap on working-age benefits and tax credit rises for three years.
Around 660,000 social housing tenants deemed to have a spare room will lose an average £14 a week in what critics have dubbed a "bedroom tax" and trials are due to begin in four London boroughs of a £500-a-week cap on household benefits.
An opinion poll for The Sun found six out of 10 voters believe benefits are too generous and 79% back the Government's plan to cap a family's benefit at £26,000 a year.
Cameron said the system had "lost its way" and had become a "lifestyle choice for some".
He wrote in The Sun: "It was designed to bring us together, but is causing resentment. I think the British people are about the most fair and generous people on the planet - but no-one wants to work hard every day and see their hard-earned taxes being used to fund things they themselves cannot afford or keep generations dependent on welfare.
"So this month we are making some big changes. They are changes that have a simple principle at their heart: we are restoring the fairness that should lie at the very heart of our tax and welfare systems."
He added: "We are working our way through everyone on what was called 'Incapacity Benefit', more often known as 'the sick', to see who can actually work, particularly if they are given some help. We now have proper tests to make sure people on benefits are looking for work - and tough penalties, including losing your benefits, if you turn down work you are able to do."
Harriet Harman said it was "not surprising" that people were concerned about the welfare system.
The deputy Labour leader told BBC 1's Andrew Marr Show: "The difficulty is for people who are in work seeing their standard of living pressurised understandably they feel very resentful for people who are not working. For people who are looking for a job and can't find a work it's deeply frustrating and then of course the small minority who don't want to work - well they are let off the hook by the fact there isn't a proper work programme."
She added: "We are also, ahead of the general election, putting forward three principles. One, that work should pay, secondly, there should be obligation to take work and thirdly that there should be support through a contributory principle for people putting into the system as well as taking out."
Asked if there should be a cap on the number of children the state will support through benefits Ms Harman said: "I don't think that the state should be dictating family size but I do think that the state should support children."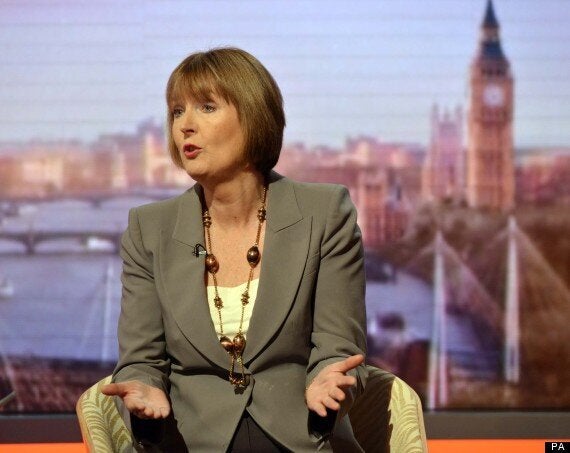 Harman: 'For people who are looking for a job and can't find a work it's deeply frustrating'
Foreign Secretary William Hague said Osborne's observations on welfare were "absolutely correct" and said the Chancellor was doing a "great job".
Asked about the way Osborne was being portrayed in the welfare row - particularly after his official car was spotted in a disabled parking bay - he said: "He is used to taking all that on the chin and getting on with the job. In fact he is superb at it given the amount of abuse that he has to endure and the difficult choices that he has to make."
Treasury chief secretary Danny Alexander said Labour's plans on welfare showed they were "out of touch".
He told Murnaghan on Sky News: "I think it is extraordinary today that the Labour party has come forward with its proposals to increase the cost of the welfare system.
"From the shadow work and pensions secretary, who was the person who left a note for my predecessor saying there is no money left, to now come forward with ideas to spend even more money on the welfare system just shows how out of touch with reality the Labour party are."
Shadow financial secretary Chris Leslie said welfare must be "continually reformed".
He told Murnaghan: "The danger that we have is a government that is relishing the opportunity to do down some of the key social insurance protections that are necessary for people who need help if they lose their jobs, they don't necessarily have their own trust fund or their own inherited fortunes to fall back upon.
"That's why I think people have been so shocked to see the government almost using an opportunity of any particular story that comes along to hit the system over the head."
Labour former welfare minister Frank Field told Murnaghan that people in his Birkenhead constituency could not believe how his party had let the amount people could claim in benefits reach a high level.
He said: "The £500 cap in my constituency is a mega sum. When it first came out voters were actually in Birkenhead (saying) 'have you allowed this to go on for this long?'"
He added: "The idea that we have allowed a welfare state to pay out these sums without trying to put some element of responsibility back strikes them as mad so I hope we are going to be really tough on that caps, really tough on making it (so) you have to actually do certain things to get welfare and above all you have got to pay in to get it."