Asylum seekers in an Australian detention centre have pleaded with the government to kill them humanely if it does not plan to release them.
The refugees are 25 Tamils, two Burmese Rohingyas and one Iranian, who are being held at the Melbourne Immigration Transit Accommodation.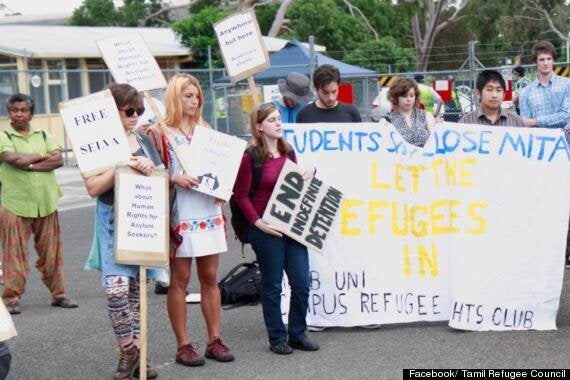 Demonstrations outside the Melbourne Immigration Transit Accommodation
''If the Australian government does not release us, we ask that they kill us mercifully," they said.
''We have painted banners as part of our protest. There is one that shows many people hanging.
"That is what we want to happen to us if we are not released.''
Most have been in prison for between two to three years, after being deemed security threats.
They appealed to Prime Minister Julia Gillard, Opposition Leader Tony Abbott and Australian Security Intelligence Organisation (ASIO) director-general David Irvine to ''stop this torture of all of us''.
''We are willing to be released into the community under strict orders if they think we are threats, which we aren't,'' they said in the letter.
''But whatever they want we will do. But we can't keep living like this. We are not in detention. We are in a cemetery.''
The Tamil Refugee Council staged a demonstration in support of the imprisoned asylum seekers over the weekend, calling on the ASIO to stop deporting Tamils.
More than 50 refugees have received adverse ASIO assessments and been detained for up to three years, unable to challenge them and without knowing reasons behind their detainment.
Former Federal Court Justice Margaret Stone, who has been appointed to independently review the threats they pose to national security, visited the centre in Melbourne last week.
She told the group that they would now receive the reasons for being deemed a risk to the nation. But she warned that her recommendations could be ignored by the Australian security services as they were not binding.
Tthe ultimate decision about their fate rest with ASIO, Immigration Minister Brendan O'Connor and Attorney-General Mark Dreyfus.
One asylum seeker at the meeting, who has been detained for more than three years, told Fairfax Media: ''The fact that we don't know the exact time, we feel we are in a dark room. We can't do anything, our lawyers can't do anything. They're just keeping us in the dark by not giving us any time [frame] at all.''
Popular in the Community