A university that was stripped of its right to admit international students will once again be able to teach foreigners.
London Metropolitan University lost its highly-trusted status (HTS) for sponsoring students from outside the EU last August after it failed to address failings identified by the now-defunct UK Border Agency (UKBA).
More than 2,000 students faced deportation just three weeks before the start of the September term in a move that was described by the National Union of Students' president at the time as "disgusting".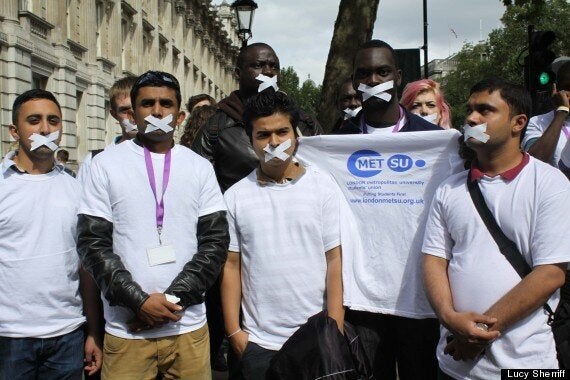 Around 40 students gathered outside 10 Downing Street last summer to hold a silent protest to signify having no voice
Now, following a series of inspections, the Home Office is satisfied that the university has improved and now meets the requirements needed to sponsor foreign students.
Immigration Minister Mark Harper said: "It is in the interest of international students that all institutions take their immigration responsibilities seriously and demonstrate that they comply with the rules. This is exactly why the sponsorship system was set up.
"We have worked closely with university staff to ensure that London Met standards were improved. As a result the university now meets the required standards and we are able to grant a licence.
"We will continue to welcome the brightest and best students to our world-class universities."
Of 101 sample cases at London Met University, 26 students were studying between December 2011 and May 2012 despite the fact that they held no leave to remain in the UK.
A lack of required monitoring meant there was no proof that students were turning up to lectures in 142 of 250 - or 57% - sampled records.
And 20 of 50 files checked for evidence of mandatory English language testing and academic qualifications showed poor assessment where documents were either not verified or not held.