"No," Roberto Mancini laughed when asked if he was happy to have reached the FA Cup final. Like their manager, City's players have responded well in the most significant week of their season. Deserved winners against champions-elect United on Monday, their defeat of Chelsea keeps the club's hopes of a silverware season alive.
With the press lounge showing Paolo di Canio gyrate and gesticulate in the pivotal Tyne-Wear derby and Stoke plunge further into the relegation quagmire, the FA Cup was fading into insignificance behind the shadow of the relegation battle. The unfortunate scenes in the Millwall end on Saturday were predictably sensationalised, but even in one of the Cup's best years the FA are struggling to retain its aura.
Saturday boasted a semi-final of the 2008 variety, whereas Sunday was the clichéd marquee encounter. Both sides could not escape the underachievement theme which lingered, but the FA Cup has proven to be a valuable trinket for City and Chelsea in recent years.
The last team to win the cup outside of the boys in blue were Portsmouth, who will almost certainly be playing their football in League Two next season. The paupers have paved way for the princes, and it was Mancini feeling rich after the game.
Yet despite a third trophy in three full seasons in sight, the Italian could not resist another dig at the club's pre-season preparation. They tried to get Van Persie to the Etihad, and he said "no no no", but he was mentioned in all but name by one of his most ardent admirers again.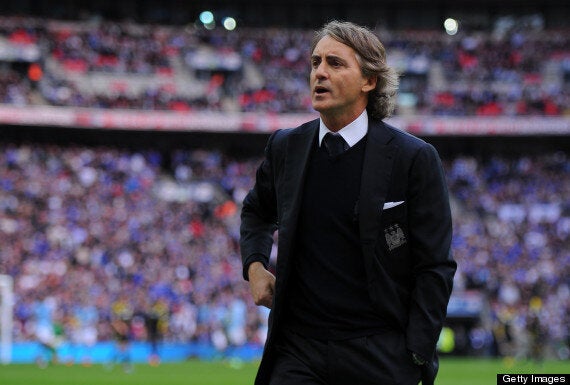 Mancini has enjoyed a good week, but is still haunted by the chasm in the league
"I think we had the chance to win the league if we worked well last summer, but we didn't," Mancini said. The name 'Marwood' was also missing, but his spirit lurked. Fail to prepare, prepare to fail.
Mancini has failed himself despite the cup potentially saving his job. Since he arrived in Manchester in December 2009, £291.75 worth of playing talent has arrived at Eastlands, yet twice City have failed to emerge from the Champions League group stages. "You're the worst f*****g champions we've ever seen," chirped United fans on Monday night.
His frustration at City's league form intensified when it was suggested they had rarely played as well as they had this season recently. "It was finished three or four weeks ago," he shrugged. Everton hammered the final nail into the league coffin, but on the evidence of this week, City's Abu Dhabi owners, who abhor the methodology of Chelsea's hiring-and-firing, may retain their faith in Mancini, who seems set to show his faith in number two goalkeeper Constal Pantilimon.
"I think he will start the final," he admitted.
Chelsea didn't display a fraction of such dependency the moment they labelled Rafael Benítez an "interim". The FA Cup gave Guus Hiddink's legacy a gleaming sheen, but the best Benítez can now hope for is success in Europe's unloved stepchild.
Benign and gracious in defeat, he commendably opted not to cite Chelsea's jaunt to Russia for their midweek Europa League tie as an excuse for their sluggish performance in the first hour of the game. Predictably, he cited a compatriot as engineering the fruitless fightback.
"You could see our team had more determination and more confidence with Fernando Torres on," Benítez emphasised. Aggrieved about the Spanish striker not winning a penalty after Vincent Kompany grappled with his shirt, he was nonplussed about Sergio Agüero's terrible challenge on David Luíz.
"I don't like to point out players but the main one is the penalty not given. The consequences could have changed the game. It was a clear penalty." A Chelsea-supporting journalist, who could barely hide his disdain or bitterness, was wound up at Benítez's refusal to condemn Agüero as he was with Mancini, who "didn't see it".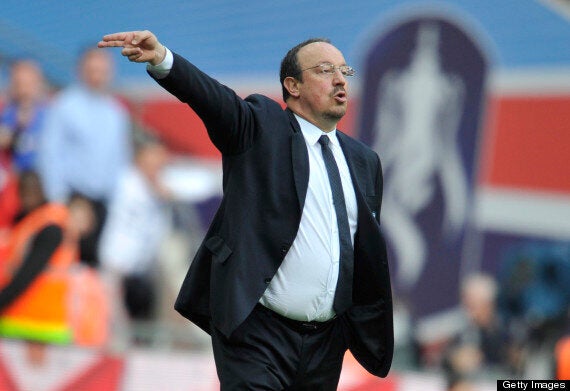 Benítez's only chance of silverware with Chelsea lies with the Europa League
"It's not my job now, you have the officials to make decisions. The penalty not given was more important," Benítez stressed. Those myopic managers.
Fatally, Benítez did not field John Terry in the starting lineup again. He had confirmed Luíz and Branislav Ivanović would start when Terry took to the field at the Luzhniki Stadium on Thursday, and the manner of City's goals suggested they would not have been so routine had Terry been on the pitch.
Benítez told one Sunday paper Terry couldn't play two games in a week. When confronted with his quotes, he was unimpressed.
"I'm surprised with the headlines sometimes," he sighed. "To play two games a week for some players in some positions is difficult."
So can Terry play two games in a week?
"Yeah, maybe. It depends on the games." And with that, it was a wrap.