George Galloway will on Monday attempt to frustrate plans to cancel Wednesday's Prime Minister's Questions so that MPs can attend the funeral of Baroness Thatcher.
The Respect MP has said he will try to block a Government motion dropping Commons questions and delaying the start of business to 2.30pm, after the funeral has taken place. Galloway: 'It really is imperative that the Prime Minister is questioned'
Ministers had hoped the motion, tabled by the Leader of the House Andrew Lansley, would go through "on the nod" at the end of Commons business on Monday night.
However Galloway has said he will take advantage of Commons rules which mean that if one MP shouts "object" the motion will either have to be withdrawn, allowing PMQs to go ahead as normal, or the Government will have set aside parliamentary time on Tuesday so that it can be debated and voted on.
"It really is imperative that the Prime Minister is questioned, among other things, about his decision to impose a quite unnecessary and expensive early return of Parliament which was simply a hideous outpouring of right-wing eulogies and rants doused in crocodile tears," he wrote on his website.
"I'm glad to see that, like me, more than a hundred Labour MPs stayed away from the circus."
With Labour having said that it will not object to the timetable motion, it is still almost certain to go through if it comes to a vote on Tuesday.
Nevertheless, Galloway's intervention will once again highlight the strong feelings Lady Thatcher still inspires among both supporters and opponents.
Writing in his column in the Sunday Mirror, Lord Prescott said the ceremonial funeral with military honours at St Paul's Cathedral was simply a "political propaganda exercise" for the Tory Party.
"I despised everything she stood for. She may have been a woman, but in her policies she showed no compassion to the sick, needy and the desperate," he wrote.
"And her 'children', the out-of-touch Tory Boys Cameron and Osborne, are getting YOU to foot the £10 million bill for the biggest political propaganda exercise this country has ever seen.
"Thatcher split this country, North and South, the haves and have nots, 'one of us' or 'the enemy within'. This country paid enough thanks to that woman. So why the hell should we continue to pay now she's dead?"
His words were in contrast to those of Labour leader Ed Miliband, who has been at pains to pay tribute to Lady Thatcher's achievements while at the same time acknowledging their political differences.
Earlier the right-of-centre Conservative Way Forward Group - founded by supporters of Lady Thatcher in 1991 after she was forced from office - unveiled plans to enshrine her political legacy through the establishment of a Margaret Thatcher Library at Westminster.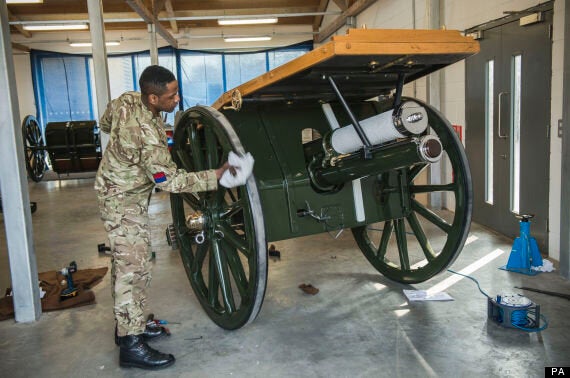 The Ceremonial Gun Carriage that will move the coffin to the Cathedral
The £15 million institution, inspired by the the Ronald Reagan Presidential Library and Museum in California, will serve as a library, museum and training centre to promote her political philosophy and help shape future Conservative Party policy.
It has the backing of three Cabinet ministers - Communities Secretary Eric Pickles, Transport Secretary Patrick McLoughlin and Welsh Secretary David Jones, as well as the former defence secretary Liam Fox.
Lord Tebbit and Lord Parkinson, two of Lady Thatcher's most important Cabinet allies from the 1980s, are also behind the plan.
Tory backbencher Conor Burns, a friend of Lady Thatcher who has been closely associated with project, said her death had had a galvanising effect on the party.
"I think there is tribal loyalty that has re-entered the Tory soul, which perhaps hasn't been around in recent months," he told Sky News's Murnaghan programme.