Thousands of people have attended a memorial service to mark the 24th anniversary of the Hillsborough disaster.
Liverpool FC manager Brendan Rodgers, chief executive Ian Ayre and all the club's players and staff joined families of the 96 victims, survivors and supporters for the event at Anfield Stadium.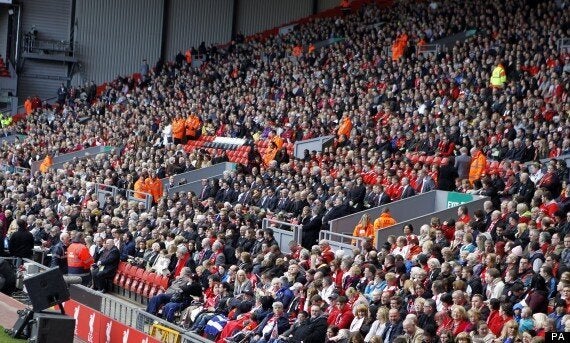 Thousands turned up to pay their respects
The annual service is the first held since the Hillsborough report laid bare a shocking cover-up which attempted to shift the blame for the tragedy on to its victims.
It also comes days after Margaret Thatcher's death, the PM whom many blamed for presiding over the cover-up.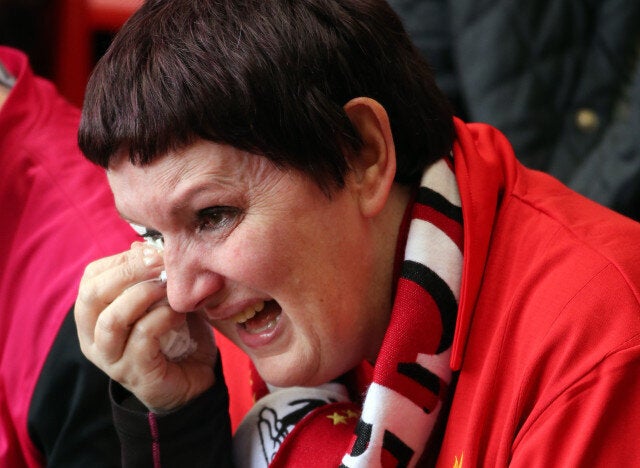 A Liverpool supporter reacts during the Hillsborough memorial service
The Liverpool supporters died in a crush at Sheffield Wednesday's Hillsborough stadium on 15 April 1989 where their team were to meet Nottingham Forest in an FA Cup semi-final.
During the service, 96 names of the dead were read out and a candle lit in memory of each victim. 96 people were killed and 766 injured
LFC chairman John Henry and his Everton counterpart Bill Kenwright gave readings and a minute's silence was held at 3.06pm, the moment when the game was halted as officials realised fans were being crushed on the terraces.
Chants of 'Justice for the 96' rang out over the packed stadium and balloons were released for the dead as the service drew to a close.
"Walk on Walk on, With Hope in Your Heart: You'll Never Walk Alone" was sang in a emotional tribute to those who went to the football match and never returned.
On Sunday, two new memorials dedicated to the victims and their relatives' campaigns for the truth, were unveiled in Liverpool.
A seven-foot bronze monument will stand in Old Haymarket in Liverpool city centre and an antique clock was placed in the town hall. The sculpture carries the names of each victim and features the words "Hillsborough Disaster - we will remember them".
The timepiece, made by renowned clock maker John Clifton, will stand with the time frozen at 3.06pm.
Popular in the Community