Sexual positions from the Kama Sutra can now be viewed in 3D thanks to a new app.
The Kama Xcitra transforms the historic manual's illustrations into holograms which pop up in front of a smartphone or tablet.
Each image can be seen from all angles meaning users are offered a complete view of the guide's sexual diagrams. The Kama Xcitra allows Kama Sutra positions to be viewed in 3D
The free app comes with a new version of the text which is based on ancient Indian Hindu philosophies and is believed to have been written around 2,000 years ago.
The Kama Xcitra promises to help couples master positions set out in the original book and ensure they are brought "closer to the action than ever before".
Hazel Cushion, managing director of publisher Xcite Books, said: "For more than two thousand years couples have turned to the Kama Sutra for advice and guidance on how to have a fulfilling love life.
"But some of the more challenging positions like the Prone Tiger, the Catherine Wheel or the Peg have left readers a little baffled. That is until now. The app works in conjunction with 69 poses
"The Kama Xcitra uses state-of-the-art technology to help couples explore interesting sexual positions whilst having fun in the process.
"Each image appears to pop out of the page as a 3D hologram right in front of the reader's phone.
"The viewer then moves their mobile device around to appreciate the position from all angles. As a result, each position becomes clearer, finally solving the problem of where to put that awkward elbow."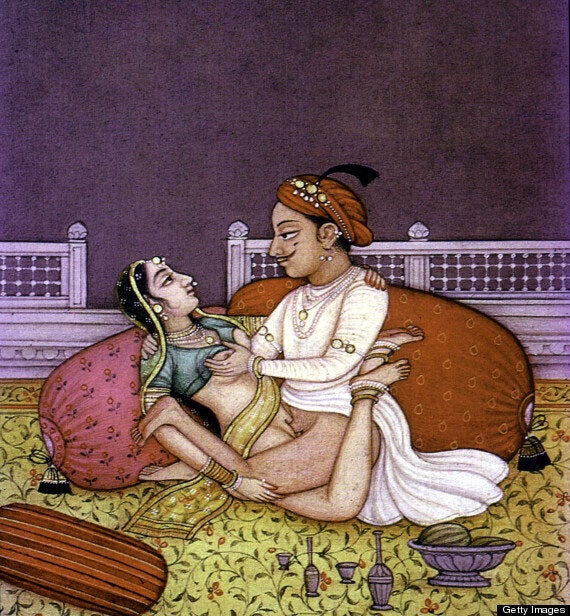 The app is based on the Kama Sutra, a tome widely considered to be the primary Sanskrit work on human sexuality
The app works in conjunction with 69 poses and allows users to customise the appearance of models, changing hair and skin colour as well as adding music as a soundtrack.
The Kama Sutra is widely considered to be the primary Sanskrit work on human sexuality.
It was first translated into English in 1883 under the guidance of Victorian explorer Richard Burton.
A section of the celebrated text consists of practical advice on sexual intercourse.
The Kama Xcitra goes on sale on Monday, priced at £9.99. It is available on Amazon and at the London Book Fair at Earls Court.